One of the things I love about winter is that I can wear fluffy, warm and cozy garments. Another thing I love is that I can finally wear all the chunky and comfortable clothes that I have missed so much during the spring, summer, and fall months. And the best part? I can wear them all at the same time! You surely have guessed by now that this is going to be a winter layering guide from a fashion approach. The goal is to be warm and cozy, yet look stylish, cute, and put together.
So keep reading to discover the secrets of the layers!
Winter Layering Guide
Before you decide that your favorite shirt is too thin, or your flowy dress is not appropriate for the season, I urge you to think again. It is possible to wear paper-thin fabrics during the cold weather while keeping your parts from freezing. You can have the best of both worlds with the art of layering. Every garment, even spring and summer staples, can be cold weather appropriate if layered properly.
More Beat the Cold in Style Guides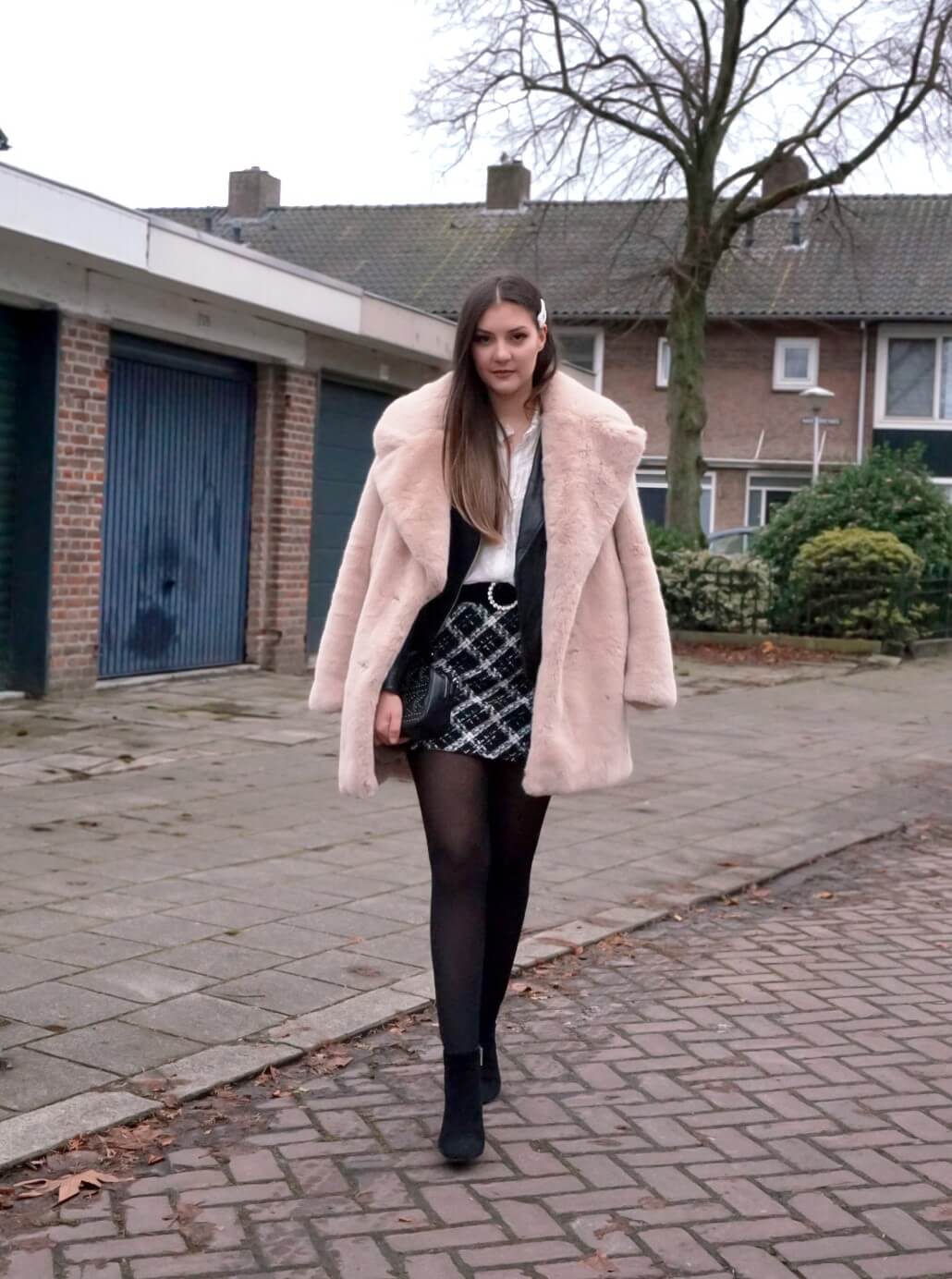 There are a few rules to keep in mind for a successful and stylish layering. Remember: your aim is to be comfortable, feel warm and keep some of the parts of your silhouette showing. So, let's go into more detail on how you can achieve this!
1. Think about the proportions
If you don't want to look like a chubby, round ball, you have to remember to keep your outfit proportionate. You can add bulk only to the top or the bottom part of the outfit, but not both at the same time. If for example, you are wearing a puffer jacket with 3 layers beneath it, you can opt for skinny trousers. An easy rule to remember is to generally have slim fit garments and only one max two bulky ones are allowed.
2. Go from thin to thick
One of the basic rules of layering. You start from thin fabrics and add thicker as you go. For instance,  use a thin turtleneck as the base of your outfit, after add a chunky knit and then throw a coat on top.
3. Show a maximum of 4 layers
And arrange them in a way that they reveal a hint of each other without looking very bulky. This will require some trial and error in the beginning because you will need to choose the garments carefully, but when you master it, it will look very good and effortless. A great way to start is by combining two layers and move on as you master each stage.
4. Choose the colors wisely
Your layer combo will not look good if every garment is of a completely different color. You have to keep in mind the result of the combination of the colors in your layers. You can go for garments of the same color family, or have one bright colored item and the rest are neutral and muted.
5. Be careful with the different patterns and prints
The rule of the colors applies to the patterns as well. Patterns and prints are not the easiest to pair anyways, so wearing one on top of the other requires a lot of skill. For a successful pairing just have one patterned item and keep the rest monochromatic.
6. Add a belt
If your layering is too bulky and hides your silhouette, you can save it by adding a belt to cinch your waist in. This way you can have all the different layers that keep you from freezing, yet, look good and stylish.
7. Try to give the illusion of tall
By adding layers you will inevitably add bulk to your silhouette and this automatically makes you lose a few inches. Try to hack that by elongating your figure. You can add heels, a floor-length coat, go monochromatic etc. I have a dedicated post on how to dress to look taller, so you can check it out for extra tips!
I think this winter layering guide wouldn't be complete without some styling tips and ideas to inspire you. Now that the basic rules of layering are mentioned, I would like to share with you my top 5 favorite layering combos. I keep repeating them for a good reason, so I suggest you try them too!
Leather Jacket + Faux Fur. It is a combination I was hesitant to try at first because I thought that would look too bulky. However, when I tried it I loved it and now I can't stop repeating it. Especially when paired with something tight-fitting on the bottom! Let's not forget the rule regarding the proportions. 😉
Turtleneck + Shirt.  A turtleneck under a shirt is a very sophisticated pairing. I especially like the combo of a black turtleneck under a dark-colored printed shirt. Wear a pair of palazzo trousers underneath or your favorite denim pants and you are good to go.
Coat + Blazer. This is my usual go-to night out look. Wearing two structured items makes the whole look chic and put together, so I find it the perfect attire to hit the cold roads in the night. If I worked in an office I would probably wear the same combo there as well.
Knit + Shirt. Wearing a chunky knit over a shirt and just letting the collar show is a very classic combination that has never really gone out of style. And I don't think it will go anywhere anytime in the future, so it is a pretty easy and failproof layering idea to try.
Over the Knee Boots + Midi Skirt. Probably one of my current favorite ways of wearing a skirt during the cold weather. Apart from the fact that looks chic and sophisticated, you can also hide a tone of clothes underneath so that the cold weather isn't an issue anymore.
So this is my complete winter layering guide with all the rules and tips you need to follow for a successful pairing. Do you like to layer your clothes during the cold months? If yes, what is your favorite combo? Can't wait to hear in the comments section below!