I'm 1m and 65cm tall (5'5 in feet), which is pretty average for a woman. However, I believe that in most of the pictures of this blog I look much shorter, so I figured that it must apply to my real life too. Of course, being short or of average height is not a bad thing, but sometimes you might want to hack that for an extra confidence boost. And there are many ways to do it! Today I'm sharing all my tips which I found that work perfectly on how to dress to look taller.
How many times have you stumbled upon people on Instagram that look sky-high and you see them in real life and they are petite-sized? Or how many times you have the impression that someone you meet is very tall and then you sit next to him/her and you are of the same or even taller height?
Thit has happened to me endless times, so I wanted to try some hacks myself and see the results. And let me tell you they impressed me so much that I decided to share them with you!
How to Dress to Look Taller
There are some basic guidelines that you need to follow in order to achieve that taller figure. The main thing is that you want to create an illusion of a bigger line, so depending on your body type and your proportions you will need to try different things. Also, looking thinner will make you gain some inches, so some of the advice on how to dress to look taller will be about that too. These tips have been "test-driven" by me so I can confidently say that they are completely fail-proof. So feel free to try them yourself too! Shall we?
Let's start with one of the fastest and easiest ways to look taller: The shoes! You can create miracles just by wearing the right kind of them!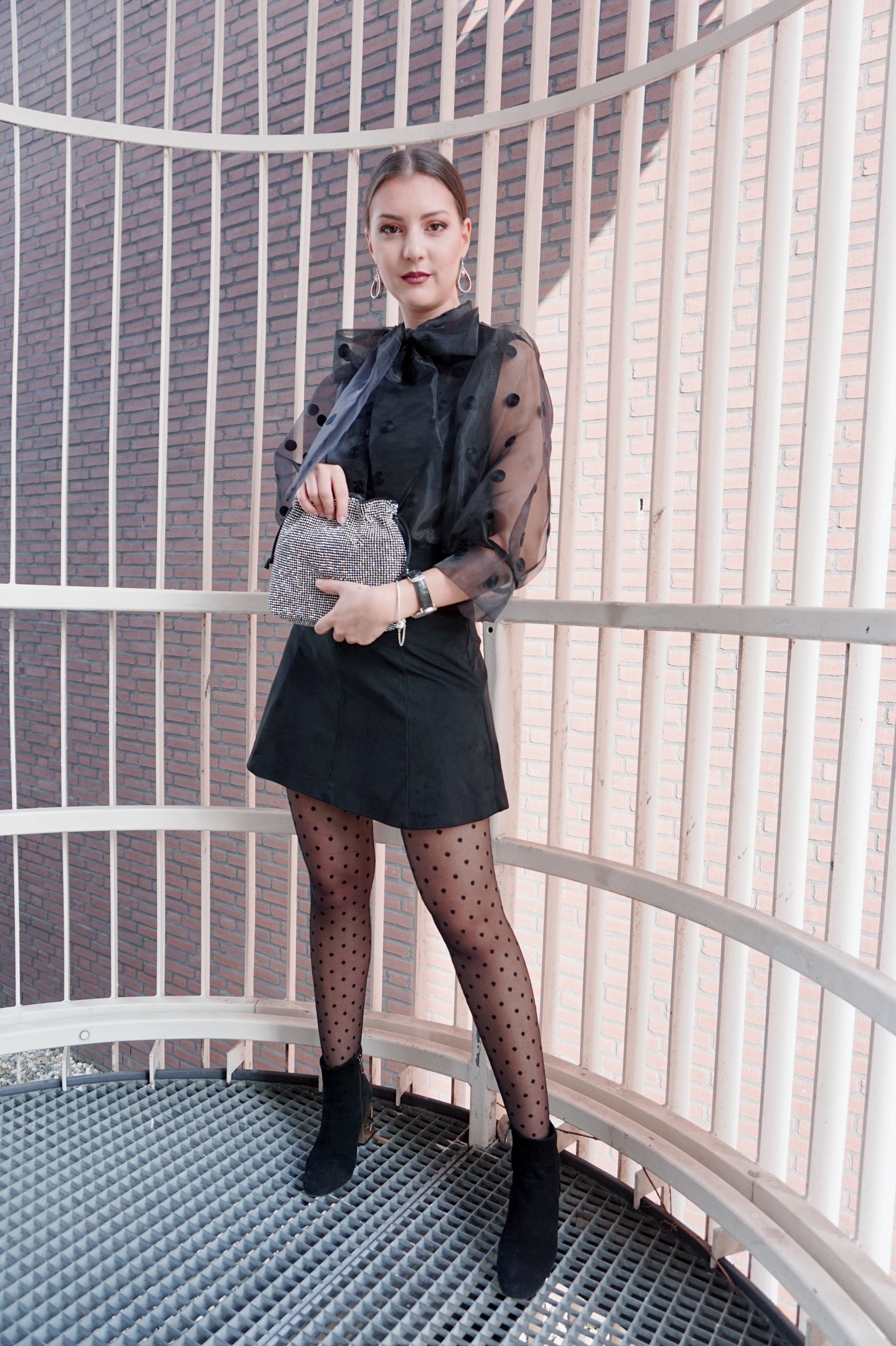 Nude shoes
Nude shoes that actually match your skin color create a solid line and give that leg-lengthening effect because you are not "cutting" your legs off with another colored shoe. They might not be part of the latest fashion trends, but they are classics and will always look elegant and chic.
Pointed toe shoes
It doesn't matter if they are flats or heels because pointed shoes have a magic effect of elongating your figure.
Stiletto heels
It's pretty self-explanatory why heels make you look taller. However, by avoiding chunky shoes and opting for the ones that are thin, elegant and long you accentuate your calves and the overall length of your legs.
Match your shoes with your pants
Matching your shoes with the color of your pants creates the illusion of a longer, solid line and makes your figure look elongated. The same applies when you are wearing tights. Avoid different colored shoes that will cut this cohesive line.
Wear heels under maxi dresses or wide bottom pants
By hiding your heels under long garments you are giving the extra inches to yourself without no one knowing, so you look like you were born this way.
---
See how easy it is to achieve a taller figure, just by wearing the right shoes? We just covered the tip of the iceberg, so we are not done yet. There are more dressing tips to help you look like a runway model, so keep reading!
Go monochromatic
Wearing outfits of the same color gives the impression of a long endless figure because you are not breaking up the top and the bottom half of your body with two different colors.
Wear head to toe black
The same applies to a total black outfit. Black has an extra advantage of a slimming effect and that means even more inches for you!
Opt for vertical stripes
Vertical stripes, as opposed to horizontal ones, have elongating and slimming properties. They guide the eyes to gaze from bottom to the top, making you appear taller.
Prefer high waisted bottoms
Especially when you are wearing clothes with a shorter hemline like shorts or midi skirts. They make the middle part of your body appear much longer than it really is. Of course, if you do the same with lenght-floor hemlines you will represent the #legsfordays hashtag. So high waisted it is!
Wear maxi dresses
…with small patterns or solid colors, so that you can give the illusion of a much longer body than it actually is. Big designs in patterns will distract the eyes and will "cut" your body and steal from the long slim figure effect you want to achieve.
Tuck your shirt
By tucking a long shirt inside high waisted bottoms you change the proportions of your body to longer legs – shorter torso and that is one of the failproof tips on how to dress to look taller.
Add a belt
When you are wearing a dress that has no structure and is not figure hanging, you can add a belt to cinch it in. The smart way to do it is by placing the belt a few inches above your waist so that you can fake a higher waist and thus far a longer and slimmer body.
Really long coats
Long coats that almost sweep the floor are one easy way to "add" more inches to your silhouette. They are not breaking your body up, so you have a long uninterrupted line that gives the optical illusion of taller.
Very short coats
If really long coats are not your thing, you can definitely go shorter. By shorter, I mean cropped though. Elongated jackets that are between the height of below the waist and the calf, visibly shorten the legs and the overall silhouette. There is not a middle-ground solution. Go super long or cropped!
Wear cropped sweaters
All the above apply to your sweaters too. Cropped sweaters especially paired with high rise bottoms give the impression of a shorter torso and longer legs, and that is the exact recipe to cheat a few more inches.
Opt for a polo neck
A polo neck top will elongate and slim your neck, which will make your overall figure look taller.
Carry small bags
Carrying around a big bag will make you look smaller not matter your height. Instead, go for a petite bag that will not overshadow your silhouette and your outfit.
Shorten the hemlines
Apart from shortening the hemlines of the skirts in order to show more leg, the same applies to your trousers. Showing a bit of ankle will give the illusion that your legs are too long for the trousers you are wearing. And this is a perfect way to fake a taller silhouette.
Wear V-neck shirts
V neck shirts give the impression of a longer neck and what did I previously mentioned as a result of that? A longer overall body figure of course! Remember to roll up your sleeves for extra points.
Wear your flared trousers to the floor
Even though wearing a pair of cropped trousers will lengthen your overall figure if you opt for wide leg and high waisted trousers make sure they almost clean the floor :P. You can also use them to hide heels underneath. It will seem like your legs have no end.
---
Now that we covered the type of clothes you need to wear, I have a few more tips that I believe are worth mentioning on how to dress to look taller.
Short hair
Dare to go for that long bob you were always dreaming about but were too afraid to do so. Now there is one more reason to persuade you to go for it. If you are more daring and edgy a pixie cut is all you need. However, if you are not of the daring kind, a bun is all it takes. In all of the above cases, you will gather attention to your neck and make it look longer and I'm sure you've guessed by now the overall result of that.
Tailor your clothes
If you are petite-sized and you bought something that does not fit you properly, there is always the option of tailoring it. One thing I like to do in a situation like this is to keep the picture of the model wearing it on the website of the store, from which I purchased the garment, and show the tailor exactly how it has to fit me. Then she tailors it according to these guidelines. By that, not only the garments fit like a glove, but they look more expensive too.
Don't forget your posture
Of course, the way you stand and walk, matters. Remember to keep a tall and straight silhouette and don't hump your back. That is one of the most important things to keep in mind because this way you actually gain a few real inches.
Since we are done with all the things you can do to appear taller, there are some basic styling mistakes to avoid that in my opinion are worth mentioning.
Things to avoid if you want to appear taller
Baggy clothes are comfortable. We all know that. But oversized clothing will make your smaller figure look even smaller. Of course, you don't need to wear fitted clothes and bodycon dresses if you don't feel like it, so if, for example, you opt for an oversized dress at least add a belt to cinch your waist or add a pair of heels.
They will make your legs look much shorter and as a result, your whole body will lose a few inches
The same applies to tops that aren't cropped and you don't tuck them in your pants. They will make you look like you have short legs and long torso and the result of that will not help you achieve your goal.
Bulky accessories and jewelry
Bulky shoes, bags or jewelry will steal from your figure and make you look smaller compared to them. Prefer small and delicate accessories like a long pendant V necklace, or simple stud earrings. They might be small but they make a huge difference to your overall image.
We all love over the knee boots and I honestly can't live without them. For me personally, they are a fall and winter staple. However, for petite girls, they are a big no if their goal is to look taller than their actual height. Instead, a pair of ankle boots will flatter their figure and give the illusion of a taller body.
That is for today! I really hope that you enjoyed this post and my tips on how to dress to look taller will prove to be helpful.
Question of the day: What is the number one thing you do when you want to create the illusion of a taller figure? Make sure to tell me in the comments section below.
See you in the next post!