You can definitely tell that I have a love for sparkly stuff, just from the name of this blog. With that being said, I know many of us are scared to rock them outside because they will attract many stares and will probably look over the top in the daylight. However, I think that all of us need an occasional touch of glam whether we admit it or not. That's why very recently I gathered all my shiny and sequin holiday clothing in an attempt to incorporate them in my everyday wardrobe. In a casual way of course.
"Is that even possible?" you may ask. Well, keep reading to find out!
Wear Your Sparkly and Sequin Holiday Clothing Daily
So what happens when you have this gorgeous sparkly skirt you bought for the previous holiday season and want to wear it so badly, but you have nowhere fancy to go? Or what about the pair of glitter tights that haven't seen the light of day since last Christmas?  Well, you don't need an excuse anymore. You can wear them on a normal weekday!
Yes, you've heard well!
Let's start with the sequin holiday clothing as the man pieces of an outfit:
Skirt with sequins
Styling a sequined skirt is easier than you probably expected. Of course, it depends on the color of the skirt, but if you have one in black, nude or silver you made your life easier. My favorite way is to wear it with an oversized knit on top and sneakers. This way you will mute the sparkliness (let's just assume that this word exists) of it and will manage to pull off this look on a normal weekday. If the weather allows it, a simple graphic tee and a denim or moto jacket on top would look as fine.
  Glitter Top
A glitter top is what I call a sparkly essential. Anyone who is into shiny stuff is sure to own at least one sparkly top. I think this is one of the garments that you can style on an everyday basis and need no effort at all. Just pair it with your favorite denim trousers, add plain white sneakers and you are good to go!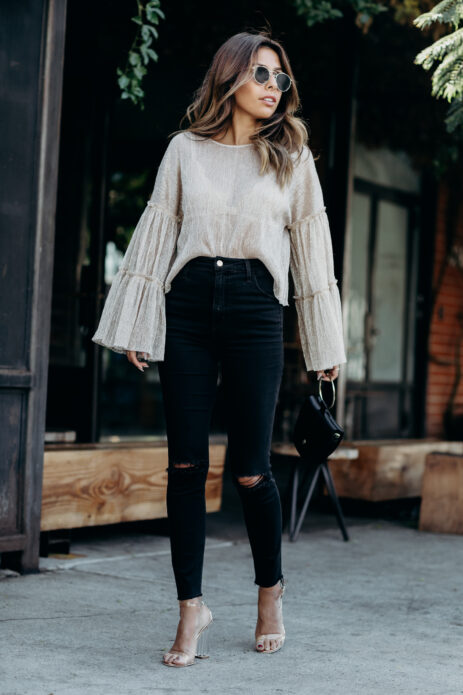 Shiny Pants
A pair of metallic or glitter pants, in my opinion, should be a part of your holiday glam wardrobe. Not only it looks gorgeous combined with festive tops, accessories, and shoes, but it can also easily be a part and work perfectly with your everyday looks. Same as the sequined skirt, paired with a simple tee, an oversized sweater or a shirt you can rock it effortlessly on your daily errands. Sneakers make this combo even more casual and wearable without turning a lot of heads for wearing shiny stuff in the morning. 😛
If you are not feeling like having a whole shiny surface on you, you can just add your favorite sparkly accessories.
Glitter Tights
I will admit it. I have a pair of glitter tights that I haven't worn for years because every time I tried, I never felt like it. However, I recently purchased a new one, and that motivated me to incorporate them into my wardrobe again. And not just in my holiday closet, but in my everyday life too. And so far I think it is one of the easiest ways to add a touch of glam without overdoing it. If you are hesitant to wear sparkles in the daylight, but you really want to, it's the perfect place to start. Just swap your normal sheer black pantyhose with a glittered one.
Statement Belt
Another easy way to add a little shine and glam in your daily attire. Replace your classic everyday belt, with a crystal one or a chain belt and see your outfit transform in seconds. For a more subtle look, a plain black belt with a fancy rhinestone buckle will look just perfect.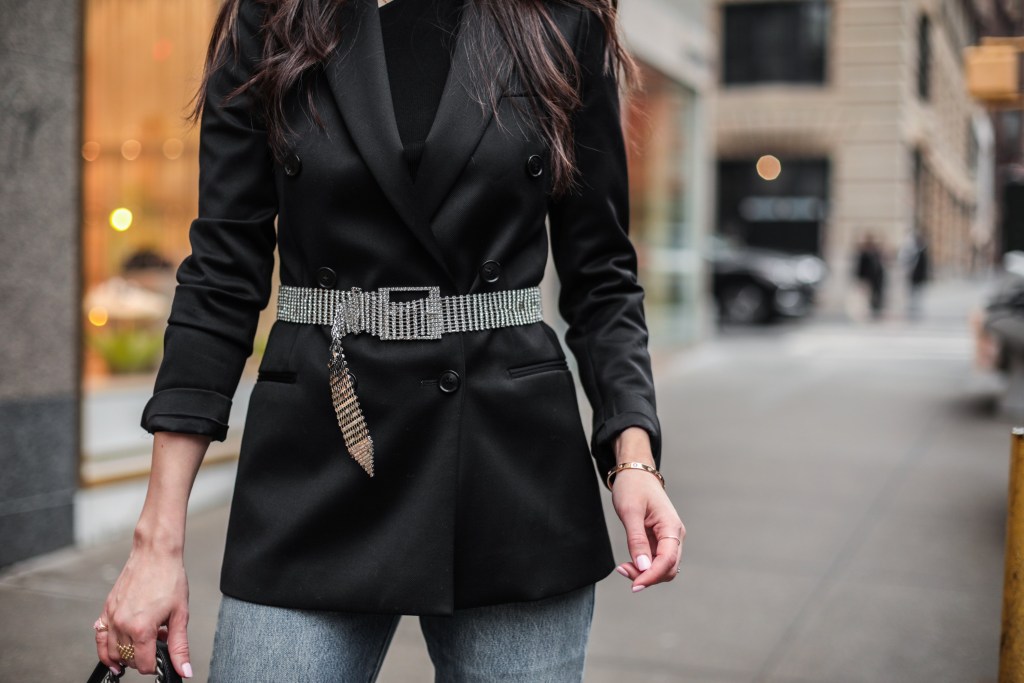 Fancy Hairclips
No matter how you like to wear your hair, there is a hair clip for every hairstyle. Choose the one that aligns with your look and just clip it on your hair. The options are endless. From pearly to rhinestone or plain metallic, this little accessory will add a uniqueness to your whole look!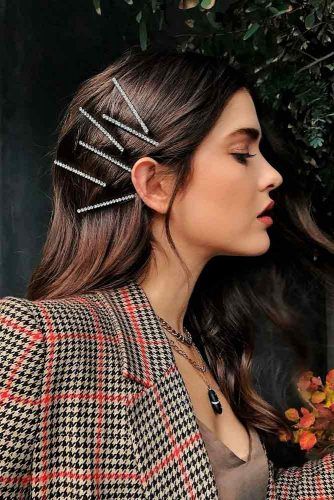 Source: Pinterest
Sparkly Bag
If you are in the mood of wearing your little sparkly bag that you rocked in the last New Year's Eve dinner, you can! Just make sure to keep the rest of your attire muted and casual, so that the whole combo doesn't look over the top. I paired mine with a plain black knit and a pleated skirt. Even though the skirt is not the definition of casual, I think that the whole combo worked fine as an outfit for every day.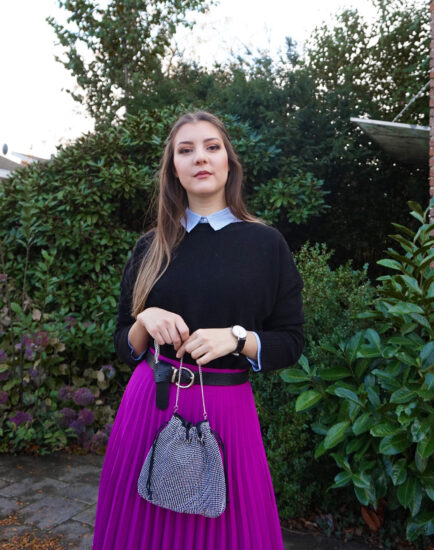 So this is it for today! I hope this post proves to be helpful and gives you some inspiration on how to incorporate sparkly stuff into your daily looks!
Question of the day: Would you wear your sparkly and sequin holiday clothing on a casual weekday? Make sure to tell me in the comments section below!