How many times have you stumbled upon pictures of ridiculously well-dressed people? How wardrobe envious did you feel and how much would you love to look this way yourself? Well, the good news is that you can. In today's post, you will learn all the tips and tricks available on how to look expensive, polished, and classy without breaking the bank. You may don't want or don't have the financial ability to spend a ton of money on just a single outfit and that is totally fine. Not all of us have thousands a month for shopping (even if we would love to have though 😛 ). That, of course, neither is an excuse nor does it mean we are doomed to look cheap and not stylish. And this is the exact purpose of today's post. I'll show you all my tricks on how to look classy on a budget!
But before I reveal all of my secrets I would love to explain why would anyone want to look classy, polished, and expensive. I'm a strict believer that looks can be deceiving and can't determine the value and the personality of anyone. And by no means, I do consider looking rich and expensive the ultimate goal in life. There is definitely more important stuff. However, in most cases, the first impressions of someone and the way people treat him are created by looking at him. So if you need to go somewhere where a good first impression is important for you (like a job interview for example) I suggest you pay a little more attention to how you choose to present your self and your image in general.
With that being said are you ready for me to reveal you all my secrets on how to look classy on a budget?
How to Look Classy on a Budget
–Choose your undergarments carefully. I know it's something underrated and probably unexpected to read. However, bras and shapewear matter, since they are the base of your outfit. You need to find the ones that fit well, flatter your body, and make you feel comfortable. How do you expect an outfit to look good if its base isn't good?
---
–After you find the perfect undergarments you need to take care of the outfit itself. I noticed solid color outfits and especially neutral toned like black, white, grey, nude, and similar, look fresh, modern, and very classy. One thing that helps to achieve a polished look is to have all the wardrobe staples in an easy to reach position. Of course, that requires you to have all the fashion essentials in your collection. My advice to you is to not be afraid to spend a little more on them since they are the ones that will get your wardrobe going season after season. They will be worthy of their money for sure.
---
–Another thing you need to take care of when choosing and wearing your clothes is the FFIC rule. FFIC stands for Fit-Fabrics-Iron-Clean and I just made that up so feel free to laugh all you want. 😛
F: It's very important to take into consideration the way clothes fit on you. Even the most expensive garment can look ridiculous and cheap if it doesn't fit like a glove. And vice versa. Cheap clothes can look great on you if they fit perfectly. If there is a garment you love and can't resist buying even though its fit is not great I suggest taking it to a tailor.
F: Fabrics can also play an important role in how expensive something looks. When choosing between clothes, prefer the ones made of cotton, silk, cashmere, linen, and wool and be very careful and selective when it comes to synthetic materials like jersey and polyester. A good material can elevate any garment and it can increase the life expectancy of it. So don't be scared to invest in good quality ones.
I: I think it is pretty self-explanatory, but don't forget to iron your clothes. I'm pretty lazy when it comes to ironing, so I know the struggle. However, it makes a huge difference in the overall image of an outfit. It gives the impression that you choose carefully and take care of what you wear (which is pretty much what you actually do).
C: Not a lot to say, it's pretty self-explanatory but NEVER go out with dirty or stained clothes and accessories. NEVER! Even if you follow all the above tips, a stain can ruin it all. So keep your bags, shoes, and clothes always clean!
---
–When it comes to pieces of jewelry prefer simple and delicate ones and keep them pretty minimal. Avoid chunky jewelry that can overpower any outfit. I know that there are some chunky ones that can be pretty and look luxurious, but if you choose to wear them, style them with a very simple outfit in which they are the statement piece.
---
–I know I used the words "on a budget", but investing in a few designer pieces is a smart move in my opinion. Even if your whole outfit is very affordable, a designer piece can elevate it and make it look expensive too. My advice is to be very selective when you are choosing your accessories and go for a classic style that will always remain trendy. However, if you don't want to spend thousands on a pair of shoes or a bag I suggest you buy stuff that is good quality and carefully crafted. For example, instead of having 3 black cheap bags go for a classic one that is a bit more expensive and looks better.
---
–Don't be afraid to try designer lookalikes (I don't mean dupes though). First, they are a good opportunity to test if you'll love/hate/use the original one before you go and spend all of your money on it, and secondly, it's a good opportunity to follow a quick-passing trend with the lowest cost possible.
---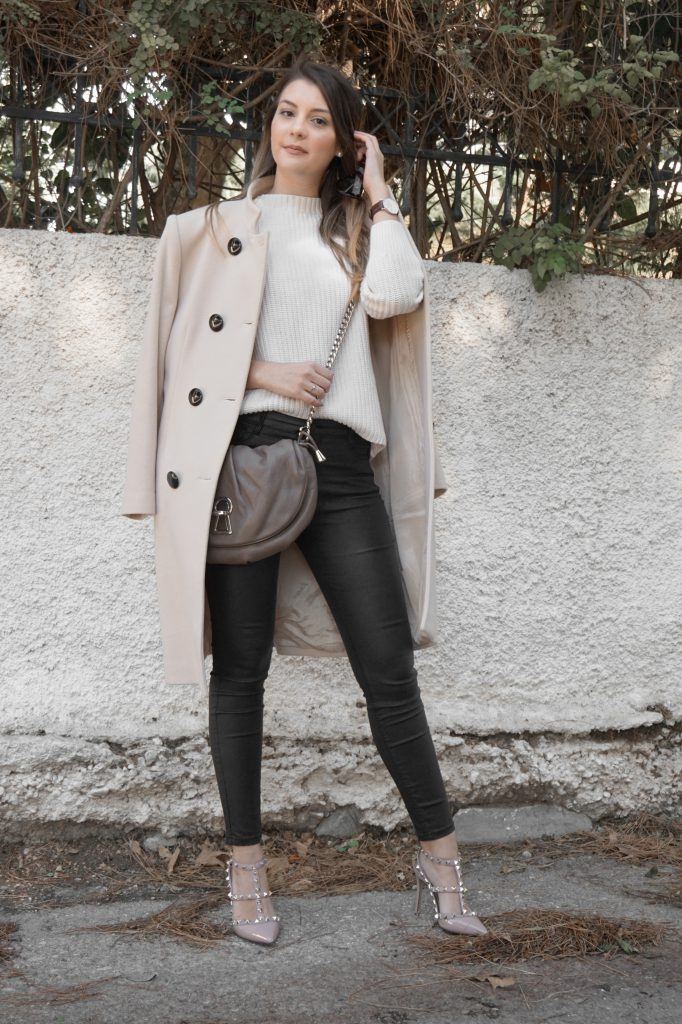 –Details matter more than you think. Makeup, hair, and nails can be factors that determine if a look will stand out or not. Keep your makeup minimal and neutral. Nothing can say "fresh" more than a natural make-up. When it comes to nails keep them polished with natural tones and nicely shaped. All the above apply to your hair too. Take care of them on a daily basis so they look healthy and shiny.
---
–Last, but not least at all, never forget the rule less is more. Avoid wearing a lot of colors or a lot of statement pieces together. Instead, try to have one piece that pops into your outfit. Incorporate the trendy and shiny pieces into more basic garments and let them steal the show. 😉
Tips when running late!
If you fall under this category things might be a little harder when it comes to achieving a polished look. However, I have some advice that helps me going in such situations.
1. No time to wash your hair? Just go for a messy updo or a tight ponytail. Alternatively, you can wear a beanie (or a hat depending on the season).
2. No time for ironing? Avoid putting your clothes in the dryer and hang them to dry naturally so they have fewer wrinkles.
3. No time for a nice makeup? Wear sunglasses (and avoid putting them off). Plus, you'll look more mysterious this way. 😛
4. You are not sure if the outfit you chose is nice, but don't have time to change? Drip your coat over your shoulders instead of wearing it. I really don't know why, but with that trick, I feel that every outfit looks more classy and sophisticated.
5. No time to pay a visit to your manicurist? Just keep your nails clean and nicely shaped.
…and don't forget: Wear your prettiest smile and look confident because that's the most important of all the above!
These are the things I do when I'm running late (unfortunately most of the time 😛 ). What are the magic tricks you do when you want to look put together but are in a hurry? Don't hesitate to share them in the comment section below!
So, that's it for today. I hope the post on how to look classy on a budget didn't get boring, since it's a long one, and my tips prove to be useful and help you achieve the look you are going for. I can't wait to read your thoughts in the comment section below!
Question of the day: Which of my "how to look classy on a budget rules" are you already following?
P.S. Excuse my messy hair, I know they don't align with what the post suggests, but the truth is it was really windy and I did my best not to let that show on the pictures. I promise they were styled before I went out. 😛
See you in the next post!