Hey guys! What's up? In today's post, I wanted to give some advice on how to dress this fall and more specifically, to talk about one of my favorite winter garments, which is knits. Who can deny that they are the key piece of every winter outfit? Temperatures falling doesn't mean the end of fashion. On the contrary, it's the perfect time to add coats, layers and your favorite cozy knitted sweaters. They are so easy to wear and can transform any of your outfits from plain to stylish. Just throw one over your jeans, shirt, mini dress, skirt and you are perfectly dressed for almost every occasion.
However, there are so many choices out there for you to and you might feel a bit lost and don't know which are the best ones to invest in. So, that's where I come in. I'm here to help you find the one that will keep you company and share with you its warmth during all the cold days of winter. Shall we?
How To Dress This Fall – The Knits To Invest Guide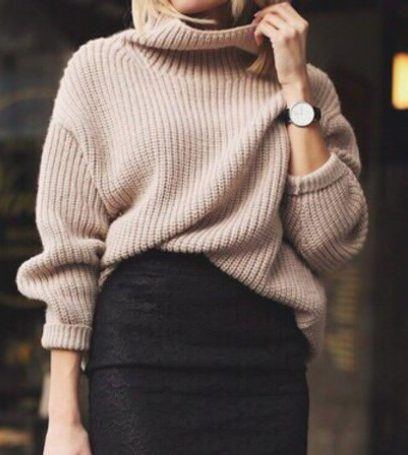 Oversized
One of my personal favorites. I think oversized sweaters will always be in fashion. Some find them unflattering and not stylish, but there is a way to make them look like you jumped out of a fashion blogger's Instagram feed. They are warm, cozy and the bigger the better. I think #sweaterweather is the perfect hashtag for them! Plus if they are on the giant side, you can skip the bra, so one additional point for comfort. If you don't own any, there is always the alternative, to borrow your boyfriend's or your dad's sweater! 😉

Cold Shoulders
This whole year was all about off-shoulder tops, so why do sweaters escape that rule? "Cold shoulders" is now the exact definition, since your shoulders are exposed to the low temperatures. However, that shouldn't stop you from being stylish and trendy. Sometimes beauty and fashion require sacrifices, but you can just throw a coat over them and you'll be fine. There are undoubtedly many different styles to choose from since the summer's ultimate trend is joining us for a little more.
Colorful- Chunky
Pom poms, fringes, ruffles and a lot of colors on a single garment.  I'm a huge fan of the less is more mantra, but that rule doesn't apply when it comes to sweaters. The colorful and the bigger, the better! You shouldn't be afraid to give it a shot. It's not the easiest piece to style, but with careful choices, you can look very stylish. Just keep the rest of the outfit minimal, since your sweater is making a statement itself. I'm sure you will be hearing a lot of compliments while wearing it!

Sweater Dress
Sweater dresses are the perfect solution when you are in a hurry. Throw it on and wear it with some over the knee boots or vinyl tights and sneakers. You can always go for the sexier option which is a tight sweater dress, but an oversized sweater can work as well. No matter what you choose you will look bomb for sure!
Cropped
A cute cropped sweater is a must in my opinion. Wear it with flared trousers, sweatpants, high waisted jeans, or even mid-rise to let some belly show. For a sophisticated look layer it over a long shirt. I'm sure this season you will be seeing me a lot into the gorgeous fire red colored cropped sweater I'm wearing below and I suggest you try one too.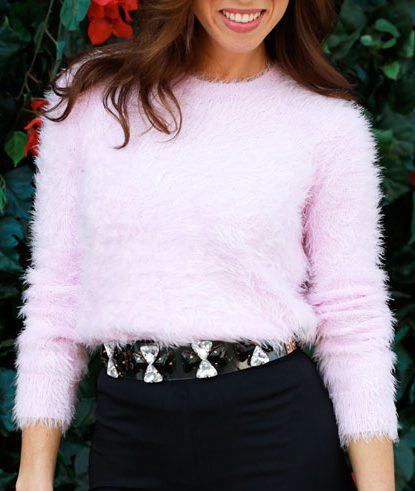 Fluffly
Wishing you had a pet to caress, but you are not responsible enough to adopt one? Well, no problem! Fluffy sweaters are the best pet substitute! Ok, obviously I'm kidding, but who can say no to a soft cozy fabric on a cold day? Especially when it's like wearing your blanket? I personally can't, as you can see in a previous post of mine. If you haven't got one, I suggest you do immediately. No way you will regret it!
Classic – Strict
Not sure if my description "strict" is the exact word, but I think you understand what I mean. I used to be a huge fan of this kind of sweaters because I thought they were the easiest to style (that is totally not true, however, because most of the different sweater styles are). Don't get me wrong, I'm still a fan of them, but not for that reason. I love these classic sweaters under button-down blouses since they give a sophisticated twist to every outfit. If I worked in an office or were a teacher at a school that would definitely be my "I'm in a hurry and I need to go now" look.
Νow that you know which are all the types of sweaters you need to have in your closet, let's just praise a little bit this red cropped sweater that I'm wearing. When I saw it on the hunger I couldn't take my eyes off it. It was the prettiest red color I've seen so far this season. And red is a huge trend right now, so I reassure you I've seen it a lot.
As you imagine, even when I tried to resist buying it I failed, so I didn't have a choice than to make it mine. 😛 Without hesitation, I broke my oath not to spend money on clothes this month and purchased it immediately. I know these photos don't do its color justice but they can give you an idea of what I mean.
With this color stealing the spotlight, I wanted to tone down the rest of the outfit. A pair of high waisted jeans with a black leather jacket, bag, belt and shoes was the most flattering combination in my opinion. Now, this red knit crop top sweater can show its perfect color in all its glory. What do you guys think?

Want this look too?
Red Knit Sweater: Tommy Hilfiger X Gigi
Leather Jacket: Massimo Dutti
Jeans: Versace
Leather Bag: Massimo Dutti
Belt: Stradivarius
Boots: Stradivarius
Hoop Earrings: NA-KD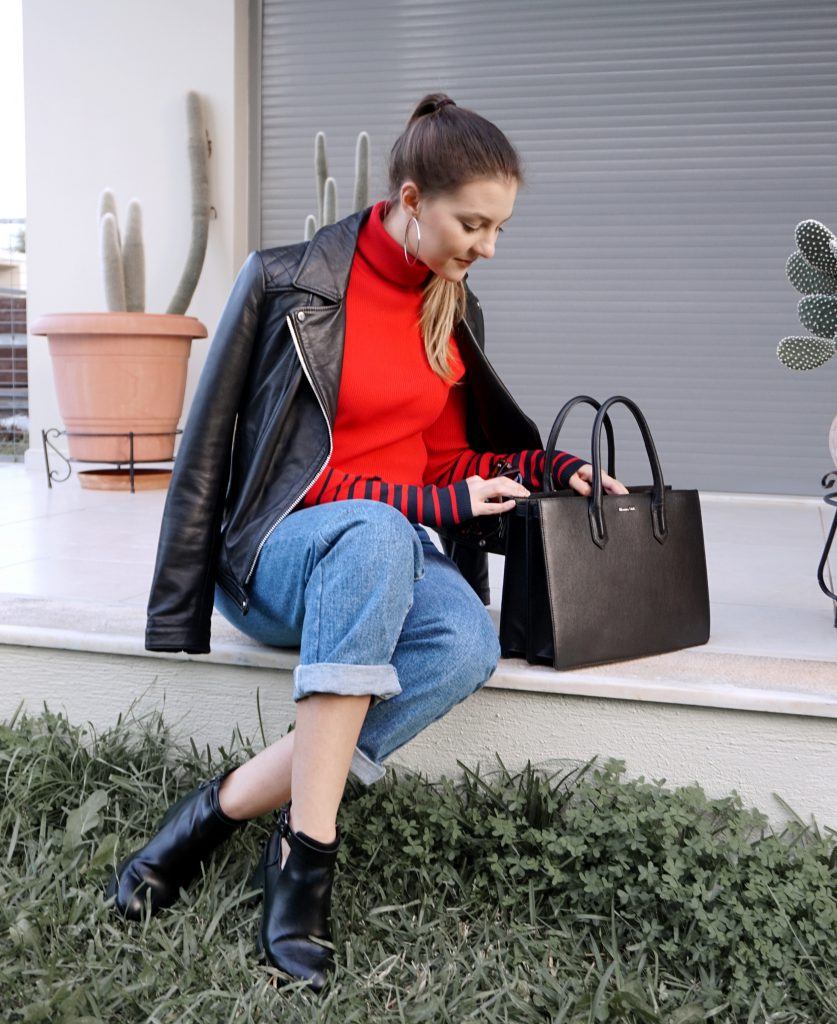 So now that you know more about how to dress this fall, are you ready for sweater weather?
Have a nice week everybody! <3