Hey guys! What's up? Well, here day by day the weather is finally getting colder, so it feels like the right time to get my puffer coat out of the closet and show it gracefully to the word. "Gracefully?? Have you lost your mind, Kate?", you may ask and I can't blame you for that. Puffer coats may not be the most elegant or pretty jackets (I have friends that hate them and have none in their closets), but they are really good at keeping you warm and cozy on the colder days and that's a pretty good reason to own one. You can dress sporty casual and go to the gym or even out for drinks! The choice is yours.
As you already know, I am not willing to sacrifice a good-looking outfit, but I can't say no to comfort either. So what should I do in this case? My only option is to find a way to dress sporty casual, but look good at the same time of course! Luckily puffer coats are trending this season, so that makes styling one so much easier. Haven't you heard? There's no need to wear them only on the ski slopes or when heading to the gym. They can be perfect for strolls too. And yes, there is always a way to wear practical clothes without sacrificing your style. Keep reading to see how.
How to Dress Sporty Casual in a Puffer Jacket
It's true that styling a puffer coat in a decent way is not the easiest thing, but it's my duty to find and suggest to you ways to wear it and look great when running errands, instead of looking like you are constantly heading to the gym.
But before we start styling it I will share with you my criteria when purchasing one.
First of all, it's a must to have fur. Either on the hood or the sleeves. Additional points if it's detachable. This way it looks a bit less sporty and athletic and it's easier to style it for other occasions too.
Secondly, I don't like it very long. I'm a fan of the shorter ones. For me, the limit is just below my butt. NEVER below the knees. This way it doesn't cover me and my whole outfit making me look frumpy.
Thirdly, I don't mind when it's an oversized one, but there is a certain limit to that. If when wearing it I look like a balloon and my legs look like toothpicks I avoid buying it.
Last, but not least, I like it when its tighter around the waist. I find it more flattering to my figure. However, that's not a necessary criterion, since I can always add a belt when I want to make it look this way.
Oh! And it must be warm, or else there is no point in wearing it at all. You will only make your life harder when it comes to styling it!
So now that we covered all the criteria let me show you some ways that I like to style my puffer jackets.
1. Total Black Outfit + Colored Puffer
A total black outfit is a really easy way to style any coat, let alone a puffer jacket. This way you give your jacket the chance to make a statement since it's not overshadowed by any other garment. Your life will be so much easier!
2. Casual Outfit + Puffer Jacket
However, easier sometimes can be boring, so why don't you try wearing your blue jeans, some boots and a sweater? I guess that's what you probably already do on a daily basis, so next time add your puffer jacket and you'll look trendy in seconds!
3. Sweater dress + Puffer Jacket
One of my personal favorite combinations. A sweater dress with knee-high boots and a puffer coat are such a stylish ensemble which I can never say no to. It will look even classier if you go for a monochromatic look. (If you are looking for a sweater dress to buy I have a post where I have links to some of my favorites.)
4. The Puffer Jacket + Sheer Top
Mixing feminine pieces with sporty ones is my favorite! You can give your puffer jacket a sexier twist with a sheer top and some high heel boots. This way you can take advantage of your puffer coat not only for casual activities but for more special occasions too.
5. Flared Trousers + Puffer Coat
This is a combination that day by day I'm becoming more of a fan. I like how flared trousers give a balance to the outfit when wearing a puffer jacket. No matter how oversized your puffer may be, there is no way to look unflattering, even if you are on the skinny side. Remember I mentioned above legs looking like toothpicks? Well, forget such a "problem" with this ensemble!
6. Puffer Jacket + Belt
If you are not afraid to experiment and try different things with your clothes, I suggest you tie a belt around your oversized puffer jacket. This way you give it an interesting more feminine twist and I'm pretty sure you will attract many positive comments. After all, style is about creativity!
7. Puffer Coat + Gym Attire
Of course, we cannot talk about how to dress sporty casual in a puffer jacket without mentioning a proper attire for the gym. After all, a puffer coat is pretty much the only jacket style you can wear in the winter when heading to the gym. So, I find it's my duty to make it look stylish even then. My go-to look for the gym is some leggings, an oversized hooded sweatshirt, and my sneakers. However, occasionally, if I feel like it, I like to wear such a combination when running errands too.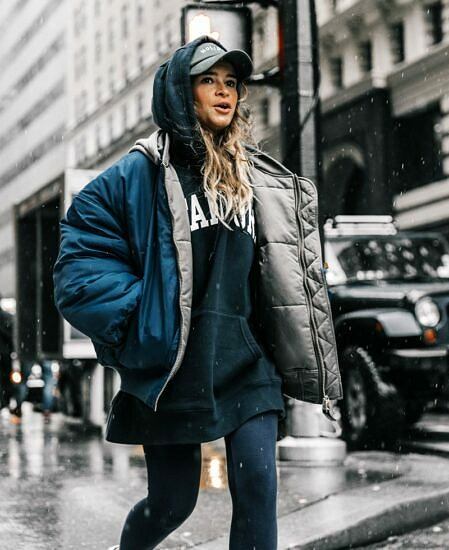 As I was getting ready for a Saturday evening walk, I thought it was time to wear my puffer jacket too. I was in the mood for a mix of casual and sporty attire so I came up with the outfit below. Comfy and warm, yet to my eyes stylish (hopefully to yours too 😛 ). The total black look is my favorite and safest option (I was going for just a walk, after all, so I didn't want to go for something too edgy) and with the poudre color on the jacket and shoes, it felt complete.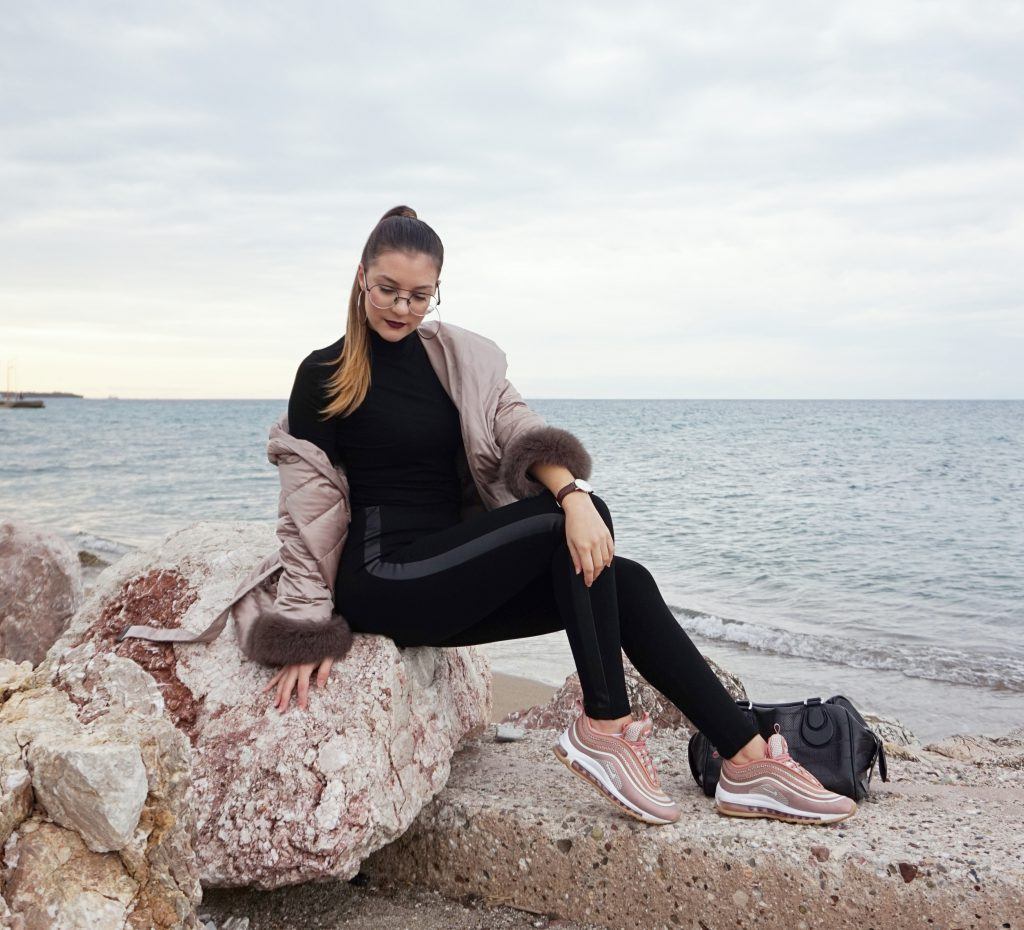 I really like the detachable fur detail on the sleeves.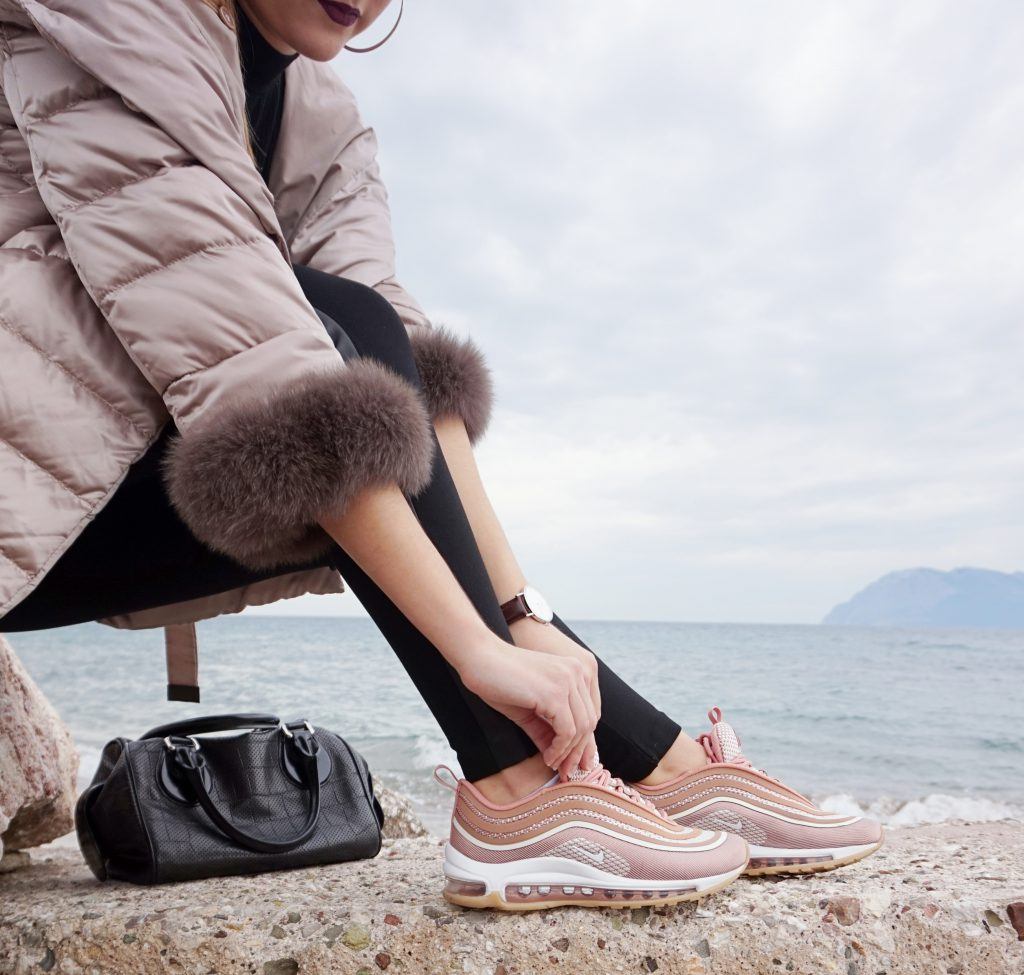 Get the look!
Puffer Jacket: Max Mara
Shoes: Nike Air Max 97
Bag: Emporio Armani
Top: Stradivarius
Bottoms: Zara
Glasses: Super by Retrosuperfuture
Earring: NA-KD
(*Disclaimer: This post contains affiliate links which means that when you buy something through them I earn a little commission that gets this blog going. That, of course, doesn't increase the price of the products.)
Hope my guide on how to dress sporty casual wearing a puffer jacket proves helpful to you and provides you with some inspiration. Looking forward to hearing your opinion in the comments section below! What do you think of the puffer jacket trend? Do you hate it or will you be wearing one this season?