Hello, beauties! After having it on my bucket list for 6 months and watching endless Youtube reviews I finally took the step and purchased this adorable mini Lady Dior! I went for the classic black with champagne gold hardware and I have nothing but good things to say about it! If you want to know more, keep reading for a detailed Mini Lady Dior Bag Review.
Mini Lady Dior Bag Review
Apart from being one of the most iconic bags in fashion history, I also feel that it is a timeless piece that is both elegant and practical and can upgrade any look from casual to formal. No doubt it will make any of my outfits look put-together even on the days that I am not in the mood for fancy stuff and only want to wear my favorite jeans and a T-shirt.
A brief history of Lady Dior bag
This iconic bag was created in 1995 and it was named after Lady Diana, the Princess of Wales. Lady Diana was given the bag as a gift by the former First Lady of France, Bernadette Chirac. She fell in love with the bag and started using it on many occasions, making it an instant hit. The bag's design is inspired by the Napoleon III chairs that were present at the Christian Dior fashion shows. The four-letter charms that spell out Dior on the bag are a signature element of this bag.
Features and Design
If you're looking to add a touch of luxury to your wardrobe then this bag should definitely be within your choices. This timeless piece features a chic silhouette that is perfect for all occasions. I went for the mini size mainly because it was the only model paired with a gold chain. I felt that it elevates the bag further and makes it a little dressier compared to the bigger sizes. This bag comes in various leather and fabrics, but I went for the black carnage lambskin leather since it is known for its durability and quality, especially compared to other designer bags.
Size and Capacity
The Lady Dior bag is available in four sizes – Mini, Small, Medium, and Large. Since I never carry around big bags, I went for the mini version which measures around 17cm x 15cm x 7cm and is perfect for the essentials – wallet, keys, phone, and lipstick. I also felt that it is more appropriate for evening wear as well.
However, if you are looking for more space and something more appropriate for everyday use I would definitely recommend the small version. In fact, in the store, I was torn between the mini one I got and the small one in blush pink but I ended up choosing this one since I wanted something less casual.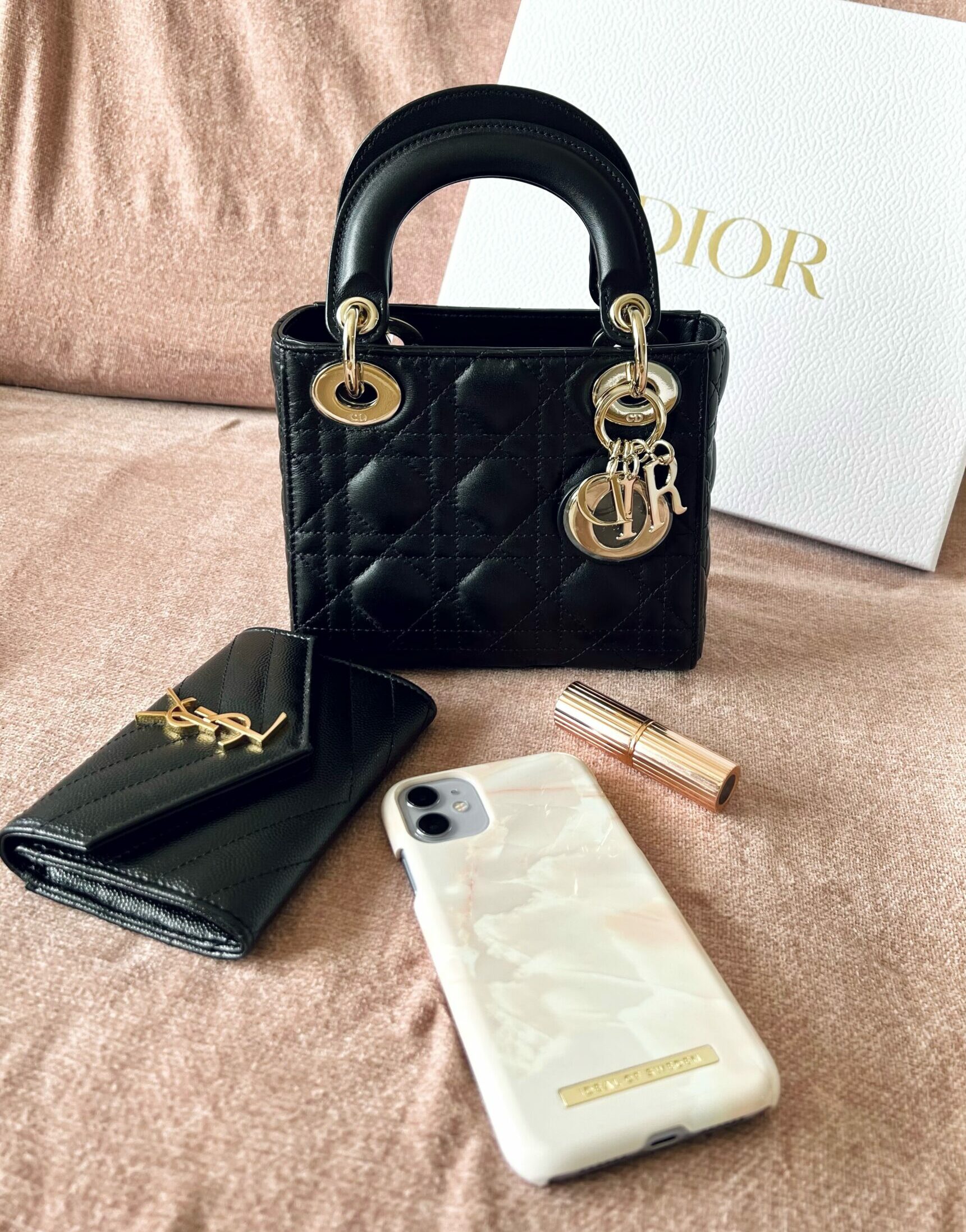 Comfort and Convenience
If you're a fan of small bags, then this mini Lady Dior is perfect for you as it's lightweight and easy to carry. Thanks to the chain it is also very versatile and can be worn crossbody. This means you can switch up your look and style it with different outfits depending on your mood or occasion. Despite its small size, the Lady Dior bag is incredibly comfortable to wear. The chain has a soft leather part that is gentle on your skin and the weight is well-distributed, so you won't feel any strain on your shoulders even if you carry it for hours.
Quality and Durability
The Lady Dior bag's quality is undeniable. Its exterior is made of the finest lambskin leather and adorned with the signature 'Cannage' stitching designs. When you run your hand over the bag, you can feel the luxuriousness of the leather, which adds to the bag's allure. Even though the Lady Dior bag is indulgently gorgeous, I believe it's still a bag you can use daily without fear of it falling apart. I don't think you will ever see any loose threads or stitches on the bag and overall if it is well-maintained and treated with proper care it can last a lifetime. One issue I hear over and over is that the bag's hardware scratches very easily and may fade or lose its luster over time, but it is something that remains to be seen.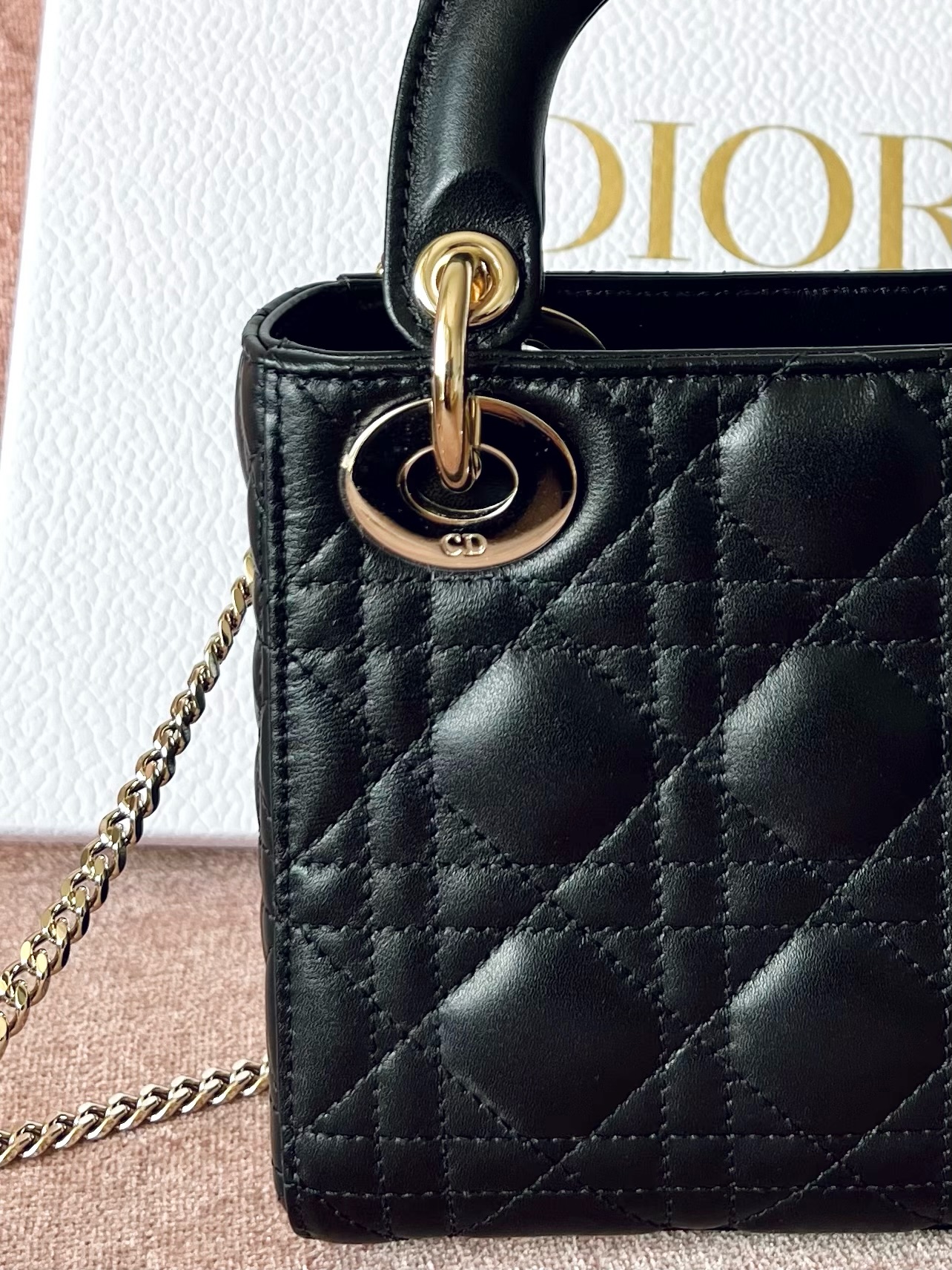 Price and Investment Value
One of the most important considerations when buying the Lady Dior bag is the price. The mini version currently retains for 4,600€ and its overall retail price has increased over the years and will probably keep increasing. One of the positives is that it is a timeless design that will be a valuable addition to any wardrobe for many years to come. When it comes to its investment value unfortunately it doesn't have any since these bags do not hold their value very well. You can easily score a Lady Dior on a second-hand website even for 3,000€.
Final Thoughts
The mini Lady Dior bag is a stunning and luxurious piece that comes with a premium price and it's up to you if you can justify it or not. It is certain that this bag exhibits incredible craftsmanship, quality materials, and a timeless design that will never go out of style. If you are a designer fashion lover and appreciate classic styles then this bag is definitely one to have your eyes on. Depending on your lifestyle you have multiple color and sizing options, so there is definitely a Lady Dior for you.
I hope this review helps you in case you are thinking about whether this bag is suitable for your needs or not. Feel free to ask any additional questions you might have in the comment section below!

pin it
📌