Due to the coronavirus pandemic, most of us probably pretty much spend our entire days at home, with the company of our loved ones or far from them. No matter the case it is crucial that we keep our spirits up, while social distancing. Wearing the same clothes the whole day is not the best idea, so I am trying to avoid it as much as possible. I decided to change into different styles throughout my day and stay away from the old and worn-out t-shirt and sweatpants for a while. And it made a huge difference! Keep reading for some cute and comfy lounge clothes ideas that will help you fight the blues!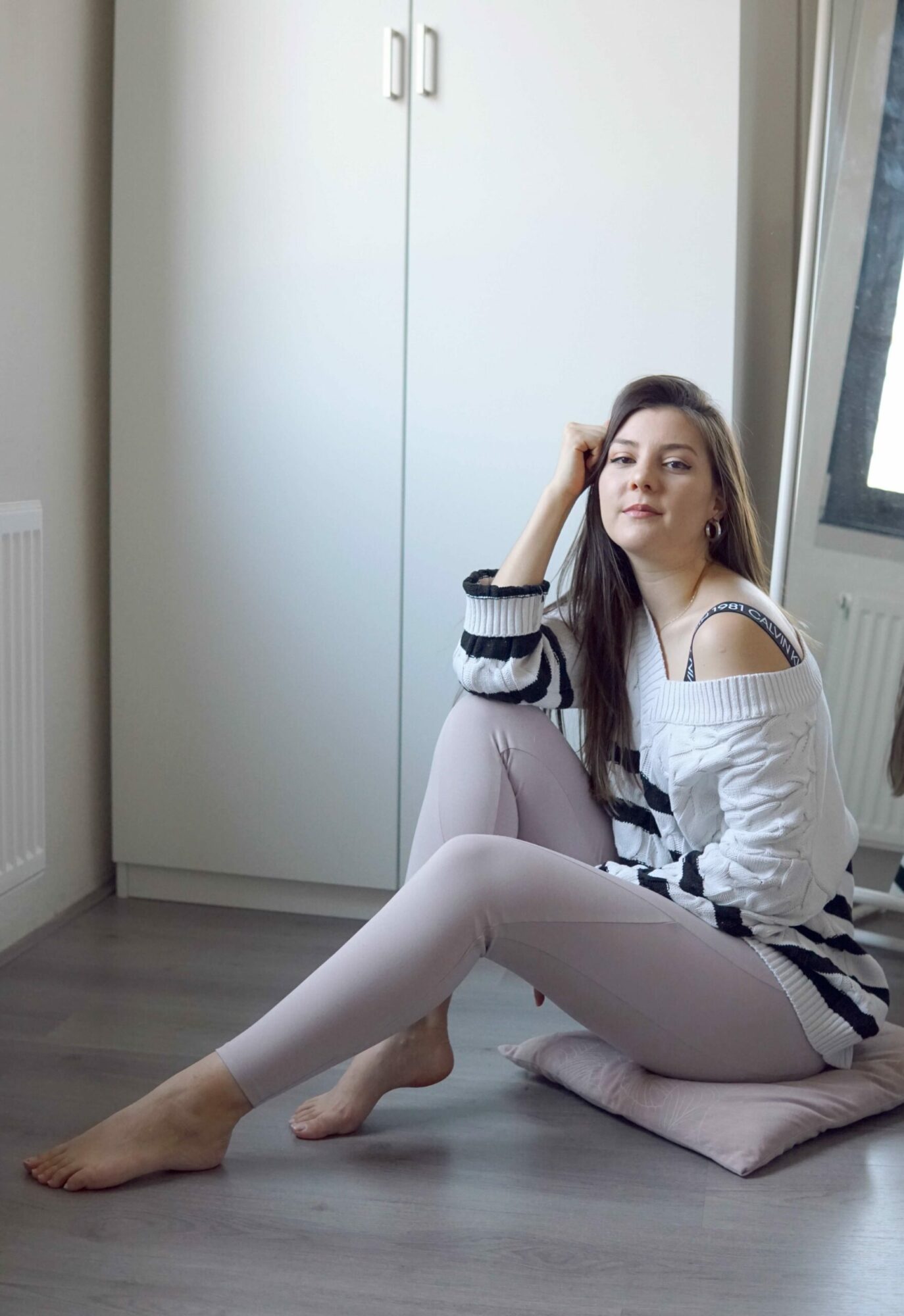 Cute and Comfy Lounge Clothes to Wear All Day at Home
I know for sure that wearing the clothes in which I sleep in, during the whole day, makes me feel lethargic and very unproductive. So this is a big "no-no". Throwing on some old sweatpants and worn-out T-shirts also doesn't work for me. I had to find the outfits that have the perfect balance between comfortable and presentable. And I believe I did, so below you will find my top recommendations of cute, yet comfy lounge clothes in which you can spend your days (at least until the quarantine is over).
Gymwear
One of my favorite options, since they are comfortable and beautiful at the same time. It is my favorite to wear after I wake up since they can set the pace for the whole day. I don't know about you, but when I put on my workout clothes I usually get in the mood for exercising, even though I might not have felt like exercising before.
Lately, I like to wear my sports bra and my tights as soon as I leave my bed in the morning and start working out. It has been my everyday morning routine for the last couple of days, and this is very surprising since I am not a very disciplined person. As soon as I put them on it is like I am getting programmed to do it.  And if a sudden meeting comes up, I can just throw a cardigan or a hoodie and get on with work.
Knitwear
Knitwear never goes out of fashion and knit sets are very big this season. The best time to start wearing them is now, because apart from being stylish, they are also very comfortable and cute. Plus they are very presentable in case you need to do some video calls and perfect to get you in the mood for work. Opt for matching sets or chunky knits with a pair of cozy tights underneath.
Posh PJ's
PJ's are the garments that are most neglected by us and they shouldn't. A good night's sleep is very crucial for a productive day, so it is about time that we take care of this section of our closets as well. Opt for satin, or better, silk, luxurious pj's that will make sleeping a five-star hotel experience. You may make it rain a bit, but they are well worth it. I don't know if it counts, but this is advice from a person that used to spend all the time at home and in bed in tights and old T-shirts.
Matching Jogger Sets
Matching tops and jogger pants can never look bad and they are very comfortable and easy to move around. You can take a quick nap in them, do your house cleaning, and get done with your work. They combine the best of all worlds, so it is a failproof option when it comes to deciding what to wear for the day, considering our limited options.
Wide leg trousers
I used to be a skinny jeans and trousers girl, but as I grow older I am really drawn to airy and wide-legged pants. If you want to know why, it is because they are sophisticated, stylish, and flatter almost all of the different body types out there. In my opinion, it is the perfect garment to wear around the house while looking put together and comfortable. They can be the ideal choice when working from home because they can make you feel a little fancy and get you in the right mood.
Hoodies
I have lost count of how many hoodies I have owned throughout the years and this is because I wear them a lot when I am in the house. They are perfect to throw on when temperatures get on the chilly side, like early spring mornings or nights. They are also part of the athleisure look that is very popular at the moment, so If you need to visit the supermarket for the week's groceries or have a meeting with your colleagues there is absolutely no need to change.
Airy Dresses
For the days you are feeling a little extra or are in need of a boost, a cute loose-fitting dress is the best choice. I usually reserve this kind of outfit for the Sundays at home when I need to feel a little fancier and appropriately celebrate my day off. As the weather gets warmer I am sure they will be the best option that will make us feel a little dressed up.
It can be really easy to feel the blues when you are locked inside the house 24/7, but you need to get going with your everyday life. There is no need to get sidetracked and forget about your goals, health, studies or work. If the way we dress can help a little bit, let's grab this chance. For me, cute and comfy lounge clothes have worked perfectly fine, and I wanted to share this advice on my blog with the hope that it can help you as well.
I hope you are staying safe,

*Disclaimer: The people that are on the "front line" fighting this bad situation, serving everyone, while trying to stay safe, are the ones that are facing the biggest challenge and there is no doubt about it. This can give us some perspective, and realize that staying at home is not the worst thing that could happen to someone. However, I acknowledge that doing it day after day can be a bit tiring and feel restricting. This is why through my posts I am trying to provide the best ideas and solutions that will make the isolation a little better and your day a little brighter.