Hello guys! With things currently being a bit turbulent, and quarantine being the best solution to fight the COVID-19 spread, many of you probably were asked to work from home. As you may have noticed, this can be very challenging and, if not done right, really unproductive. As a person that works from home for the biggest part of my adult life, this is not something unfamiliar to me. The stage that I didn't know how to do it properly has finally gone and I can now claim that I even prefer it to an office job. Do you want to know how to work from home and love it too? Keep reading for some killer tips! 😉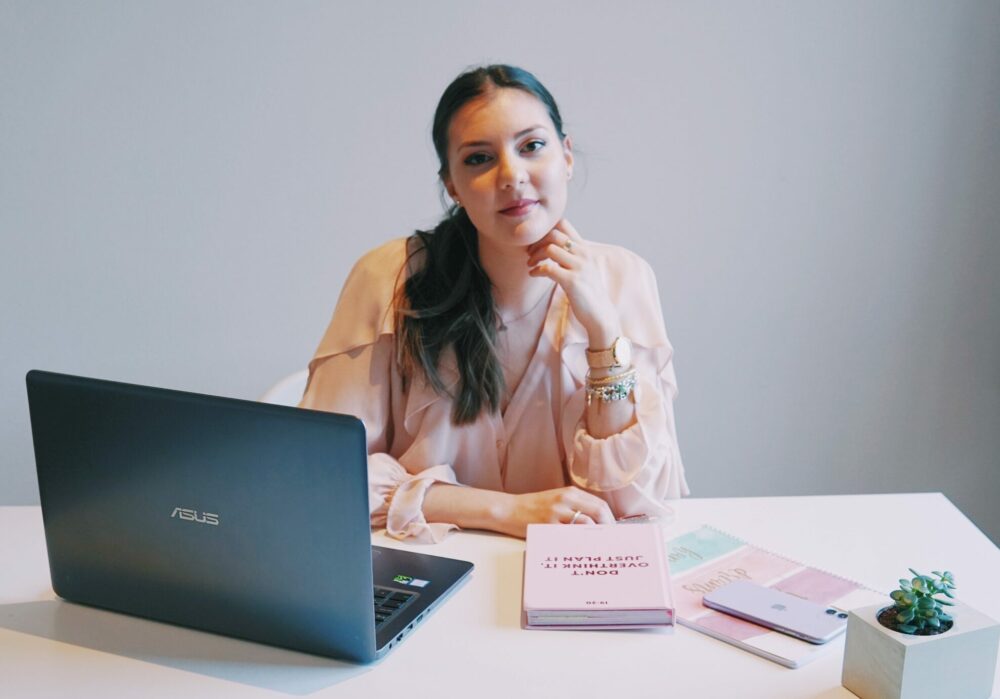 How To Work From Home And Love It
A very important thing to have in mind is that you need to treat working from home as an office job, since it is the only mindset that will put you in the right mood and pace. Also, you need to have a certain structure that you'll follow every day, otherwise, you will feel lost and your productivity will plummet. So let's get started.
✎ Wake up early
One of the most important things to do in my opinion. You must not wake up at your own pace, but you need to set up a daily alarm as you would normally do if you worked in an office. You have to have the mindset that someone is waiting for you to show up, and if you are late you will face consequences. Plus most of us are more productive during the morning hours, so it is better to start as early as possible.
Of course, if waking up at 07.00 am is not your thing, but instead makes you have low energy levels during the day, set your alarm for an hour or two later. But remember to have the same alarm every day.
Related post:
✎ Create a nice workspace
A huge mistake I did when I started working from home was to either sit in my bed or the sofa. As you have probably guessed it was a complete disaster. By staying in bed or sitting comfortably on a sofa you don't 100% wake up yourself, but instead, you prepare it for relaxation which is not what you need when you work. I recommend creating your own working space in your house, which will be the only place you will work from. Don't hesitate to splurge a little bit in order to make it as inspiring as possible. If it helps you to get work done, it is well worth it.
You don't need to have a separate room if your space doesn't allow it, but even a small desk and a comfortable chair in a corner are enough to start.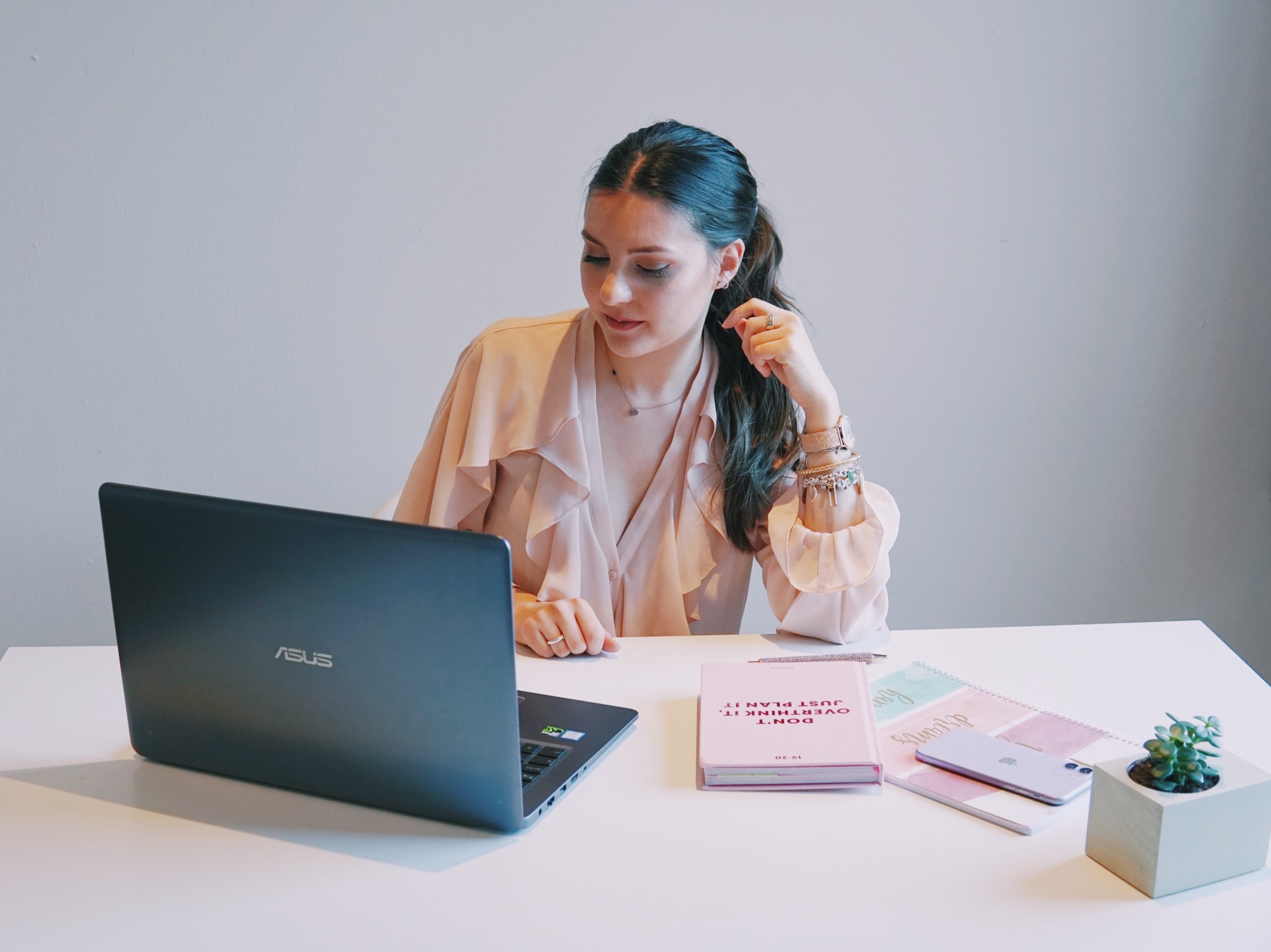 ✎ Have structure
It is crucial to know what you will be doing each day, so you need to have a plan for your tasks and breaks. I suggest you first write down your to-do list of the day, and then plan your breaks in between. I recommend keeping the same structure every day as it would be if you worked in an office with other people.
It is normal for the structure to change sometimes because of the difference in everyday tasks, but try to stick to it as closely as possible.
✎ Stay away from distractions
It is very tempting, when you don't have anyone watching you, to lose focus and start browsing the web or scrolling down on social media. I usually leave my phone out of reach, so that it will no be easy to grab it and scroll down on Instagram. Also, I realized that notifications make me reach for my phone more often, so don't forget to turn them off as well! I have found that when distractions like that ruin my workflow, it is very hard to get back to it.
If you need your phone for calls with your colleagues, at least switch of the data or lock the apps that distract you the most so that you will not be tempted to switch them on.
✎ Prepare your lunch the day before
…as you would do if you worked in an office. When you feel hungry it is better to have food ready to grab than having to invest time and focus on preparing something at the moment. Take your time to eat it on your lunch break and you are ready to get back to work.
Of course, if you didn't have the chance to cook the day before, making a sandwich or a salad are quick and healthy solutions as well.
✎ Cut off at a certain time
It isn't possible to work from home and love it if you don't keep a balance between your work and life. Work-life balance will be a very hard thing to keep up with, especially in the beginning, but it is crucial that you do so. Cutting off work at a certain time is very important for your sanity. One of the biggest mistakes I have done was to not separate work from everyday life. I used to leave my laptop on occasionally checking and answering e-mails until it was time to go to sleep. This plan didn't work out well, and I had to stop because burnout hit my door. You need to set a time in which you will shut off work and continue with your other daily tasks. One thing I currently enjoy is to exercise after I finish. It perfectly signals the end of my working day.
It will be normal for some days to be busy and to have some urgent tasks to complete, so allow your self to stay a little more if needed. However, by no means, I recommend you do this a habit because the result will not be good. Nor for your job, neither your mental health. 
✎ Dress up
When I say to dress up, I don't necessarily mean a full glam look (even though it is fine to do one if you feel like it), but at least don't wear your PJs all day. A cozy pair of jeans and a simple tee will work fine. There is the saying  "dress for success" and even though I don't know if it 100% applies in our case, it shows that the way we dress mirrors our behavior. So dressing in a presentable manner will help to get you in a working mood opposite to your PJs.
And for the days you don't want to wear jeans, a pair of tights and a comfy sweater work fine as well. 😛 
✎ Focus on all the positive
Working from home has its challenges, but if you focus on all the positive aspects (like the commuting hours you are skipping, the quiet and uninterrupted work, your own cozy working space, etc) you will realize that there is no reason not to like it.
And if you feel the need to socialize you can always have video calls with your colleagues/ friends that work remotely or go to working spaces (which I definitely don't recommend doing now with the situation being the way it is).
I hope these tips will help you work from home and actually love it. Do you have any advice that makes working from home easier? Feel free to share it in the comments section below!
I hope you are keeping yourselves safe and things become better soon.
Take care,