There was a time in which loose-fitting clothes were only reserved for the coziness of the house and you couldn't go outside without slim, figure-hugging silhouettes. I also remember our mothers buying us clothes some sizes bigger so that we could wear them for at least two years before they didn't fit us anymore. And most of us hated that. Little did I know that I would choose to wear loose, shapeless clothes in a few years to come. The teenager me would probably freak out. However baggy silhouettes have become my favorite staple, especially during the winter months, so I thought to share some tips on how to style oversized clothes and still look good.
How To Style Oversized Clothes
Whenever I get the chance or I am in the mood, I borrow clothes from my boyfriend's wardrobe. I enjoy the effortless oversized fit of them and by doing this I don't need to spend extra money to buy more. If you don't already do that I suggest you start raiding the closets of your brothers, fathers, husbands, boyfriends or from any man you have in the family! (Just don't tell them I told you to do so. 😛 ) This way you will have more clothes at your disposal with less money. 😉
If fact this is what I did today. I borrowed the coziest and warmest jacket I found in my boyfriend's wardrobe and now I am trying to persuade him to pass the ownership entirely to me. I know this is not going to happen anytime soon though. 😛
Anyway, enough with the rumbling, let's get to the fun part!
When you style oversized clothes there is a fine line between looking sad, lost into the fabrics and cool and effortless. There are a few tips to keep in mind in order to look good and put together, even on the days, you are feeling lazy and just want to throw on something and get out of the house.
Oversized, Νοt huge
One of the basic rules of wearing oversized clothes. When you want something to fit looser than usual you can go up to two sizes. If you go for more, the clothes will not look oversized, but huge and the result is not going to be the one you aim for. You will probably look lost in the fabric. Of course, you can stay true to your size or go up to a size bigger when the clothes have originally loose-fitting lines.
Keep The Proportions Balanced
It is important to achieve a balanced look in order not to look like you just left your bed. Especially if you are not a pro with styling the oversized trend, I suggest you keep an eye on the proportions. For instance, if you are wearing something baggy on the upper half, keep the rest of the outfit normal fitting. Ideally, start with one oversized item and add more as you get familiar with the silhouettes and lines of the baggy clothes.
Layer It
Oversized garments are great for layering since there is a lot of room to add clothes underneath them. An oversized shirt, for example, would look nice paired with a turtleneck underneath. This way you can make them perfect and appropriate for the colder days as well.
Wear Heels
Especially if you are petite and you love wearing loose-fitting clothes, heels will be your best friends on this occasion. Otherwise, if not done carefully the whole trend will make you look like a blob.
Don't forget about the texture
The texture of your oversized clothes matters. Chunky and thick fabrics will add volume and bulkiness to your body, whereas thin materials will make you lose your shape. In both cases prefer to pair them with something tight or add a belt to it, in order to show your natural shape.
Show some skin
The issue many of us face when wearing baggy clothes is that most of the time the result we get is a shapeless figure. Remember to show off some skin so that the natural silhouette of yours is visible. For example, wear an oversized long top with tights instead of pants, or pair loose bottoms with a tight cropped tee on top.
Other Styling tips
There are many things you can do to make oversized and cozy clothes look bomb, and it all requires to try many different combinations and see what you like the most. Some simple, yet stylish ideas are:
Drop an oversized coat on your shoulders instead of wearing it properly
Tuck a loose-fitting tee in a tight-fitting bottom
Add a belt to a shapeless baggy fabric to accentuate your natural body shape
Wear heels with long oversized tops
Pair palazzo trousers with tight-fitting blazers
Tie a flannel around your waist when wearing a loose-fitting dress
Of course, there are more ways to style something XL and it is up to someone's personal taste. Oversized clothes are comfortable and cute, so I don't see any reason why anyone would choose to skip them. Don't forget to rock them on a daily basis and enjoy their warmth and coziness.
Wearing my Boyfriend's Puffer Jacket
This is what I did when I chose to wear this jacket. I've been wanting to wear it outside for sometime now, so I couldn't resist, but to grab the chance the day my boyfriend didn't want it. It is so warm and cozy and I really love its color, so you can imagine how excited I was. I choose to pair it with two tight fitting tops and slim line trousers so that the outcome didn't look too bulky. It is already a garment with a lot of volume, so any extra would make it look too much in my opinion.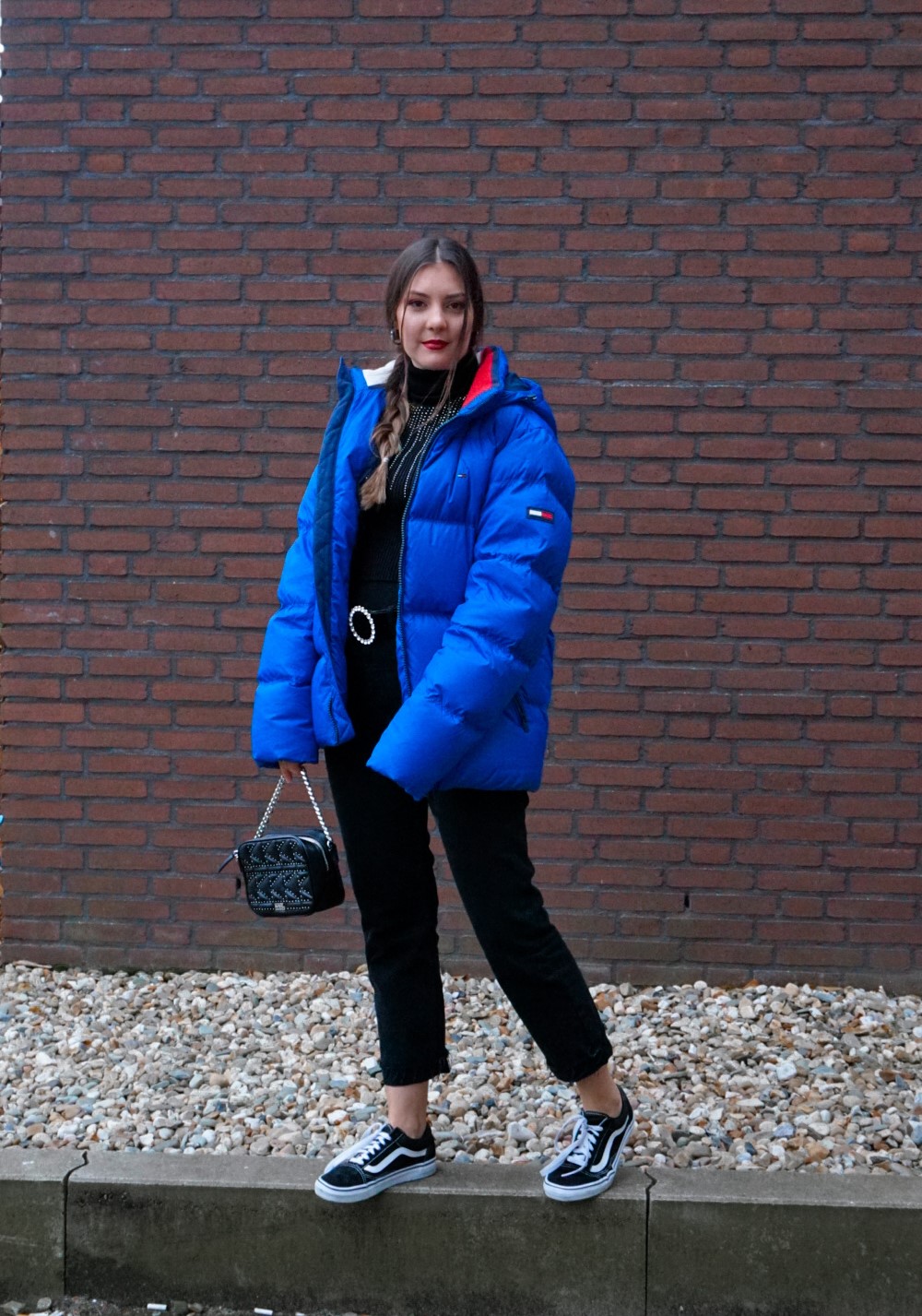 This is it! I hope you find this guide helpful and gives you some inspiration and ideas on how to style oversized clothes.
Question of the day: Did you like the way I wore this vibrant blue puffer jacket?  Would you wear it yourself? Can't wait to hear your thoughts in the comments section below!