Hello sweeties! I hope everything is going great and had a wonderful weekend! Here the weather was very cloudy, rainy and dark and my mood was about to become the same. But then, I had a fun idea in order to prevent such a situation and surprisingly it worked! Well, I know there are many things you can do to make a bad mood better, but today I just discovered one more that works for me perfectly! Which is that? It is how to wear summer clothes in winter. But, let's take things from the beginning…
As I was getting ready to go out wearing my fourth layer of clothing and ready to fall into the blues of this soul-sucking winter day, one of the many thoughts that crossed my mind was the summer days with the light and fun clothes. I have the tendency to correlate the fun and happy experiences with the clothes I wear during them, so every time I see the specific garments I remember these moments (I probably sound like crazy right now :/ ). That's why I thought it would be a good idea if I could wear some of them to give me that much-needed boost of happiness, despite the cold weather. And that's what I did!
So if you are wondering how to wear summer clothes in winter keep reading! *Little spoiler alert: It's all about the layers.*
How To Wear Summer Clothes In Winter
 High Neck Top + Ruffle Dress
Take your favorite ruffle summer dress and add a top underneath. I usually prefer high necks because they are warmer and give extra sophistication. A summer dress in the middle of winter adds a fun and girly twist to any look. If you are still afraid of the cold I have some tips that might help brave it. The interesting thing is that some of the dresses that I didn't have the chance to wear during summer (like this burgundy it the picture), I wore this way and I loved them even more. It's definitely a win-win situation!
 Sweatshirt + Slip Dress
Take your summer nightwear to the next level by wearing it outside during the cold winter months. "How?" you may ask. Over a warm oversized sweater. Sleepwear was very trendy this fall/winter season so one more reason to do it. Plus you'll feel the coziness of your home during the whole day. This unique and edgy look is guaranteed to turn heads everywhere you go. Wear sneakers underneath to make it more relaxed.
Turtleneck+ Camisole
As if summertime wasn't enough for you to get the most out of your cami tops, you can now wear them during the cold months too. Throw them over a warm turtleneck and either tuck them in your pants for a more stylish result, like in the picture above or leave them loose for a laid-back look. For a cozy and relaxed feel wear a long flowy camisole under an oversized sweater.
Button-Down + Jumpsuit
You didn't have the chance to wear your favorite black jumpsuit during the summer months and don't want to wait till they come back. I get it, it's frustrating, but why don't you try pairing it with a top underneath? My favorite combo is a stripped or patterned button-down to give it some personality. I find it the perfect office look. However, if you need something more casual a simple tee will do the trick too.
Button-Down + Bralette
Since it's wintertime, your favorite lace bralette is a garment that is excluded from your options when you pick your outfit of the day. And even if you choose to wear it because you missed it, it will be hidden under your heavy knits and coats, right? But what if I told you that there are some ways to wear it during the cold months too? First of all, you can wear it under a sheer top or a button-down. It's up to your personal preference how many buttons you'll leave unbuttoned, but be careful because flu is around the corner. 😛 Secondly, if your style sense is a little more fearless why don't you wear it over a tight top? It will look so fashion-forward and edgy. No matter what you choose your bralette will be under the spotlight again!
Corset + Oversized Shirt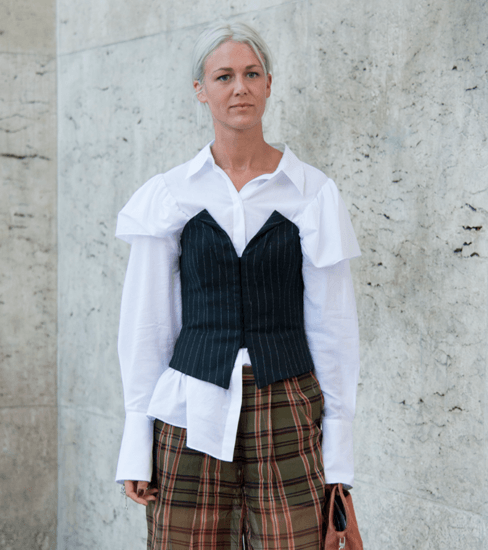 Lingerie as outerwear. Another popular trend of this season, with the cold being the only thing that prevents us from doing it. However, you can layer your favorite corset top over an oversized shirt or blouse. It will flatter your figure instantly and make your look more interesting.
Socks + Heeled Sandals
I know for many that sounds crazy and shows an awkward taste in styling. However, if you are a daring fashionista who is informed and likes to make a statement with the clothes she wears, then I'm sure you have tried it. Moreover, beauty in fashion has become so common and basic that personality, uniqueness and (occasionally) ugliness are far more interesting. So, if you've missed your favorite summer open toe sandals you can wear them with a pair of knit socks (your feet will thank you for this warmth). The certain thing is that you'll need a big dose of confidence since everyone will be looking at your feet. Oh, did I mention that you don't even need a pedicure? 😛
Sweater Dress + Dungaree Dress
Who doesn't own a denim dungaree dress? It's one of the cutest spring and summer looks that most of us like to wear on a daily basis. However, you can now wear it under your favorite sweater dress and take your winter outfit to the next level!
That's it for today my beauties! I hope you enjoyed reading this how to wear summer clothes in winter guide and hopefully it gave you some creative ideas too. Dare to reunite with your summer clothes again! 😉 Hey and don't forget to mention in the comment section below if you've tried any of these combos before!
Kisses and Love