Hello my beautiful friends! Autumn gracefully made its appearance and I couldn't be more excited! Not because the endless hours spent on the beach or the traveling around the beautiful Greek islands will come to an end, but because I'm about to slowly add some new transitional fall pieces in my closet! Let's be honest here. You are starting to get bored of wearing your summer clothes over and over again. At least I am. I'm soooo looking forward to wearing my comfy sweaters, sneakers, and wax-coated trousers again!
So, I believe it's about time we start planning ahead what transitional pieces we are about to keep from our summer wardrobe, what we will still wear from last season and what the new purchases will be. Don't you think too? And since we always want to be trendy, classy and fabulous (lol) in order to achieve it, we need to know which are the Fall Winter 2017 trends that flooded the catwalks. So after I made my research I present them to you:
Fall Winter 2017 Trends
From prints matching your old's aunt sofa, furred coats with big shoulders and plaids taken from the 70's one thing is for sure: I won't hesitate to take a look at my mother's or (even better) my grandmother's clothes! This season everything is vintage-inspired!
"The Color Of Passion"
Some call it the color of the season. And undoubtedly it is. Red was the color that many designers included in their collection and we can see why. It's powerful, dynamic and an attention-getter. So the more red pieces you have this year the trendier you'll look 😛 . I personally can't get enough of these Fendi boots and this Valentino gown.
From left to right: Givenchy, Tod's, Valentino, Fendi, Dolce & Gabbana
"Vintage Furs"
Do you remember when you were little that fur your grandma wore on New Year's Eve? And she told the story of how grandpa bought it as a gift for her after he returned from his trip to Russia a thousand years ago? 😛  Well, I certainly do and I remember that I used to laugh. A LOT. Seriously. And now probably I will be wearing the exact same fur too. Karma is a bitch they say, right? Vintage inspired furs are making a dynamic comeback, so it's time to show them some love. Now is the perfect time to put them out of their dust bags.
From left to right: Michael Kors, Louis Vuitton, J. W. Anderson, Marc Jacobs, Loewe
"Plaided Everything"
Whether it's colorful plaid or the classic "suit" plaids, this season the versatile geometric design is everywhere. Now plaid is fresh and new and we will not only see it on Christmas Holidays or on the Scottish fling.  From entire suits, coats, trousers, and skirts one thing is certain: Plaid is about to become the new neutral!
From left to right: Hermes, Tory Burch, Balenciaga, Chloé, Missoni
"Curtain Florals and Patchwork"
This year it's like fabrics are inspired by your aunt's living room. These vintage floral and DIY vibes patchwork prints that exist on your old aunt's curtains, couches, tablecloths, and so on, are now used in full-length gowns, skirts and trousers. There are no rules at all. You can pair anything with everything and you will be trendy like hell!
From left to right: Balenciaga,  Delpozo, Fenty X Puma, Tory Burch, Zimmermann
"Sparkle and the City"
It's the season where finally my blog's title is on trend! This season you can wear sparkly things outside without worrying if it's too much. Glitter, silver and lame have won their place under the spotlight (or are the spotlight themselves?) and what we can do is just stare with awe. This season, the phrase "less is more" doesn't seem to apply at all.
From left to right: Balmain, Jason Wu, Saint Laurent, Michael Kors, Zimmermann
"Velvet Touch"
The last year's trend is still on, but this time designers use the rich velvet fabric on formal wear. So next time you have an event to attend to, you don't need to overthink it. Wear a velvet dress and you are good to go! Just take a moment and admire this red velvet skirt by Max Mara.
From left to right: Max Mara, Altuzzara, Alberta Ferretti, Jason Wu, Erdem
"Masculine Shoulders"
Pause for a little the raid to your grandma's closet and take a look at your grandpa's too. Shoulder pads into coats, suits and dresses are making a comeback giving the answer to a lot of controversies on whether they should return or not. The truth is they are returning for fall and winter of 2017 with full force.
From left to right: Versace, Michael Kors, Isabel Marant, Jil Sander, Saint Laurent
"The Puffier the Better"
Is there such a word as "puffier" or did I just make that up? Anyway, this winter, designers got you covered. No matter how cold it is outside you always have the choice of a puffy coat to make you feel the warmth asap. The more volume and color it has, the better.
From left to right: Fenty X Puma, Miu Miu, Jil Sander, Versace, Balenciaga
"Head to Toe Leather"
There are rumors that "The Matrix" series will be returning with a new movie. Whether they are real or not, designers seem to be inspired by the Matrix trilogy presenting entire outfits made from leather. The daring for sure will go for a total leather look where the more conservative ones will try a single leather piece in their outfits. In which category do you see yourself in?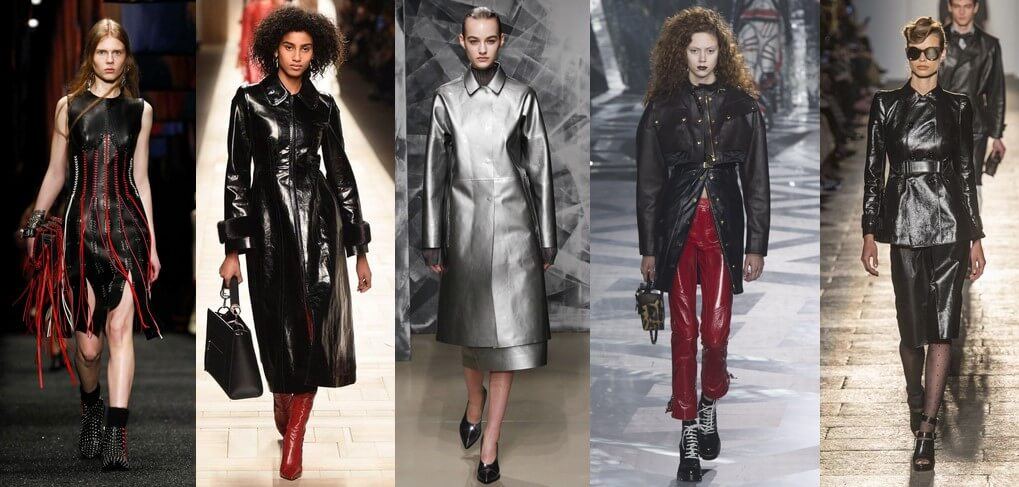 From left to right: Alexander McQueen, Fendi, Jil Sander, Louis Vuitton, Bottega Veneta
"Sherlock is that you?"
The chic wardrobe staple is now more trendy and necessary than ever. As a bonus, designers gave it a fresh look with embellishments like embroidery or stamps. Look at that Moschino cardboard box inspired coat. Inspiration can truly come from anything!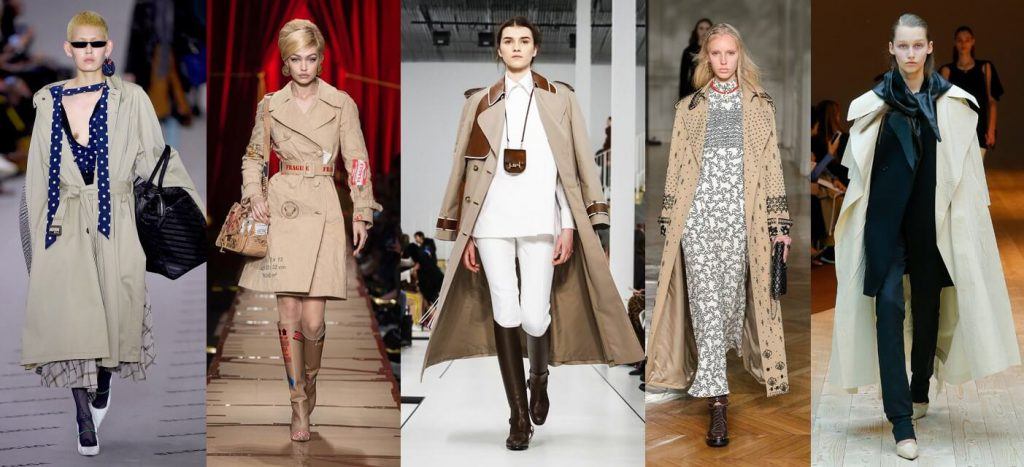 From left to right: Balenciaga, Moschino, Tod's, Valentino, Celine
"Pyjama Party"
Apparently, the clothes you wear inside your house are now one of the fall winter 2017 trends. It's the second-best thing after staying at home wearing them, am I right? So next time you have to leave the house there is no need to change your pretty lace see-through lingerie or your cozy PJ's. This way, you can take the coziness of your home outside. It's a win-win situation! It seems that you get a bonus if you wear a blanket instead of a coat. (Ok this is too much, I'm just kidding 😛 )
From left to right: Louis Vuitton, Mulberry, Zimmermann, House of Holland, Adam Selman
 "Accessories"
Let's not forget about the accessories. Anything with glitter, fur, feather or in the color red is undoubtedly super trendy. From shoes to bags even hats. Wide belts are also making a comeback to complement those vintage vibes of the current season. Fishnet tights still remain on-trend, however, this time not worn under ripped jeans, but under feminine dresses and skirts.
I hope this post will help you figure out what to keep and what to buy in order to have a trendy wardrobe. One personal tip I want to share is not to purchase only over the top pieces but try more classic lines that will last you for more than one season. This way you will be able to lengthen their life and save some money.
So, which is your favorite of the fall winter 2017 trends? Will you be a strict follower of them or do you prefer to do your own thing? Can't wait to hear your thoughts in the comments section below!
Lots of love