Hello, lovelies! What's up? We are moving towards the end of September and, day after day, the weather is getting chillier. We have slowly started accepting the fact that our lives are back to their everyday routine (how long till Christmas holidays? 😛 ), so it's also a good time to organize our closets. We need to remove the very light garments and wear others we couldn't because the heat was unbearable and we had to live the whole day in a bikini (story of my life). The good part is that we can give our love to some new stuff.
When it comes to fashion, I always like to try new things and different styles, but I don't have the confidence it requires. However, lately, I've noticed that my taste in clothing has taken an unexpected turn, making me a lot more daring, trying stuff I normally would just pass by while shopping. One thing I'm currently a fan of is adding occasional wear pieces in casual outfits. This way I have more options when it comes to choosing the parts of my outfit and I make the most out of a more special bag/shirt/pair of shoes that I would only wear twice a whole season.
As you already know I'm the queen of forgetting unworn stuff inside my closet (I would be excused only if it was the one that led to Narnia, but that's not the case), so, as you probably have already guessed it's another hidden treasure we are going to style. This time a white off-shoulder ruffle top. Summer 2017 was all about ruffles and off the shoulder tops. That's why I bought this top that combined both trends. In an attempt I made to wear it during my first summer trip to Skyros island, I realized that it was too hot outside and I immediately took it off. From then, its existence was ignored until recently.
I was cleaning and preparing my closet for fall (of course having in mind all the FW17 trends), and I reunited with this pretty top. I dare say the timing was pretty good since it is not unbearably hot outside anymore. I had the idea to go for a total white look, with a touch of pink for a girly twist.
Total White Look With A Touch Of Pink
When I saw this top I knew I wanted to do a white monochromatic look. It's fall so a total white look is still "relevant" in my opinion. Plus, this top can stand out by itself, so there is no need to add a lot of colors to make it look good. I felt it was better to keep the rest of the outfit as minimal as possible, so, I added my white cigarette trousers. Ok, we said minimal, but, let's not make it boring either. A little pop of color, and especially a touch of pink, didn't hurt anybody, that's why I added a pastel pink bag to match with the fuschia details on my shoes (it sooo satisfied my color matching compulsion. 😛 ). Some silver little hoop earrings, my watch and I was ready to hit the city!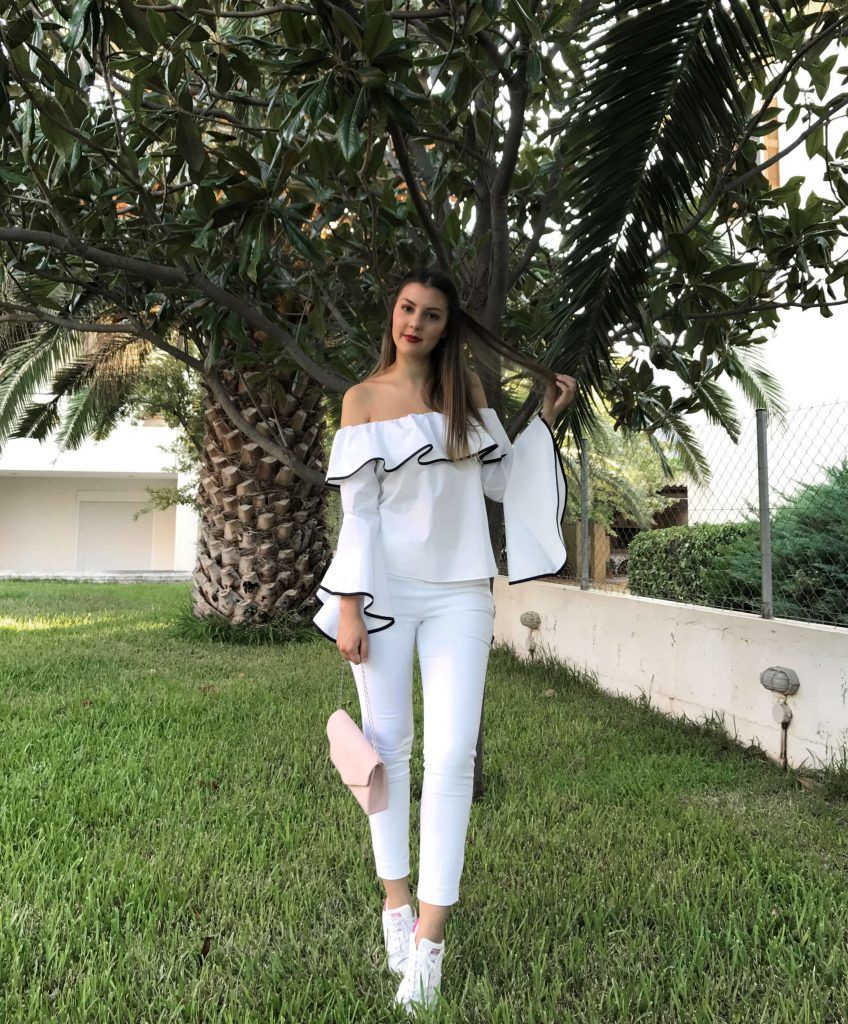 Get the look
Top: Zara
Trousers: Stradivarius
Shoes: Adidas Stan Smith
Watch: Daniel Wellington
Bag: Gifted
Earrings: Gifted
I hope you liked this post and provided you with an easy solution for the days of "I have nothing to wear!". You now know how easy it is. Go for a total white look and add a touch of pink -or whatever color works best for you- and you are good to go!
If you need any advice on a certain piece you can always leave me a comment!
See you soon <3
Love