Have you ever had clothes staying in your wardrobe for ages, without being able to pair them somehow? Or you had forgotten you even had them? If your answer is yes, then you're like me. And shame on us both! A few days ago, while I was cleaning up my closet, I found some clothes with their tags on whose existence I had completely forgotten. I had them the whole summer just hanging inside there! And unfortunately, that's not the first time this is happening to me… In order to atone for my sin 😛 ,  I made it my mission to wear them as many times as possible in the few sunny and hot days left! One of these pieces is this lime green tank top from Massimo Dutti.
Photos: Massimo Dutti
I remember buying this top (not very long ago) because I really liked the color and didn't own anything similar. Super bright colors were one of the biggest trends this summer, so I bought a ton of them this season, but to my regret, I didn't wear them as often as I would like. But, they say it's better late than ever and that's what I'm going to do. For a start, I decided that I will make the most out of this lime green tank top. I thought I could present to you 3 different ways to wear a lime green top, each of them for a different occasion. They are so easy that you can try them out too!
Lime Green Tank Top
"The Casual Way"
What is easier than to assemble a casual outfit? Plus, this is a way you can make the best out of any garment since you can wear it anytime and during the majority of the activities of your day. So, what's the first thing that comes to mind when you hear the word "casual"? I'm sure your answer is "a pair of jeans" as well. That's why the first thing that jumped into my mind was this distressed denim. I added my lime green top and in order not to be boring and I paid a lot of attention into accessorizing it. A hat can give a totally different vibe to an outfit and make it look put together. So some flatforms can. Then, a bag, sunglasses, a watch, and some fancy earrings and you are ready to rock the city! (Or maybe sparkle it? 😛 )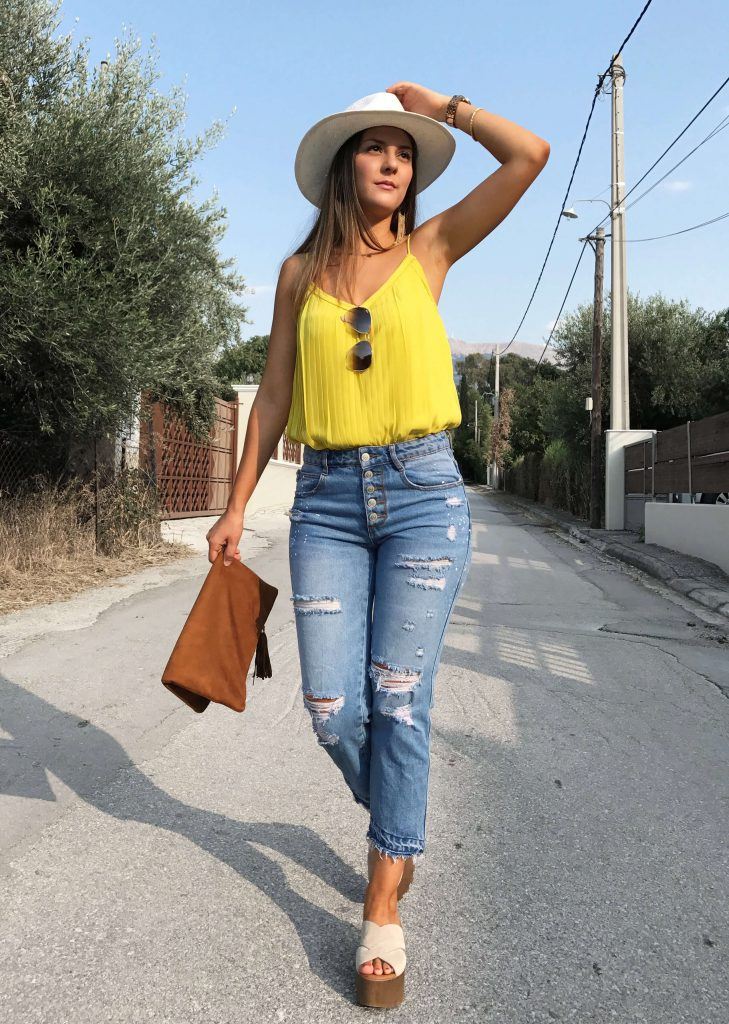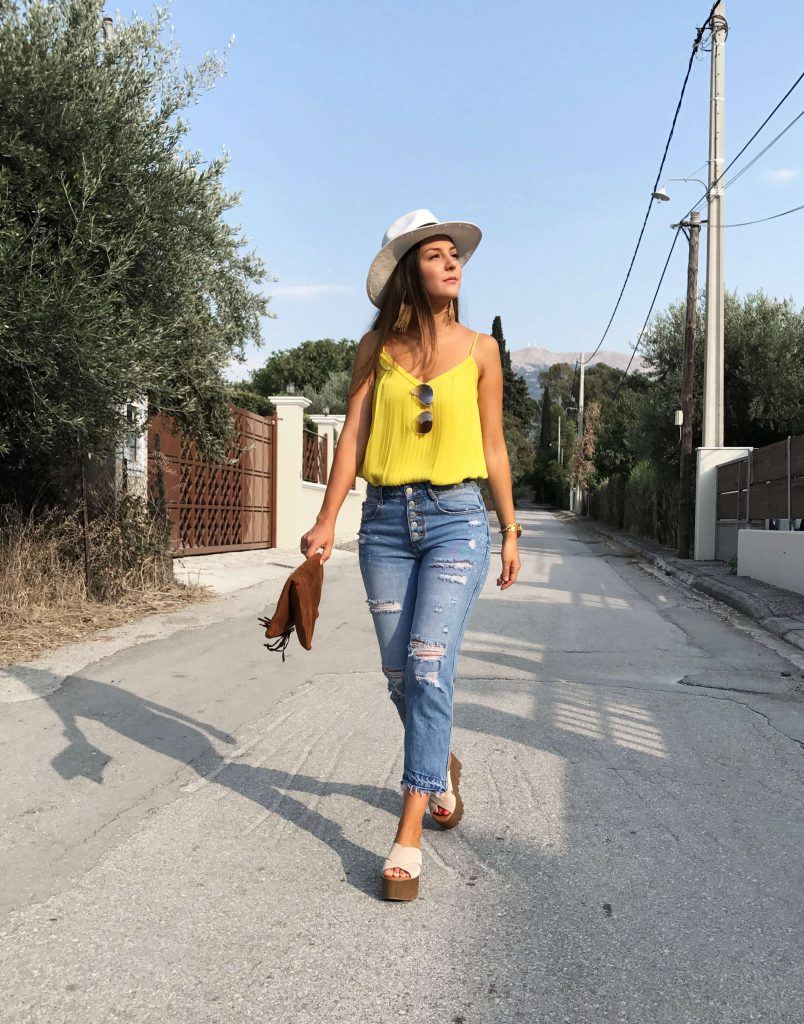 Wearing:
Jeans: Stradivarius
Shoes: Keep Fred
Bag: Gifted
Sunglasses: Ray Ban
Hat: Zara
Watch: Loisir
"With a Midi Skirt"
Well, it's always nice for me to find new excuses to wear a midi skirt. My aunt had this specific skirt when she was younger and some years ago she gave it to me. I hadn't found the perfect way to style it yet, so I had "her" buried in my closet.  Finally, the time to put "her" out came and I couldn't be happier. (Am I weird for talking about clothes like they are living beings? 😛 ) Especially now that I managed to pair two unworn items into the same outfit. Killing two birds with one stone feels nice, right? So, since this pleated skirt is from a different era (sorry aunt 😛 ), I picked carefully my accessories in order for this outfit to look 2017. A baby pink bag and some nude pearly shoes were surprisingly complementing the lime green on the top. The last details were my favorite go-to watch, some sunnies, silver hoop earrings, and a silver cuff. What do you think?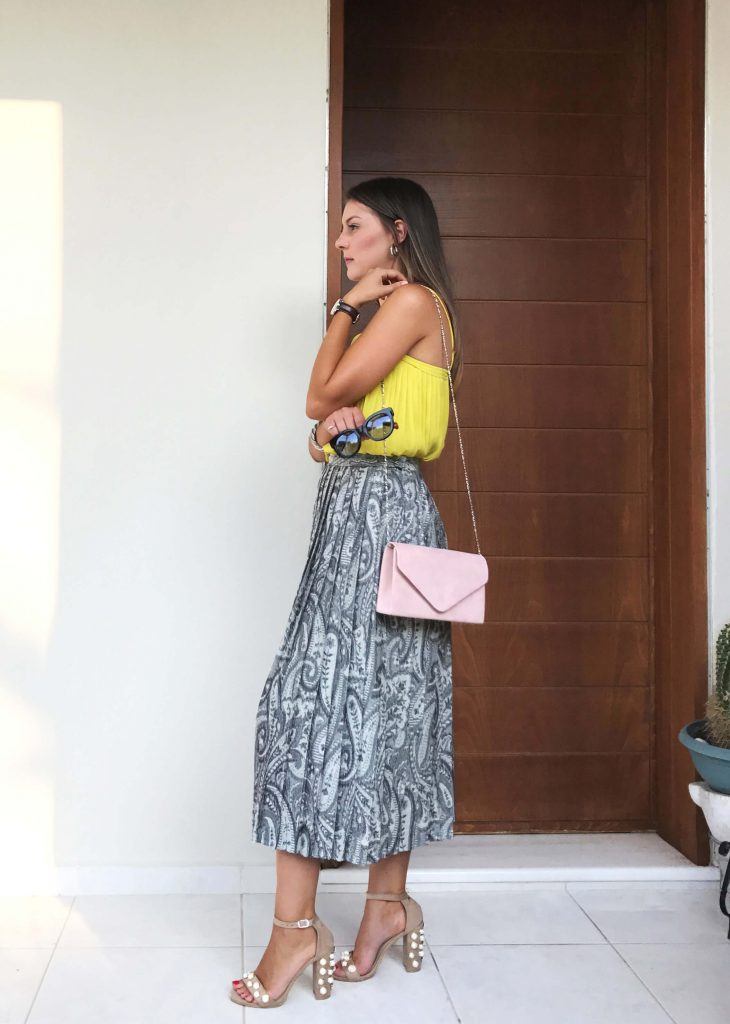 One advice I want to share with you is to never give away clothes that were expensive back in their glory days or are made of good quality fabrics. Most of the oldest fashion trends will always come back after some years and you will feel so happy that you kept them.
Wearing:
Shoes: SheIn
Bag: Gifted
Watch: Daniel Wellington
Sunglasses: Supa Sundays
"Special Occasion"
How could I not include an outfit for a more formal occasion? In a few weeks, a cousin of mine is getting married and the ceremony will take place at the city's town hall. Since the dress code doesn't demand something extremely formal (but, of course, a pair of jeans would be too casual), I found it was the perfect excuse to wear this lime green top once again. This time paired with some palazzo trousers in white (I made sure they won't match the bride's dress color 😛 ). My inspiration for this color combination is the way this top is styled for the pictures on Massimo Dutti's site. I thought it looked very elegant, so why not recreate it somehow? To give it some contrast I choose black items to accessorize it, like a clutch, heeled sandals, earrings, and a ring.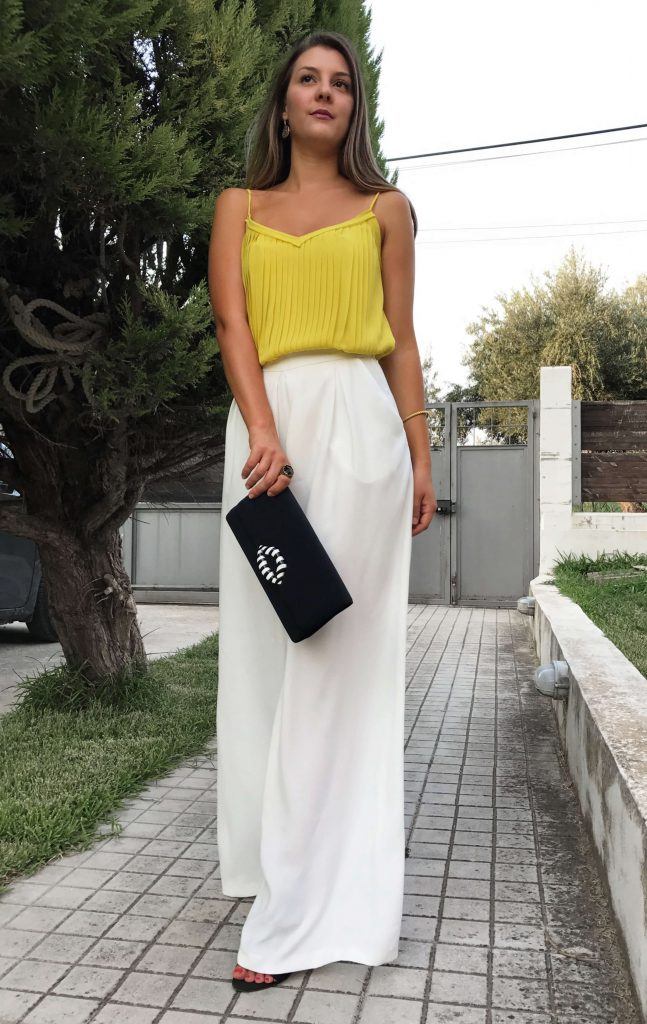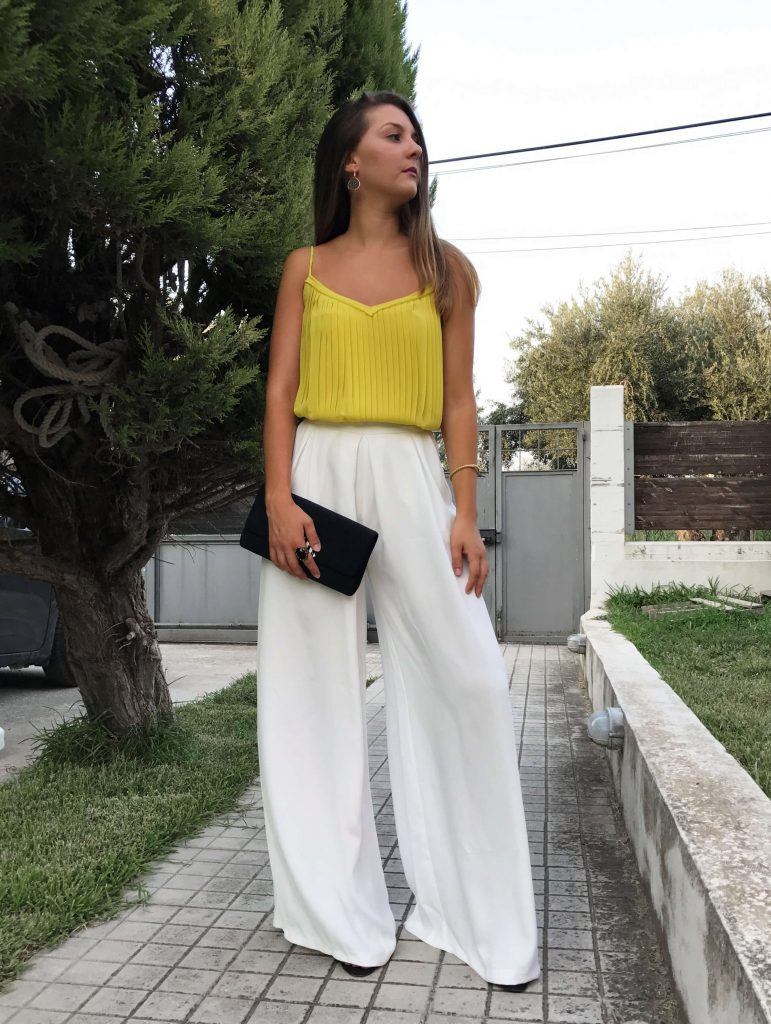 Wearing:
Trousers: Lynne
Clutch: Folli Follie
Shoes: Schutz
Earrings: Oxette
Ring: Vintage
My current pick:
And starting from today I have as a goal not to have unworn and forgotten clothes in my wardrobe anymore. And if you are like me you should head immediately to your closet and search very carefully for those hidden diamonds too. 😉 At least, with these outfits, this top will have the love it deserves now and I'm very happy about that.
So, which of the three is your favorite? Looking forward to reading your thoughts!
P.S. If you need any advice or you want me to style a specific piece of clothing, don't hesitate to leave a comment below.
See you in the next post!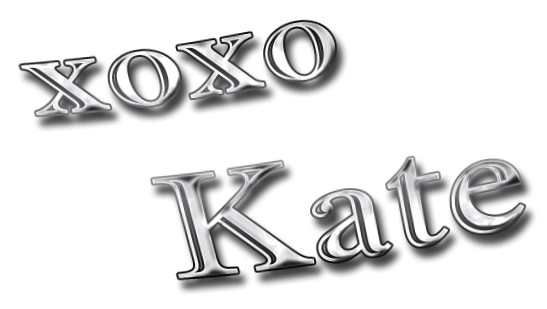 (*Disclaimer: The links of the products are affiliate links which means that when you buy something through them I earn a little commission, which keeps this blog running. That, of course, doesn't increase the price of the product.)