I'm super excited for the start of every season because it's the time we add new, trendy stuff to our closets. If that isn't already enough, spring gives us one more reason to be happy, since it's the sign that summer is not that far away anymore. To me, the winter to spring is my favorite transitioning phase when it comes to fashion. It's something that can easily be seen in the way I put together my outfits. Brights, florals and pastels are all coming back! If you want to discover my favorite winter to spring fashion pieces, keep reading! The best part? They are all under 100$, so you wouldn't want to skip this post without checking them out first!
Winter To Spring Fashion Pieces Under 100$
These transitional pieces will come in handy in situations when the weather is uncertain and at the same time will prepare your mood and wardrobe for spring.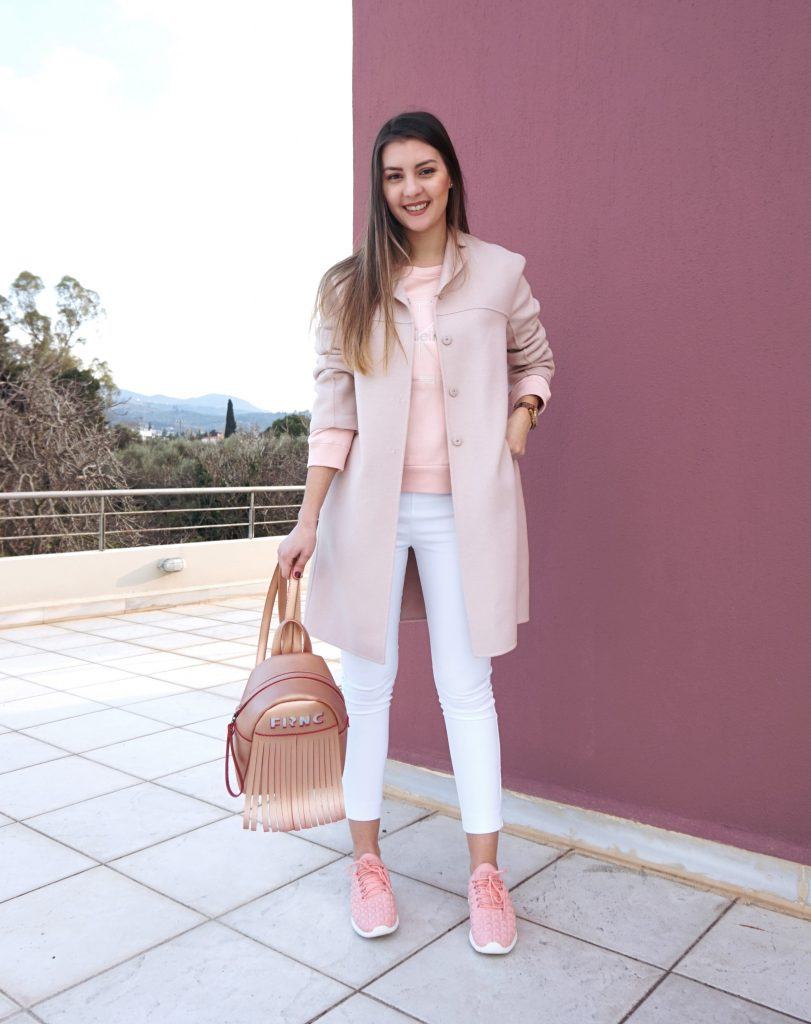 Pastel Outerwear
In spring the weather is very unstable and has many "mood swings" throughout the day. At first, you leave the house with a simple tee and then you might need a coat to throw over. With that being said, you can never go wrong with a lightweight pastel jacket to have all day with you. Don't be hesitant of the color because you will be able to wear it until the start of fall. It can be a blazer, a leather or a bomber jacket and in case you are feeling a little extra a trench coat or a duster.
My Pick –> 87$:

---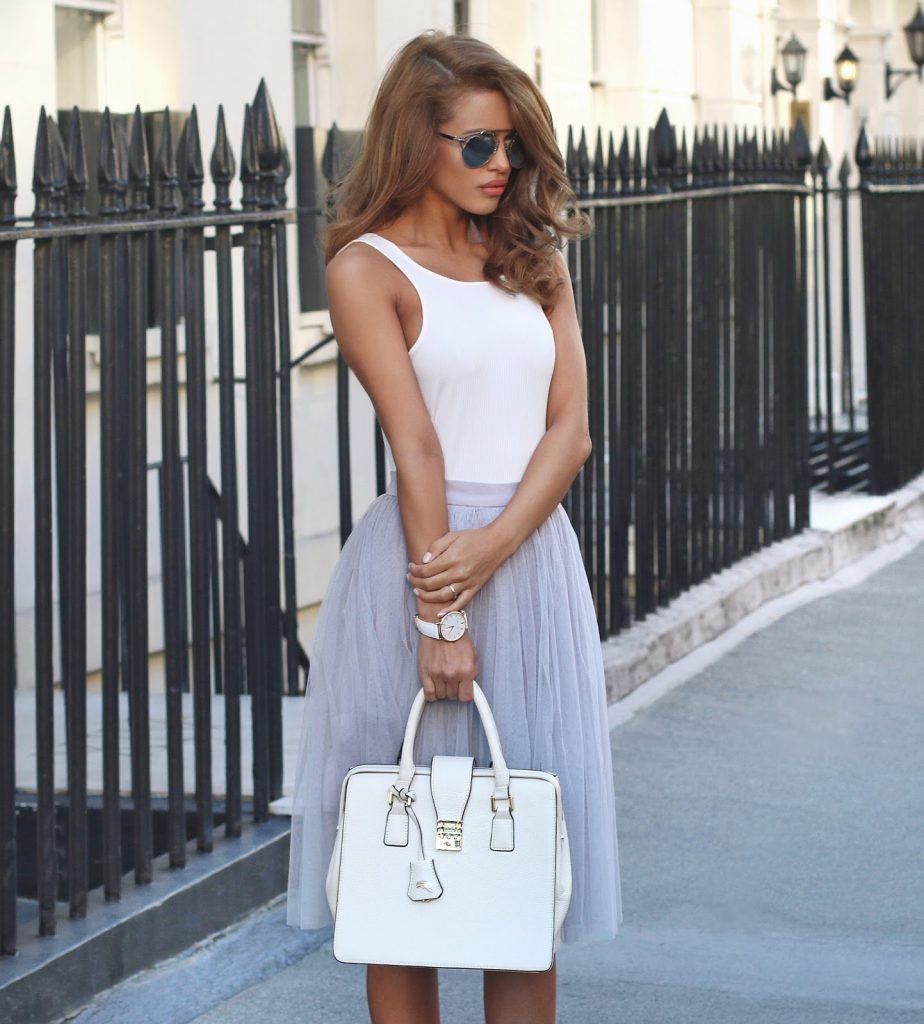 Tulle Skirts
Tulle skirts are massive this spring season. You can start wearing them now, to give that feminine, dreamy vibe to your look. Don't reserve them for weddings and special events anymore. You can go for casual combos and pair your tulle skirt with sneakers and simple tees. Minimal effort for a great look. Sounds good to me!
My Pick –> 67$:

---
Fun Bags
A great way to slowly transition from winter to spring is with bold accessories. Bright, colorful bags can give a fresh springy touch to any of your neutral looks without any effort. They add a pop of color and make you excited for the sunny days to come. Start investing in your spring bags now. You'll wear them during summer too!
My Pick –> 56$:

---
Mules
Ok, I know there are some that hate them, but they are huge this season, so it's time to accept their existence. 😛 They are the perfect shoes when it comes to transitioning your wardrobe to spring. It is like sandals and boots had a baby and mules is the result. They look really nice paired with cropped jeans and midi skirts and for me are the perfect spring shoe. I have an outfit post where I'm wearing mine here.
My Pick –> 59$:
---
Loafers
The same applies to loafers. They might not be the most feminine shoe that exists out there, but no one can deny that they have a magic ability to transform any outfit from plain to chic. Tan, black or colored, it's up to you. Don't forget to be fearless and wear them with pride. The best thing is that they are fancy and comfy at the same time, so it's definitely worth it to invest in a pair ASAP. It will be your go-to shoe for this transitional season. For more inspo you can see how I've styled mine here.
My Pick –> 56$:

---
Dungaree Dress
It'a a piece that can be worn all year round, but, in my opinion, it's a must during spring. It's fun and depending on the temperature outside you can pair it with a knit or a tee, tights or socks, sneakers or thigh high boots. Now that I'm rethinking about it it's probably the most convertible garment in this post. Purchase yours now and thank me later! 😉
My Pick –> 56$:
---
White Sneakers
Ok, I admit I love wearing my white sneakers all year round, but the cold makes me reach for my boots. However, for spring, they are an absolute must. The athleisure look is still trending, so you'll be able to rock them with tailored pants from 9 to 5 or with simple gym tights in your days off. The choice is yours, but remember to clean them regularly, because they get dirty all the time. My two favorite pairs are the classic Adidas Stan Smith and the Converse Chuck Taylor, but there are million of choices out there. Go get some cprisp white sneakers and live your spring days in comfort!
My Pick –> 66$:

---
White Blazer
You might don't feel like it, but I dare you to trade your black blazer with a white one. Swaping your all time classic black blazer sounds intimidating, but I personally enjoy having a white blazer in my spring closet instead of the classic black one. It gives a fresh and stylish twist to any of my looks, it's easy to pair with anything and can be worn from running errands during the day to a night dinner. I have an outfit posted from the previous spring season and the blazer is still relevant and up to date. Tell me, how can you resist to this fresh, crispy white spring garment?
My Pick –> 76$:

Every year this season I feel so excited for the sunny and warm weather, the flowers, the new fashion trends and all my outfits to come, so you could say I have a huge boost in my overall mood. I really hope you are as excited as I am, because there are many more spring posts to come! However, if you fall under the opossite category and will miss winter, I have a post to help you feel a little better. 😛
So, that's it for today! I hope you enjoyed reading about my top 8 winter to spring fashion essentials for this season. If you have any spring staple you can't live without, feel free to share it in the comments section below. For updates and new post notifications don't forget to like my Facebook page or subscribe to my newsletter!
See you soon! <3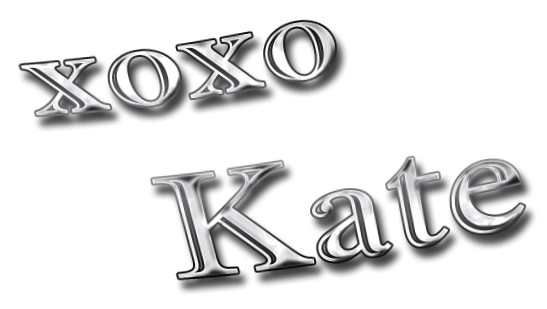 (*Disclaimer: The links of the products are affiliate links which means that when you buy something through them I earn a little commission, which keeps this blog running. That, of course, doesn't increase the price of the product.)