Hello, beauties! Summer is officially here and the sun FINALLY came with it. Luckily, the latest days haven't been cloudy or rainy at all and that makes me extremely happy (apart from yesterday and today that clouds made their appearance again 🙁 ). Tanned skin and salty hair will have to wait a bit more. However, I was in the mood for a happier and closer to summer attire than the outfits I wore in the previous days, but not ready to go full summer with shorts and stuff just yet. We have plenty of time ahead of us for them anyway. Instead, I chose to go for a transitional outfit, since the weather here is still occasionally chilly. So, I found appropriate a white ruffle shirt with pink pants and nude shoes. Shall we begin?
White Ruffle Shirt Outfit
While I was spring cleaning my closet, I discovered an unworn see-through white shirt with ruffles I had for ages, which I realized I will be wearing A LOT this season (Little tip: never give away pretty or expensive stuff, fashion comes in circles indeed and ruffles are a huge trend right now). I thought that now was the perfect time to wear it. So, I paired it with some pastel/millennial pink cigarette pants and my camel/beige open toe booties I bought last year, which for a reason didn't feel wearing them (until now). To give it a more "I tried hard for this outfit" vibe, I did a loose ponytail on my hair. It is such an easy outfit, but I think it looks very fresh and pretty, appropriate for welcoming the summer. I would also recommend it for the office (if you work in one that requires formal attire) because it is very comfortable as well.
A ponytail gives a put together tone and adds the finishing touch to this outfit.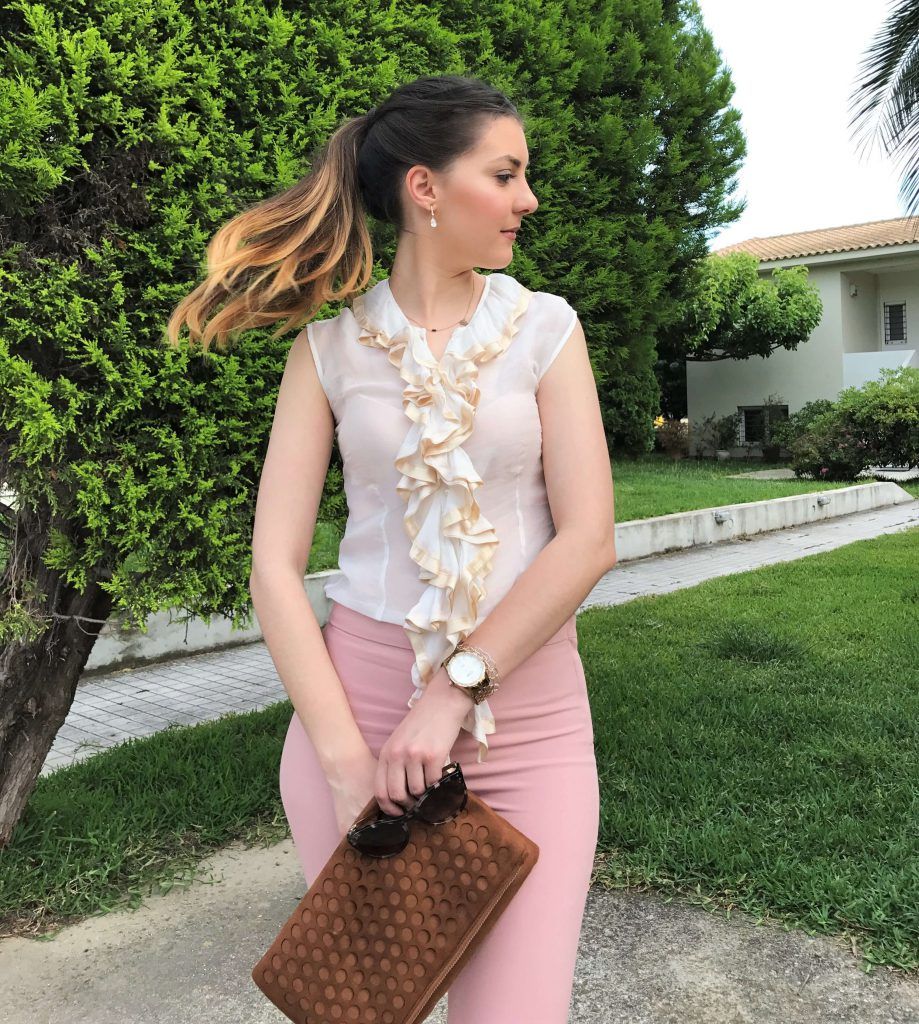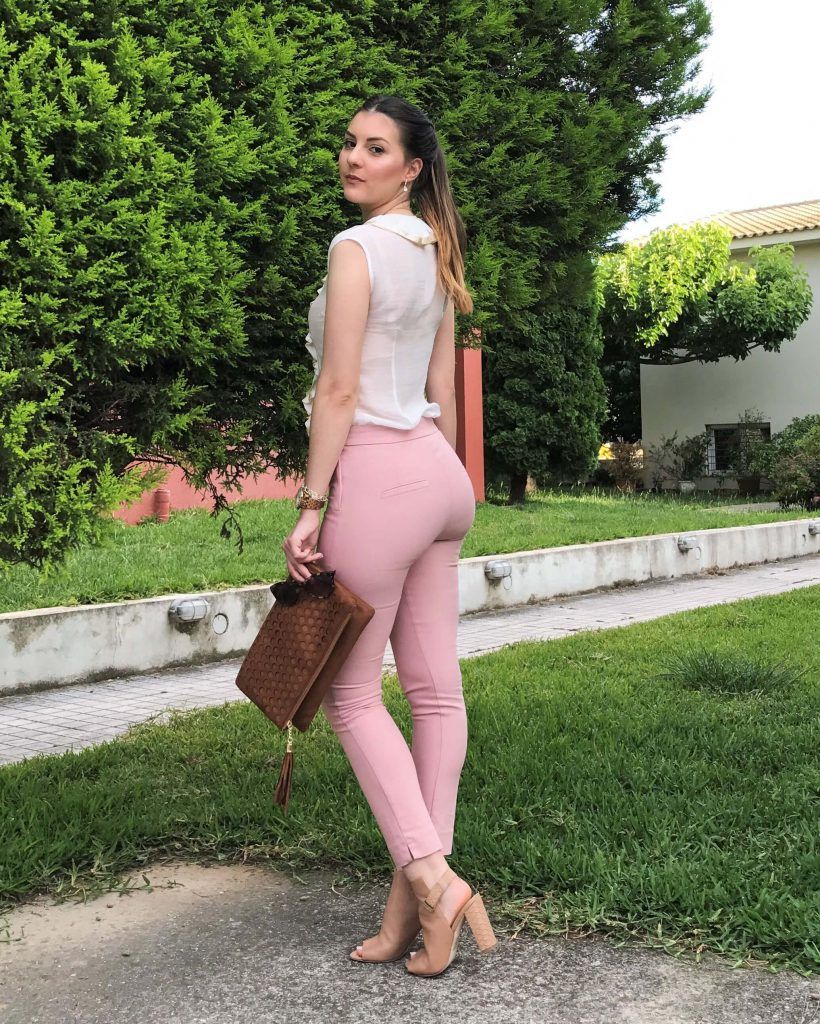 Of course, we cannot forget the accessories. A good quality and stylish pair of shoes, a nice bag and a pair of sunglasses can totally transform any outfit.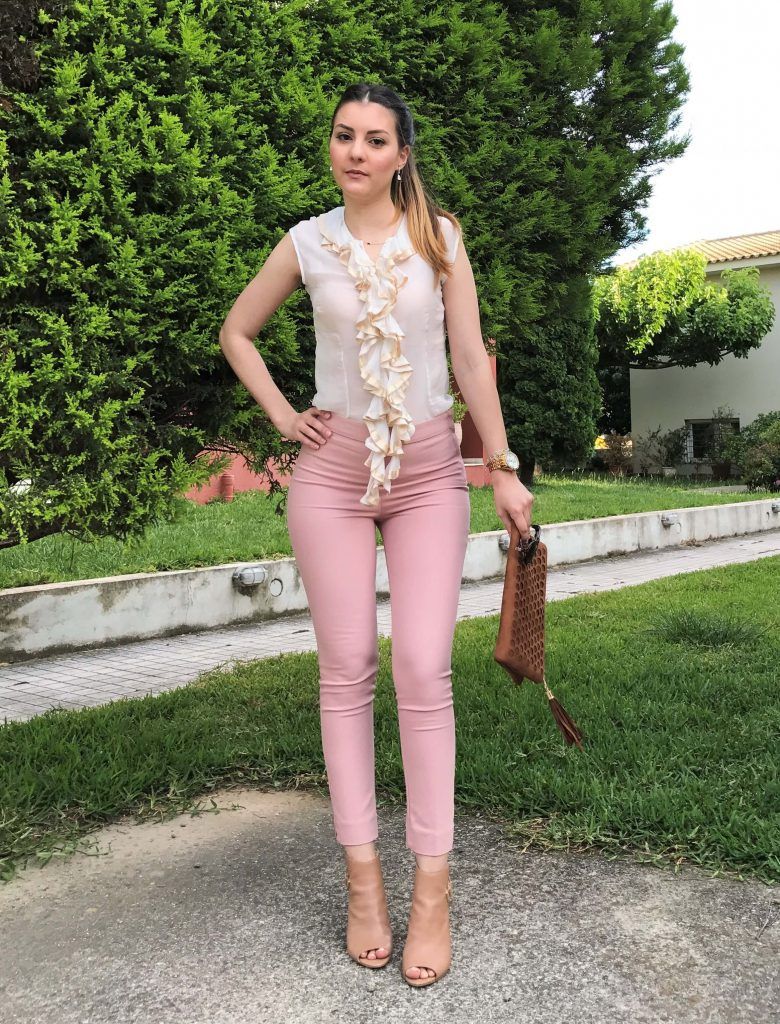 Want to recreate this look?
White ruffle shirt: Rococo
Pants: Stradivarius
Shoes: Guess
Earrings: Swarovski
Watch: Loisir
Sunnies: Massimo Dutti
Bag: Gifted
This was today's post my beauties! I hope you enjoyed reading it as much as I enjoyed putting it together. Hopefully, this white ruffle shirt outfit gave you some inspiration. If you are up to date with the current trends you already know that ruffles are one of the biggest trends of 2017, but are you a fan of ruffles yourself? Let me know in the comments section below!!!
Ps. Don't forget to like my Facebook page for new posts and updates.
Lots of love!