Hellooooo my beauties! What are you doing? I hope everything is going great. But I can't say the same for the weather here. However, that's fine I guess since I found an excuse to wear my favorite white blazer. I wanted to give it an edgy and casual twist, so I paired it with a ballerina pink lace-up top. Very simple, but I believe it can give the impression that you have spent hours assembling it (at least that's my goal 😛 ).
Blazer and Lace Up Top Outfit
May had some very sunny days and that put us quickly in a summer mood here, but lately, the weather is a bit cloudy, rainy and chilly again. So let's postpone the beach trips for a little while and wear the clothes that soon will be packed in boxes. In this case, my black ripped denim (will not be seeing the light of the sun for a few months) with my long white blazer (which I'll be wearing during spring and summer a LOT) and a lace-up top. I haven't seen blazers worn with lace-ups a lot, so I wanted to try it myself and see how it looks. I have to say that I loved how it turned out because it toned down the "seriousness" of the blazer and made it more casual. Last, I threw on my beige oxfords, a pair of sunglasses, a black bag, and my pink gold watch. Easy and breezy. 😛
Accessories are a key for a put together and chic outfit .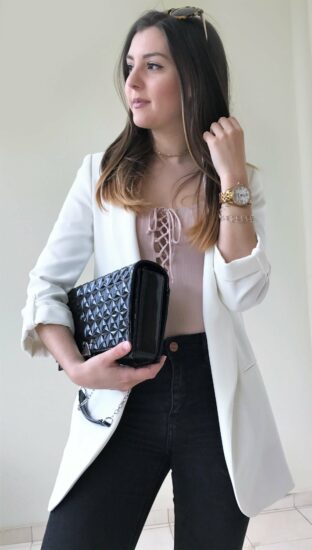 Bonus photo: My dog is sitting there quietly ignoring me and probably is wondering what on earth is my hoooman doing? 😛
It's time to recreate this look
Blazer: Zara
Lace-up top: Stradivarius
Black Denim: Stradivarius
Shoes: Stradivarius
Sunnies: Massimo Dutti
Bag: Emporio Armani
Watch: Loisir
That's it for today! I'm really interested to hear your opinions about combining a blazer with a lace-up top. I hope that in the following posts, no cloudy pictures will appear anymore :P. Only summer themed ones with light and airy fabrics, so fingers crossed! For any news or updates, you can always follow me on Instagram and Facebook page.
See you in the next post!