Hello guys! Today I'm writing about a completely different topic from the ones you are used to. This time I felt the need to share my journey, thoughts and my experience of having a blog. If you are thinking of starting your own, you might be interested in what blogging has taught me so far. I hope it gives answers and solutions to any questions and struggles that you might have.
Well, it's been almost 4 months since the day I uploaded my first post and I think I have some interesting facts to lay down. I will share what I've learned from the commencement of this journey until now.
Let's take things from the beginning. I've wanted to own a blog for almost over a year, but the lack of free time and confidence held me back from doing it. In the meantime, I had been working many hours and had my university degree to obtain, so I couldn't find a single hour in the day to start it. In addition to that, I was too worried about what people might say (mostly the negative comments). These two things are what basically kept me from taking the step.
Some of you maybe can relate to my thoughts. Some others are afraid to take the step because they feel they are not good writers or they lack the knowledge that blogging requires. But, all of these factors are easy to bend if you really want to do it. Take me as an example. When I realized how much I wanted to own a fashion blog ( now it has taken other paths too) I didn't see the lack of free time as a huge obstacle. I just knew that I had to improve my time management and dedicate at least an hour a day into researching and reading about what blogging requires and slowly starting putting mine together.
I also didn't consider myself a good writer. Plus, writing in a foreign language made it even harder (in case you are wondering Greek is my mother language). I still don't know how good my writing is, but I know that post by post it's improving and I still have a long way to go. I hope one day I'll get where I want in this field. The harder thing to overcome was the lack of confidence. I was too concerned about what people would think and it is something that held me back for months. Even if I now know that it is the silliest reason ever because some people are going to judge anyway. So I decided that I must not let that stop me either…
…and now we are counting 4 months since the beginning! I might not have a lot of experience, but I believe I have some useful tips and advice for all the beginners out there (I'm still one too). Want to know more about what blogging has taught me? Keep reading!
What blogging has taught me so far
You might not get the support you expect from your family or your own friends. You will probably hear that there are a million bloggers out there, so you don't have a lot of chances in the field. Plus, they might think that this is something you are wasting your time on and you need to find a proper 9-5 job. I heard those words even though

I

 had a job at the time. And that is completely fine. They are worried that you are not spending your time wisely building your future. And since they love you and want you to succeed, they are afraid you are on the wrong path. It might not be something you want to hear from your own people and you wish you had their support, but accept things the way they are for now. Keep going and when you'll see the results you expect they will see them too. And then, you will probably have their support.
You will face unexpected technical issues and you will feel frustrated. But, with some research and questions into blogging threads, you will find the solution to them.
Other bloggers are willing to help you. In the beginning, you might feel that other bloggers are your competition. However, this is far from the truth. Other bloggers are so willing to help and give advice to you. There are so many 

Facebook

 groups that 

I

 personally use and have proven to be very helpful.
Don't compare yourself to other bloggers. Each of them has their own story and their path is different from yours. When you see their amazing blogs, don't forget how many hours of research and hard work have put into making them what you see and admire now.
Definitely, don't expect results 

overnight

. It is something that if you are reading similar posts you will have seen many times until now and

I

 assure you 

is not

 randomly written. Growing your blog takes a lot of time and hard work from your side. Many times even if you do that you will not see results immediately. So don't forget to be PATIENT and keep working. It will eventually pay you back.
You will probably find interest in other subjects other than the one you started your blog on. For example, 

I

 started this blog because 

I

 love fashion, but as 

I

 go 

I

 discover more fields 

I

 want to blog about, like giving people advice and sharing my journey related to blogging or helping others with life struggles. The possibilities are endless and 

I'm

very curious to see how this blog will turn out in the future.
You will need to put yourself out there. People are not interested in just reading another post on an outfit you assembled. They want a story behind that in which they can relate to. So instead of posting only some photos of an outfit, tell a story about it. (for example why you wore that, where you were going, etc)
Sharing your posts on social media will not help if you don't have quality content. So, before you dedicate time to that be sure that your posts are helpful to people and some can relate to them.
Try to write at least 1.000 words on each post. Research on first-page Google rankings has shown that the posts that occupy the first spots are comprised of 1500+ words. Does this mean that you can't rank with a shorter post? Not at all. However, since you are neither Seth Godin (he writes super short blog posts) nor you already have a super successful blog, you need to get some quality content out there. Why 1000? It's a number that won't feel too daunting for a beginner and at the same time not too short for the search engines. It's really good to have a goal every day and for every post, in order to establish a writing habit. If another number of words sounds better to you, by all means, choose that. Just remember to stay consistent and never compromise quality! Just try to find your own writing style and go along with it!  
It is better to post photos of your own that are unique and no one else has them. If you don't do that and use the ones you find on the internet, make sure to give credits to their rightful owners.
Hopefully, most of you didn't get bored and managed to read this post till here. As a "bonus" I have two photos for you where I'm being silly. See them as a thank you for putting up with me 😛 . Hope they give you laughs and remind you that acting silly and carefree is what we need the most sometimes. 😉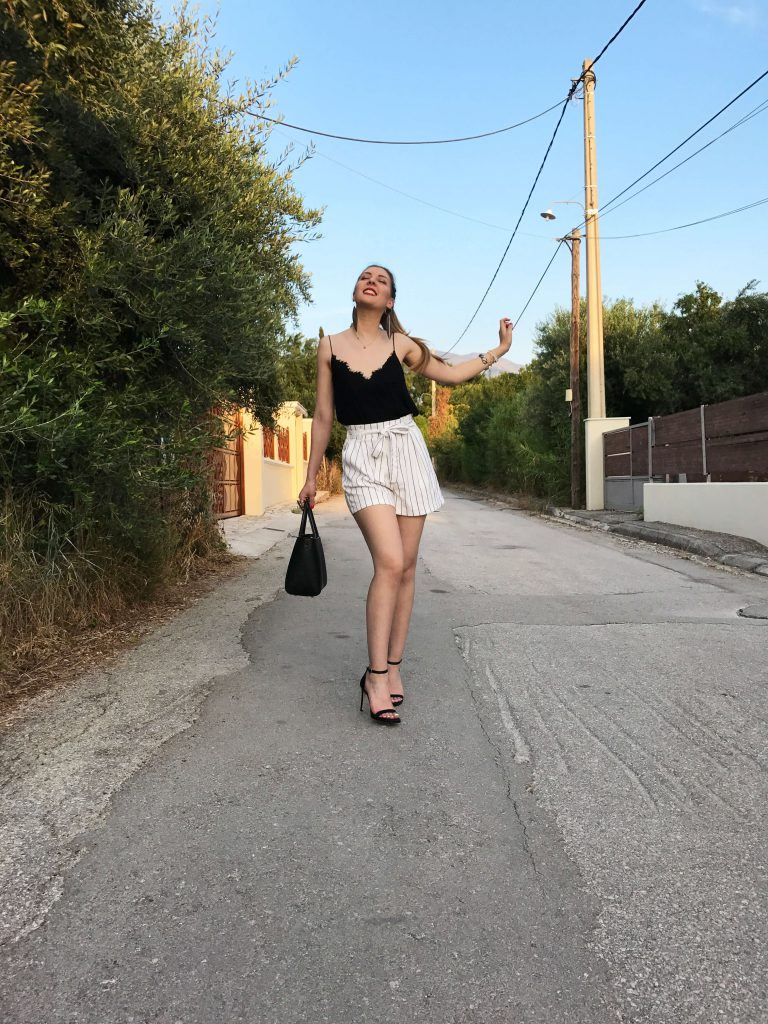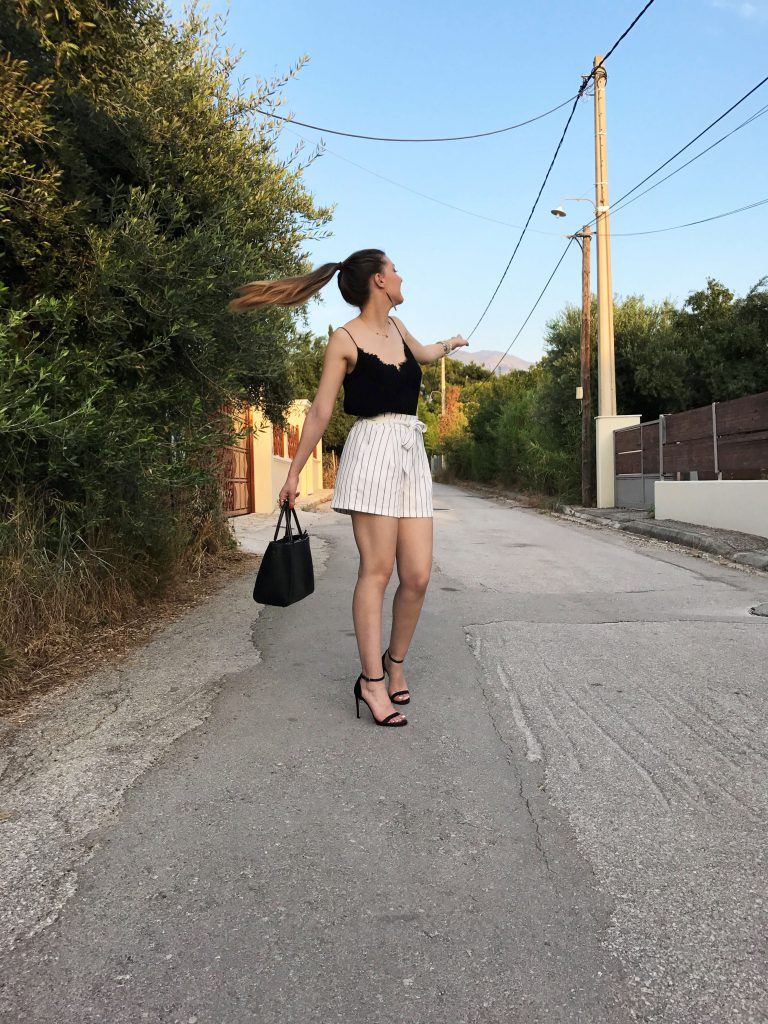 Wearing: 
Top: Massimo Dutti
Shorts: Bershka
Shoes: Sante
Bag: Zara
Sunglasses: Ray-Ban
All the above are the answer to the question of what blogging has taught me so far. I might be a newbie to blogging, but you can see how many things one can learn I such a small period of time. I look forward to learning more and I'm very curious about what is yet to come. If you are starting a blog now, I think these tips are a good place to begin and have in mind. You can ask me anything you want in the comment section below. For any news and updates, you can find me on Facebook and Instagram.
Lots of love!