Hello, lovelies! What is going on? I hope everything is fine! In today's post, I wanted to incorporate two of my favorite styles on a single outfit. You might wonder which are those. Sequins and denim of course! As you might have noticed, this season's spring and summer trends are all about the '80s, so an oversized denim jacket and a sequined top (this top reminds me of disco times :P) are exactly what I needed!
Don't you have some days that your mood is not at its best, so you need to do something in order to stop staring at the ceiling above your bed? Well, today was that kind of day for me, so I needed something to change this bad mood. What is more uplifting for a girl than to wear her pretty clothes and some makeup and go out for a walk? At least this is what works for me almost every single time! (if you have never tried it I really can't recommend it enough). Plus, taking some photos is one of the best confidence-boosting activities you could indulge in, so that's what I did. It is even better to get a friend to tag along, but if no one is available, don't hesitate to go about it by yourself. You will realize that some alone time is also very therapeutic from time to time.
So below you will find photos and details of the mood-lifting sequins and denim outfit that I wore and made my day (Am I weird for giving such a name to an outfit? Yes, definitely!)
Sequins and Denim Outfit
It was a very cloudy and somewhat chilly day, so I chose to wear a total white outfit with long pants and an oversized denim jacket. For a pop of color, I added a color block tote. I also wanted to give a bit of edginess to this look, so I went for a top with clear sequins, as well as a pair of spiked loafers (which I had totally forgotten that I own 😛 ). Although this outfit is very simple and basic, I find it stylish and appropriate for many occasions. What is your opinion? At the end of the post, you can find all the details in case you want to recreate it 😉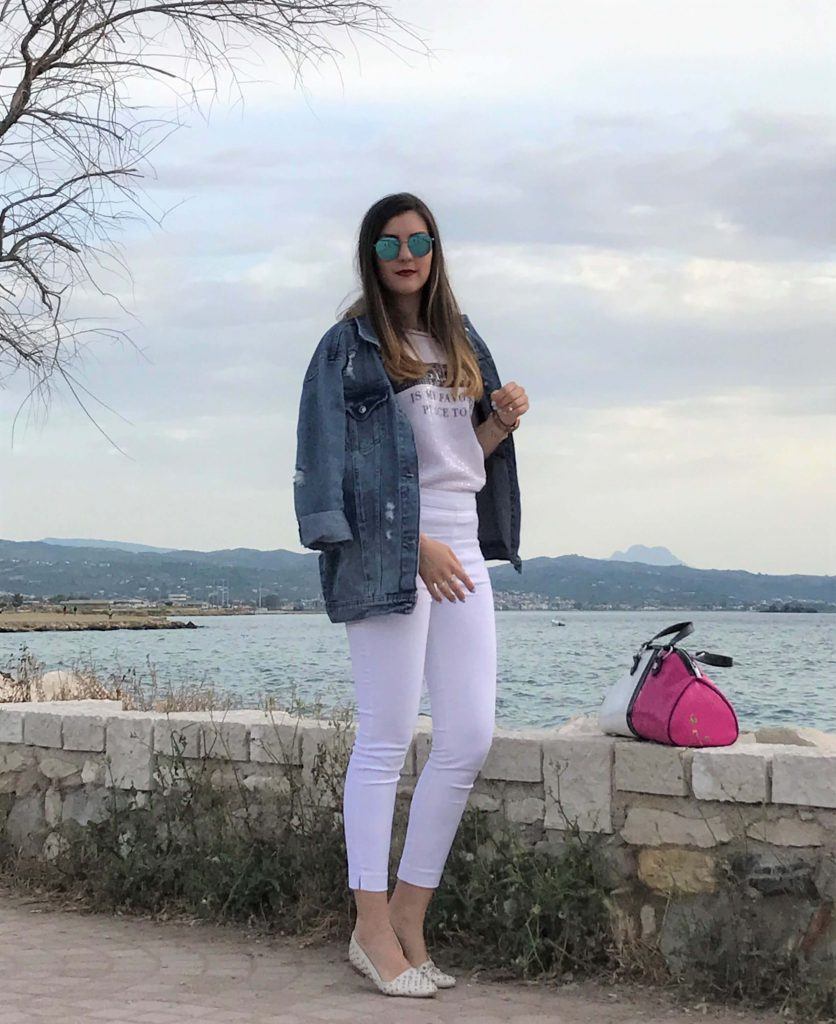 The clear sequins on the top make it appropriate for almost any occasion.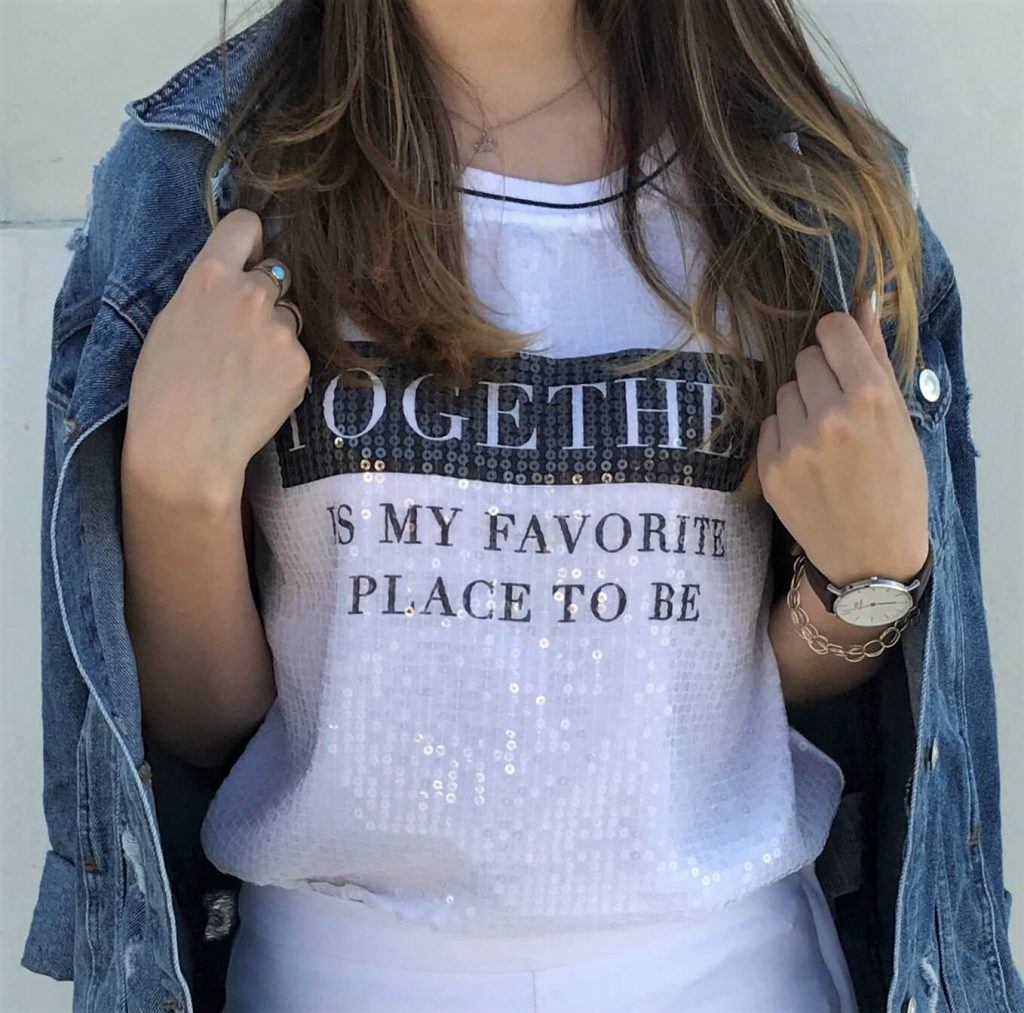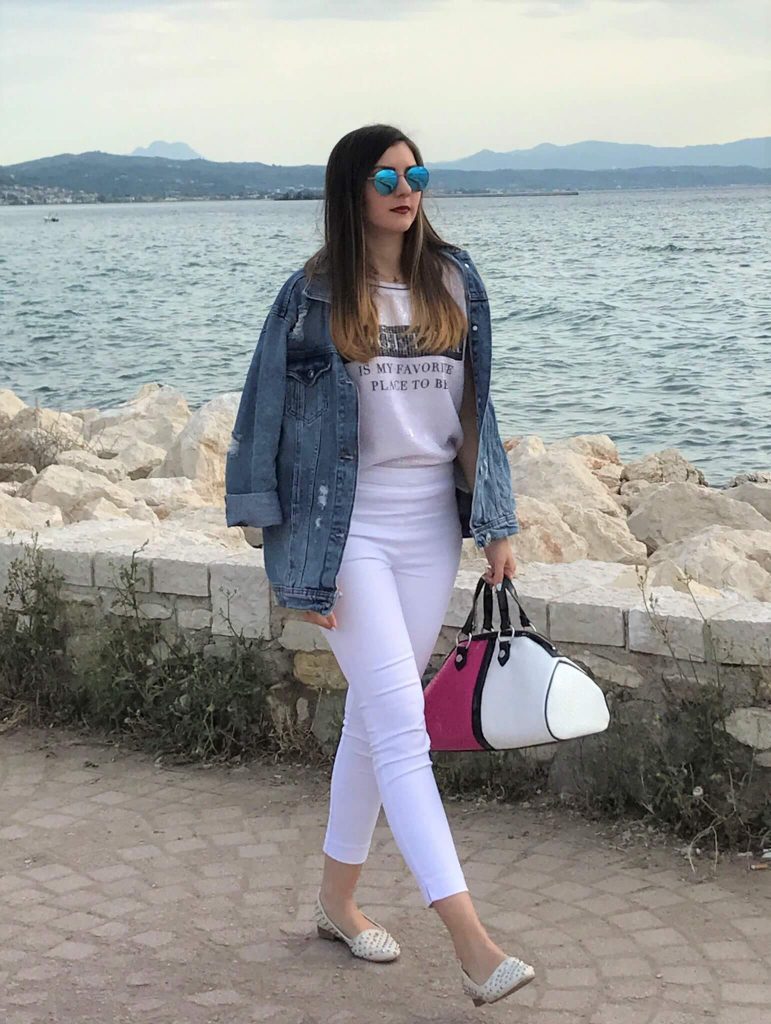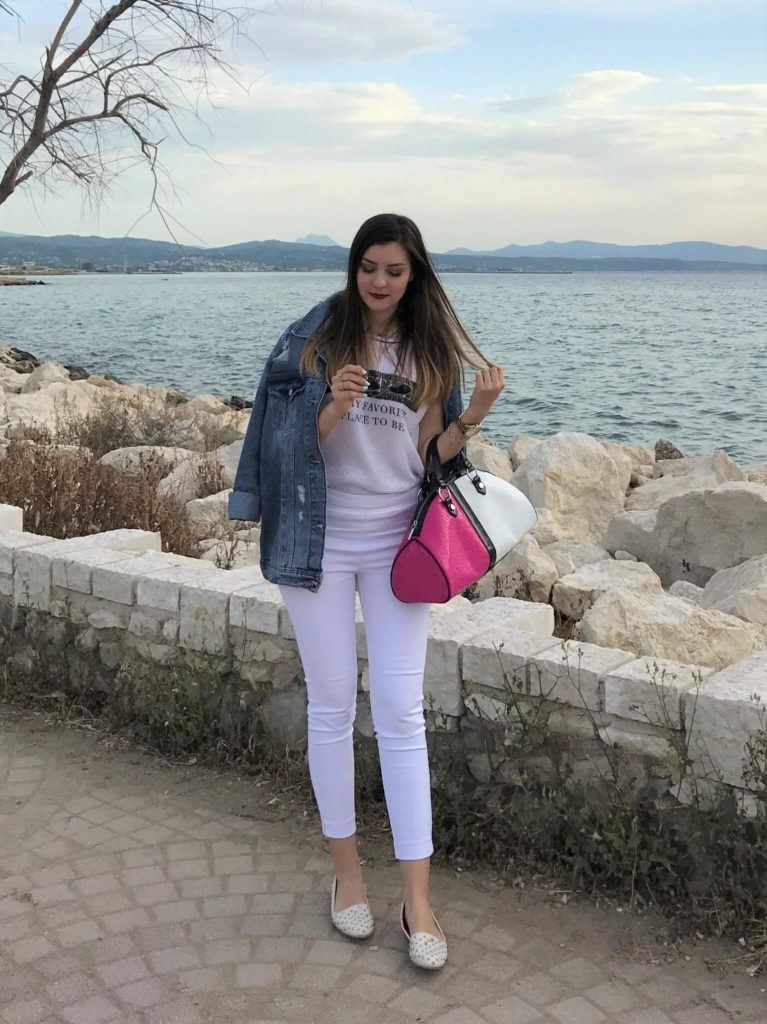 What I'm wearing
Top: Stradivarius
Pants: Stradivarius
Denim Jacket: Stradivarius
Loafers: River Island
Bag: Armani Jeans
Watch: Daniel Wellington
Sunnies: Ray-Ban
So, that was it for today! I hope you enjoyed reading this post and got inspired recreating a sequins and denim look. If you have any thoughts, don't hesitate to leave a comment below. Also, for any updates and news about Sparkle and the City, make sure to follow me on Facebook, Instagram, Twitter and Pinterest.
P.S. This is a "bonus" photo of mine doing stupid things in front of the camera, because, I have to admit, I felt a bit uncomfortable shooting in a place with people around staring :P. I guess it takes time to get used to it, right?
Take care