One thing I noticed is, that many times when we do our styling, we neglect the hair. However, for a successful, put tοgether and completed look, hair should also be taken into consideration. I am by no means implying that you should go to your hairdresser every week and spend all your money there. Even a sleek ponytail, a side part or a messy bun can be more than enough and perfectly tie a look together. This is why in this post I wanted to put hair under the spotlight and talk about all the trendy hair accessories that will elevate our looks in 2020. 
Trendy Hair Accessories for 2020
I used to be one that didn't bother about hair at all. I just washed it and let it be. However, in the last few months, this has changed and I've started paying more attention to the way it looks. Since I am not very good at styling it, I found hair accessories extremely helpful with that. Even when I had just blowdried it, I could just clip/tie them on and instantly elevate any look. Thankfully, hair accessories are still going strong in 2020, doing our lives easier. Keep scrolling to discover all the popular styles fresh from the catwalks!
Headbands
It is a trend that started in 2019 and it definitely hasn't reached its peak yet. We will be seeing a lot of headbands in 2020 as well. They come in a lot of different styles, shapes and colors, with padded and embellished being the most popular. There is no way you won't find one that you like. And don't be afraid to try it. The years that headbands were reserved for school or for the royal families are over!
Scarves
Wearing scarves over the hair is not something entirely new, but this season there was a significant amount of headscarves on the runways. Tied in many different ways, to satisfy every buying audience, as turbans, headbands, covering the hair, tied in a ponytail etc. It is definitely one of my favorite trends, especially for the spring and summer seasons to come. I used to tie my ponytail with a vibrant colored scarf in the past and I see no reason why not to repeat it. It can add a touch of style even to the most boring of outfits!
Flowers
Flowers decorated the heads of many runway models so I can safely say that this will be an accessory you can rock this season too. You can go for flower headbands, crowns, small clips or even whole gardens in your head. 😛 I personally will succumb to this trend but in small doses. For instance, I am thinking about starting with some hair clips, because I don't feel this will be the easiest hair trend to pull off everywhere and anywhere. Nevertheless, the best season to rock it will most likely be spring.
Bows
Yes, you've read well. Bows are currently one of the most trendy hair accessories of this season! They have done their comeback and us, grown-ups, can wear them as often as the little kids. They are cute and add a touch of femininity to any look. Big, small, multicolored or black one thing is for certain. Sooner or later fashionistas will succumb to this trend. Make sure to grab and wear yours asap!
Pearls
In the last few years, we see pearls appearing in the fashion scene in many different forms. The 2019 season, their dominant appearance was as hair jewelry, and I can't see it slowing down anytime soon, since 2020 catwalks still got them. Pearl hair accessories have filled the high street stores, so there is no way you won't be able to get your hands on any. Want a little hairclip or a padded headband covered with them? The choice is yours, but whatever you go for, it will definitely look trendy.
Straw Hats
A very versatile and easy to wear accessory, made several appearances in 2020's catwalks. Straw hats are back in catwalks and in style (I personally don't think they ever left though) and will make the ultimate spring and summer hair accessory. Plus it is practical and easy to pair, so if you don't already own one -which I doubt- make sure to grab one asap. Big, small or colored, the choice is yours. I can already picture myself wearing it with a simple white tee and denim when the high summer temperatures hit us.

Source for all the catwalk pictures: https://nowfashion.com
These are the most wearable hair trends I've spotted on the catwalks of the 2020 season. However, I believe there are some honorable mentions, as well, since they are not going anywhere anytime soon.
Barrettes and Hair Clips
Even though the catwalks didn't flood as it happened in 2019, they are still going strong and I am pretty sure we will be seeing them a lot this spring and summer. Barrettes and hair clips, plain, bejeweled, tortoise or just simple metal will decorate the hair in a playful way, so grab some if you haven't yet. They will be relevant for a long time!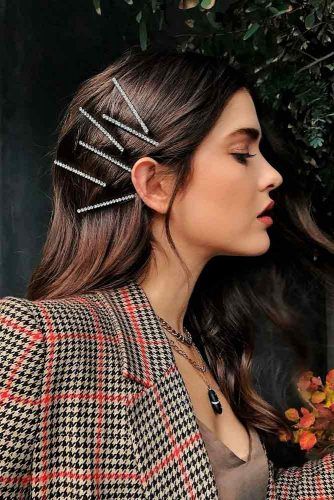 Source: instagram.com/mykitsch/
Scrunchies
The same goes for our current favorite scrunchies. I didn't manage to spot not even a single catwalk launching them, but I believe they are here to stay. They have become a favorite among fashionistas and I can see why. They are better for the hair (especially the silk ones) and give a cute twist to any look. As time goes by, the bigger the scrunchie the better, so make your purchases accordingly.
Source: instagram.com/mykitsch/
One tip, when you are choosing your hair accessories, is to consider the texture, the length and how thick your hair is. Not all of the above accessories are meant for every style of hair, so go for the ones that work for you the most. Before you buy any, try many different styles and sizes. This way you'll know what fits your hair the best!
So these are the trendy hair accessories of 2020. Will you succumb to any of them? Let me know in the comments section below!