Spring is already upon us and I couldn't be more excited. After seeing which are this season's trends I can't wait to hit the mall and add some cheerful garments into my wardrobe. However, this season I decided that I will do it completely in my own terms, ignoring the rules out there, because for me fashion is supposed to be fun and a way to express myself instead of setting restrictions and no's.
Are you curious to see which are the top fashion rules I will be breaking this season? Keep reading!
Top Fashion Rules I Intend To Break This Season
Not many seasons ago, I constantly tried to be up to date with the current trends and I found myself spending a fair amount of bucks on items I never managed to wear twice. I realized that I did it just to look trendy and not outdated, ignoring what suits me and my personal taste. After it became clear that it will not work out for me in the long term, I decided that I will only go for options and combinations that I like and express my personal style. As a result, I will need to break or ignore a few fashion rules and for that, I couldn't feel more excited!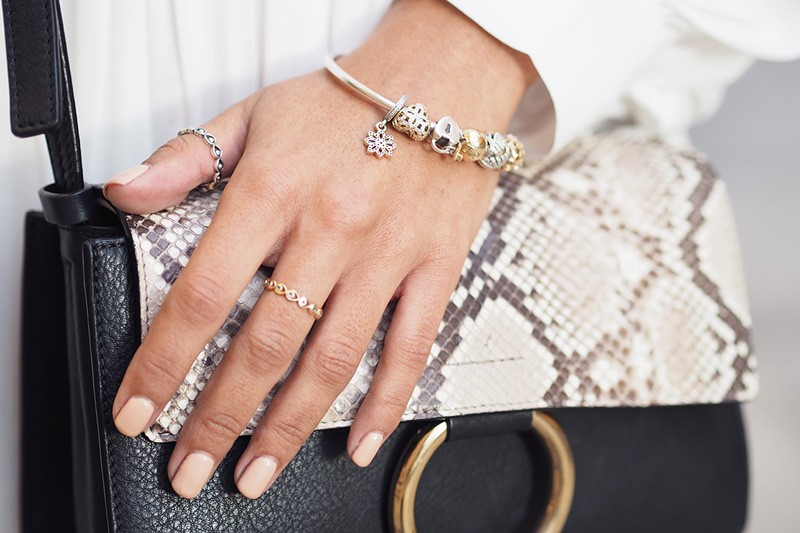 Don't mix metals

This is a rule I used to follow strictly, checking for every single detail before I leave the house. Is the bag's color chain silver as the rest of my jewelry or I should go for another bag? What about the buckle of my shoes? But to be honest, I started to get bored with it, cause it didn't give me the ability to be creative. As a matter of fact, nowadays I don't even mind to mix my metals, on the contrary, I discovered some pairings I really like like rose gold and silver or yellow gold with copper. I'm 100% sure I will not go over this rule any time soon!
Don't wear leather in summer
As you can already see, I stopped following this rule a few years ago. Leather items are a winter and autumn staple and not for a bad reason. They keep you warm and stylish. I understand that the idea of having a leather item to rub against your skin in the summer could sound like a nightmare, but, there are some ways to incorporate it during the higher temperatures without feeling uncomfortable. Replace your denim jacket with a lightweight leather one or wear a skirt that lets your skin breathe. I have followed both rules and I wasn't disappointed so far.
Don't mix prints
The thought behind this rule is for a look not to be to "noisy".  Over the years we have seen many designers and style icons overlooking this rule, yet we hesitate to pair patterns together. Of course, if done right, mixing prints can create the ultimate power look. You can pair different types of florals together, have different prints of the same color or if you are feeling fearless go for patterns that clash. The key for a successful mix and match is to have a centerpiece (pattern) and add others that complement it. Don't forget to have fun, otherwise breaking this rule will lose its purpose.
Sandals are only for spring and summer
The days that sandals were reserved only for the hot months are long gone with many fashion influencers rocking them during winter too. The brave ones do it exposing their feet to the low temperatures, whereas the rest rock them with tights or socks making a statement, killing two birds with one stone. Even though it is still a debatable trend, more and more fashionistas are going for it. Would you dare to try it?
Sequins are for the night
I used to have a huge obsession with sequins and sparkly things, so my wardrobe has a fair amount of them. However, I only wear them on special occasions and as you can imagine these are not happening very often. The good thing is that the millennial motto "anything goes" is giving us freedom and the ability to express ourselves with the clothes we wear, so my plans are to start rocking them during the day too. The time to express our glamorous side on a 24/7 basis has finally come!
Don't wear bold colors together
Many are afraid of them and stay away, but bright hues are a way to make a statement and show your fun personality. Of course, they might not be for every day or for everyone, but it's nice to have the freedom to try them out when you are feeling it. Their pairing can become a tricky situation, but I have a dedicated post that I'm sure will make your life easier. Grab the color wheel, go for your favorite combos and get ready to turn heads wherever you go!
Dress for your body type
The concept of dressing for your body type has been everywhere but, everybody is unique and different on his/her own way so, I find this rule completely ridiculous. The idea of dressing for your body shape in order to look slim and attractive just so that you can fit in society's standards seems to be more important than dressing for the fun. And to be honest I believe that is an outdated and a wrong message to send. You should feel confident in whatever you wearing, not because it makes you look a few pounds less, but because it gives you the chance to express your confidence, personality, and personal taste. And that is something I plan to do from now on. After all, it's more fun to find ways to make each garment yours even if it's not meant to be worn by people of your specific "body type".
Are you ready to push your creativity by breaking some of the top fashion rules? Feel free to tell me in the comments section below.
After all, life is too short to care about what everyone else thinks. And let's not forget: "Style is a way to show who you are without having to speak".