Hello beauties! What's up? I hope everything is going well for you!
It is currently springtime, but i dare say that the weather here wasn't in a good "mood" until recently. The good news is that there have been a couple of sunny days now, so what better way to welcome them than with some cute spring outfits? In this blog post, i had the luck to be joined by one of my besties, so i have one more reason to be excited (apart from the weather)! Summer is one step closer guys! 😀
Enough chatting! Let's get back to our topic. Today me and my beautiful friend Vivi were in the mood to wear something that reminded us of the summer. It was a very sunny and a kinda hot day, so we decided to take off our denim trousers and wear something girlier. What is girlier than a skirt? (maybe a dress, but let's ignore that for now 😛 ). So let's begin!
Cute Spring Outfits
Girlie Vibes
Vivi wore a vintage high waisted denim skirt and a flowery lingerie top as the main pieces of her outfit. She accessorized it with a chocolate color leather backpack, a pair of flatform oxfords and added her golden bracelet watch. That's all! Simple, but she looks so cute! Don't you agree?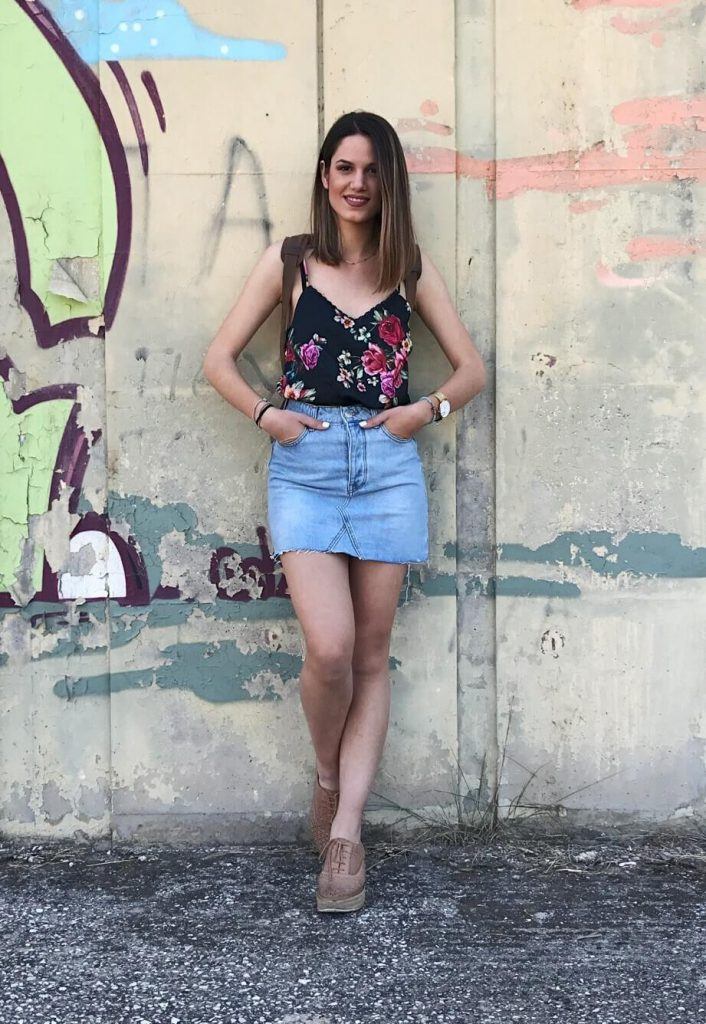 Copy the look:
Tank Top: Stradivarius (similar here)
Denim Skirt: Bershka (similar here)
Shoes: Stradivarius (similar here or here)
Leather Bag: (similar here)
Watch: Visetti (similar here)
(Not fifty) Shades of Grey 😛
Me, on the contrary, was in the mood for a more monochromatic look, so i went for a black-white-grey outfit. I wore simple white printed tee, a faux leather jacket, a silver/grey faux leather skirt and my favorite Vans Old Skool. Also, i added a black bucket bag and my watch. Don't think it can't be easier than that!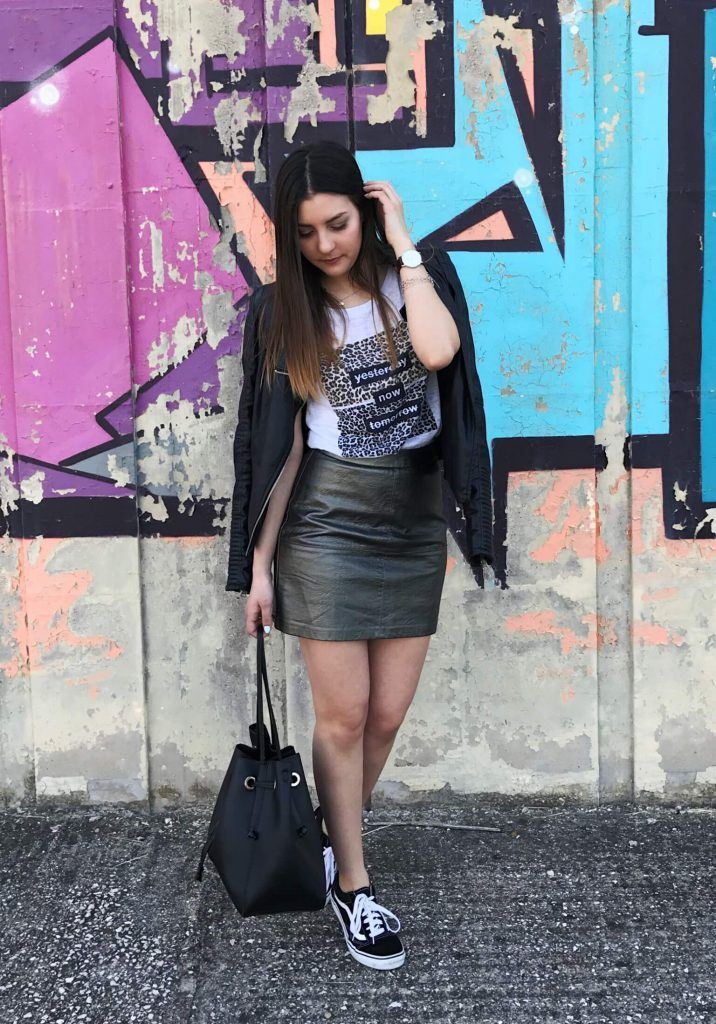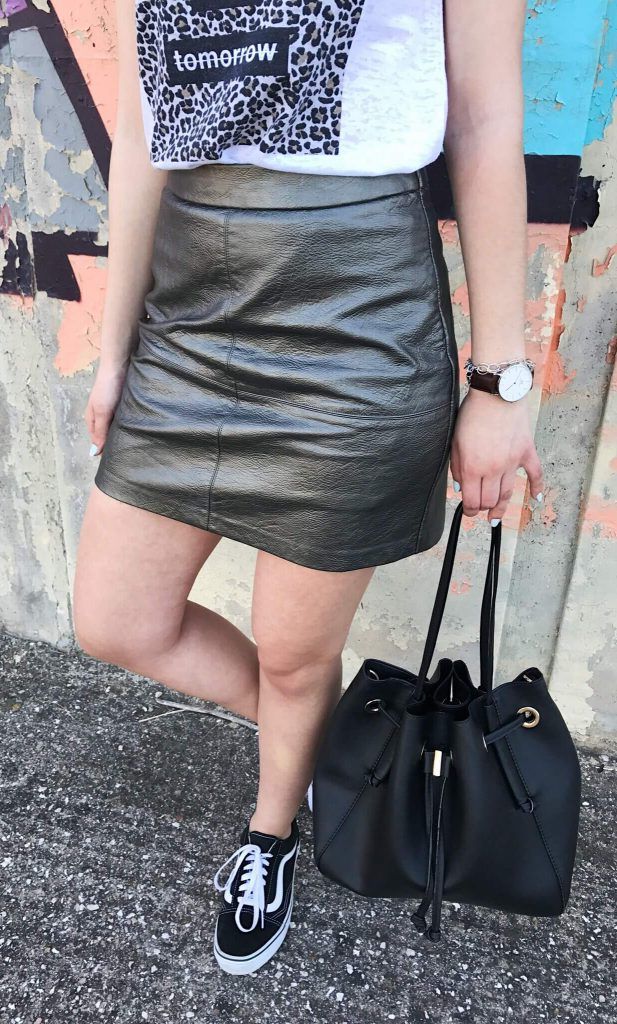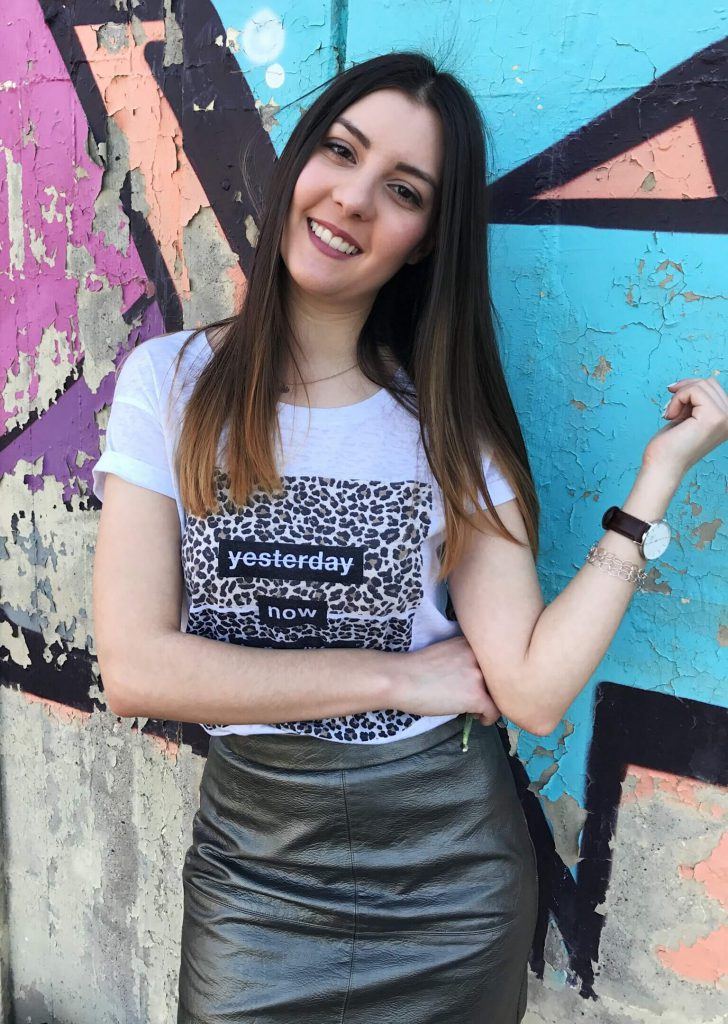 Copy the look:
Leather Jacket: Zara (similar here)
Printed tee: Stradivarius (similar here)
Grey Skirt: Stradivarius (similar here)
Shoes: Vans Old Skool
Bag: Stradivarius (similar here)
Watch: Daniel Wellington
That's it for today! I hope you enjoyed reading this post about the cute spring outfits and maybe you got some inspiration and some excitement for spring 😛 Don't hesitate to add a comment if you have any thoughts you want to share! For any news and updates make sure to follow our facebook page.
See you soon!