I hate to admit this, but summer is over here in Greece and it's time to accept that as a fact. Before you start feeling the blues, let me give you a reason to make you feel a little more excited. That is all the new autumn winter fashion trends! From animal prints and cowboy boots to tweed coats and leather dresses, this season is all about bringing back some vintage vibes. If you are a person that loves to know all about the new fashion trends and how to incorporate them into your daily life this post is definitely for you.
Favorite Autumn Winter Fashion Trends + How To Style Them
Of course, not all trends are suited for everyone's taste and style and since that applies to me as well, below I'll talk about my top 5 autumn winter fashion trends of the year which I look forward wearing. Also, the below looks are realistic, enjoyable to try out and are entering really fast into the street style scene, so don't waste time and grab your favorite ones quickly!
1. Animal Prints
I never expected to say this, but I kinda became excited when I saw that animal prints flooded the catwalks of NYC, London, Milan and Paris. It's not something we've never seen the previous seasons, but this year their presence is massive and we can already see them everywhere covering almost everything. Shoes, bags coats, shirts, scarves, dresses are some of the few items we've seen them printed on. One thing I love about this trend is that's not at all hard to incorporate it into your current style and start rocking it from now. Will, you go for the classic, muted natural zebra, python and leopard styles or get loud with technicolor animal prints like Tom Ford and Adam Selman did?
Style ideas: The "safest" and easiest option is to go with a monochromatic look and add some animal print elements like shoes, skirts, coats, bags etc. For the most adventurous out there I suggest trying a head-to-toe animal print look like a dress or a two-piece suit.
Source: picture 1, picture 2, picture 3
2. Colorful Plaids
We've seen plaid here and there during the years, especially printed on flannels with muted colors like the ones of Burberry. However, this season Cher Horowitz from "Clueless" is more relevant than ever. If you don't know who she is I'm sure you'll recognize her from the iconic yellow plaid suit. Yes, that look would be one of the trendiest of 2018-2019, because saturated hues like hot pink, yellow, cobalt and orange are something designers are playing in all sorts of ways. I'll definitely wear this trend this fall, but probably not as a head to toe rainbow plaids combo. Not that it would be bad to do if you are more daring!
Style ideas: A plaid scarf, a mini skirt or a plaid coat are the easiest ways to incorporate this trend into your looks. Just be sure to pair it with solid colors if you are not very familiar with what goes with it. However, I wouldn't mind seeing a head to toe plaid suit like the one below and if I feel a little more fearless I will try it as well.
Source: picture 1, picture 2, picture 3
3. Brown Is The New Black
The warm neutral tones are officially a thing. The good news is that you probably already own a piece or two, so you are ready to wear this trend from now. It's very easy to style and the key for a statement look is to play with textures and different earthy tones. Mix suede with tweed or leather, and chestnut with dark camel or chocolate. Invest in timeless pieces like a camel coat or beige high waisted trousers with a relaxed, aerie fit, that will stay in your wardrobe for ages.
Style ideas: Be daring and go for a head to toe earthy tone look mixing fabrics, colors and even patterns. See how cool the first outfit looks? However, if you want something easy and quick grab a camel coat or wear some brown elements to an otherwise simple look.
4. Scarf Prints
This new season's trend is coming to steal the spotlight with all its glory. On the A/W 18 runways, we saw a plethora of designer pieces with traditional scarf motifs. From maxi dresses and asymmetrical skirts to statement jackets and draped blouses, I'm sure you don't want to pass on this. If you want to invest in a statement piece this season, then I suggest you make it a scarf printed one.
Style ideas: The easiest way is to add a scarf to elevate any outfit. Of course, you can also mix different prints or go for a solid head to toe print like a midi dress or a 2 piece outfit.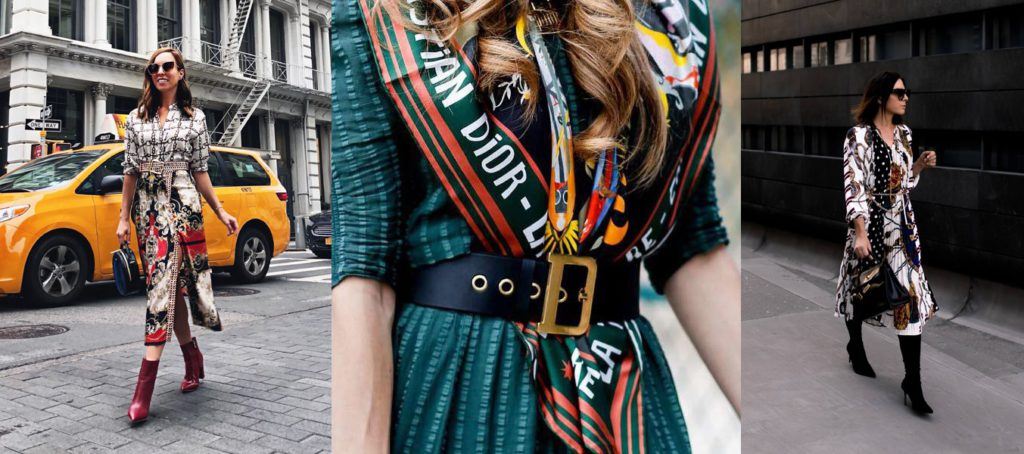 Source: picture 1, picture 2, picture 3
5. Fringing
Fringe is not preserved for Coachella anymore. Muted, funky or sparkly, fringe was in full force on the runways this season, so be prepared to embrace its movement. Doesn't matter if it is funky coats, mini party dresses, maxi skirts or jackets that give us western vibes, it is definitely worth it to give it a go.
Style ideas:  You can wear and even mix fringes on either casual or more special occasions for an added air of glamour. It's not a hard trend to incorporate into your looks, just wear it the way you'd wear something simpler. The key here is to walk with confidence to show their full glory.