If you are following me for a while you might have noticed that I like to incorporate sneakers into most of my outfits. I admit I have a decent amount of them in my closet, but still, I usually find myself craving for a new pair. Because let's admit it, they can never be enough. They are both cozy and stylish, so what else can a girl ask for? That's why I reach for them on a daily basis and I like to wear them in many different ways. With dresses, skirts, even suits. You don't need to sacrifice style for comfort and that's what this post is all about. Keep scrolling because I'll be sharing all my tips on how to up your style game when wearing your favorite sneakers.
How To Up Your Style Game When Wearing Sneakers
If I told you a few years ago about wearing sneakers on a daily basis, you would probably think that I have no sense of style and they should be reserved for exercising only. However, the athleisure look is trending season after season and we even see red carpet looks inspired by it. Yes, you've heard well! I'm pretty sure your feet are weeping tears of joy right now. You can give them a break from the uncomfortable high heels!
…and most importantly, there is no need for your style to suffer because you chose functionality, but you can have the best of both worlds. The pictures below are more than enough to show you how to up your style game with sneakers and make you want to buy a new pair asap. So let's get started!
1. With a bodycon midi dress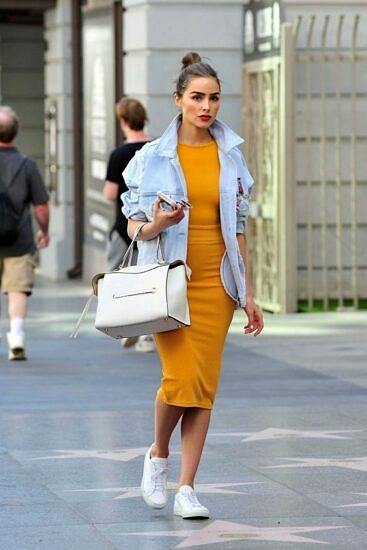 Probably one of my favorite combos. Wearing a feminine dress like that with sneakers makes your look more casual and appropriate for many events, even when running your everyday errands. Plus it's comfortable and easy to throw on during springtime.
2. With a suit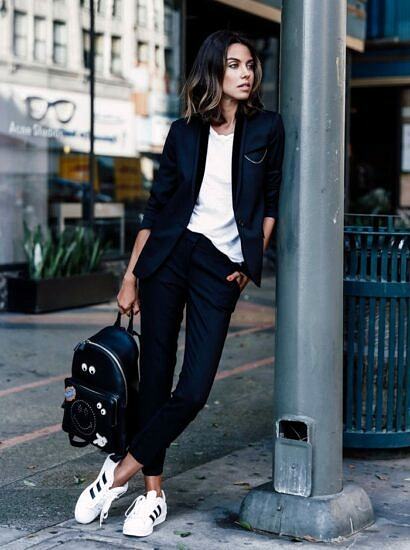 I've mentioned before that the athleisure look is gaining more fans day by day. Try pairing your sneakers with a suit and achieve that sporty luxe vibe. Dare to trade your high heels with sneakers, your laptop bag with a backpack and look great from 9 to 5.
3. With a midi skirt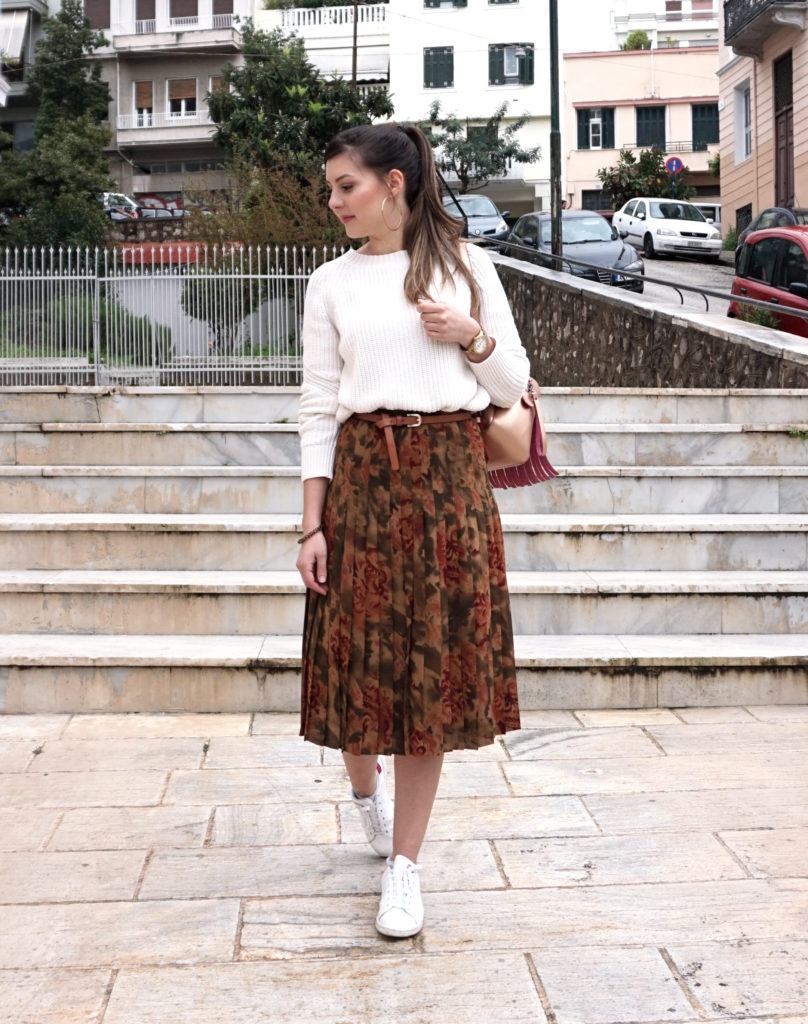 I would normally wear this skirt with strappy high heel sandals and a camisole for a dinner date, however, I wanted to wear it on a daily basis doing everyday stuff. And if you haven't guessed already, let me tell you I loved it. It's both dressy, cute and comfortable, a combo I can't get enough of especially during the transitioning months.
4. With a floral maxi dress
I bet you haven't dared to wear a maxi floral dress with sneakers, because "girly dresses go only with girly shoes", right? Well, why don't you do it for once? Plus, this way you'll wear the ultimate summer dress all year round! You can even top it off with a faux fur coat during the cold winter months. See? You don't even need the sun to show up anymore in order to rock your favorite maxi dress!
5. With a leather skirt
Usually, items made of (faux) leather are considered sexier than other garments that's why they are reserved for more "special" occasions. However, if you combine a pair of sneakers with them you bring your outfit on the casual side and you can wear it for almost every daily occasion, even for going to work (depending on the dress code there of course). This way you'll be able to get your pencil leather skirt out of your wardrobe more often. No special events needed. (For more inspiration you can take a look here and here, to see how I paired mine.)
6. With shorts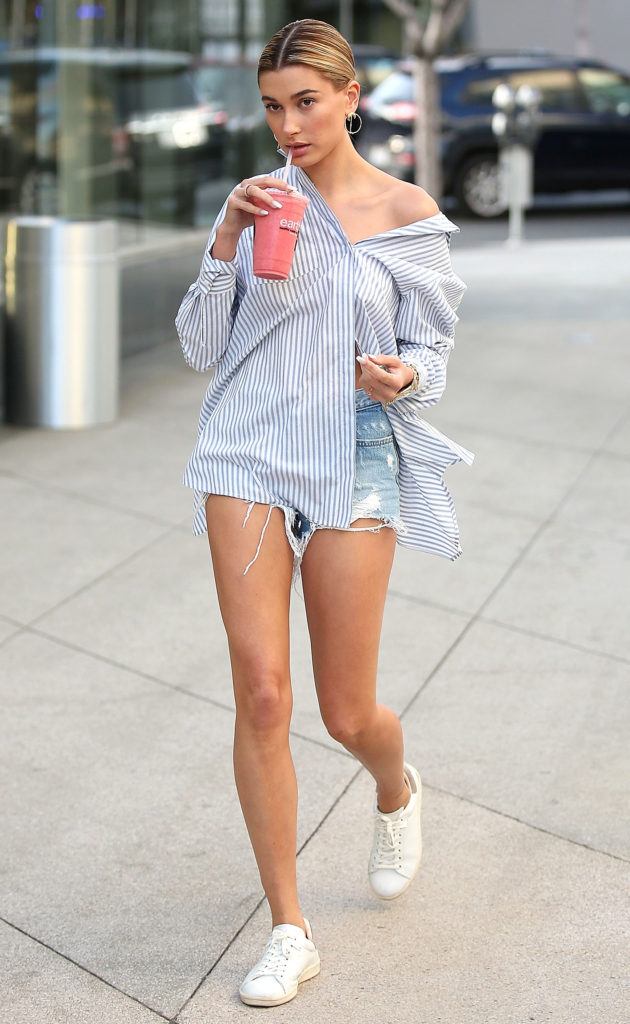 Wear your favorite denim shorts with sneakers, throw something interesting on top (a cold shoulder top, a shirt, even a blazer) and achieve that model-off-duty look by appearing effortless yet stylish. Can it get easier and comfier than that during the hot months?
7. With an oversized sweat top
Are you in a hurry not having time to prepare an outfit? Wear your sneakers, grab your boyfriend's top (a boyfriend is not necessary though, just grab an oversized t-shirt from the men's section) and you are good to go.
8. With a trench coat
Give your chic and classic trench coat a modern twist by wearing it with sneakers. You'll achieve an edgy finish, look casual, feel comfortable and be ready to face any weather conditions that may occur.
9. With a jumpsuit
Jumpsuits are a nice alternative to dresses because they are easy to style as well. However, contrary to the dresses, you'll feel more comfortable and great during windy days, because there is no need to worry about unexpected nudity. 😛 Plus, depending on the way you pair them, will be appropriate for many occasions. From a summer wedding to an outdoor activity, they are the perfect garment to grab. One of my favorite combinations is with a pair of sneakers of course because it's an easy and stylish look for everyday wear.
10. With a lace formal dress
Stop reserving your favorite lace dresses for special events only and make them leave your wardrobe more often by pairing them with sneakers. This is an ultra stylish way to wear a formal dress you love on a daily basis and make sure that all the money you spent on it worth it. Just make sure to keep the accessories minimal and let the dress show its glory!
So, we are done for today! I hope you enjoyed my ideas on how to up your style game when wearing your favorite sneakers and got some inspiration for the days you need it.
Question of the day: Which is your favorite sneaker combo? Make sure to tell me in the comments section below!
See you soon with new summer-related posts!