It all started during the AW16 catwalks where you could spot many fury stuff there, with furred shoes being under the spotlight. As expected, this winter the fur trend became even bigger with fur covering almost every accessory you can imagine. Just by a quick walk in the shops, you could spot endless fury stuff everywhere. And the biggest trend of all? Well, you guessed right. Fury coats!
Who doesn't love to have a warm, snugly and above all stylish fur coat for the cold days of winter? And who can deny that the ethical faux version of it is even better? The best part is that it doesn't seem to go anywhere soon, so it's not at all late to start building your faux fur collection! Instead, the timing couldn't be better, since the winter sales have already started! When it comes to my collection, it is slowly getting bigger with some vintage faux fur coats being my favorite!
 Luxury Faux Fur Coats under 200$
A furry topper is exactly what you need for winter. It screams "stylish" even if you are wearing sweatpants and uggs underneath it. It can either be a classic line and style, but you can also be more daring buying an animal printed or one with vibrant colors on it. There are so many different styles and colors to choose from so it's not going to be an easy decision.
That's why I felt the need to make a luxury faux fur coats guide to make your lives easier. I did my best to include all the value for money choices because after all, who says that you can't have more than one? The perfect coat for you is hiding down there and waiting for you to discover it. Keep reading and hopefully, till the end of this post, you'll see the one that fits you!
1. The Classic Black
I truly think that a black faux fur coat should be considered a winter staple from now on. It gives a glamorous vibe to every outfit, even if it is blue jeans, converse and a simple tee. I was lucky enough to find one to my aunt's wardrobe and since then it follows me everywhere I go! If you are starting your collection now, it should definitely be your first purchase. Seriously consider investing in a good quality one and maybe your daughter will wear it in the future as I did with my aunt's!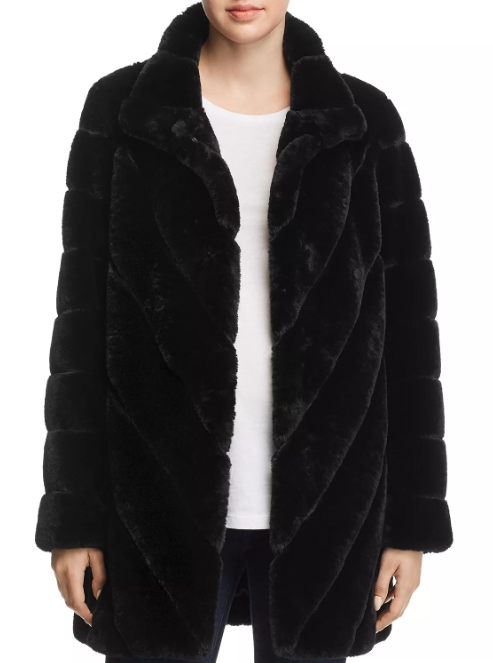 ---
 2. The Cute Blush Pink
A nude / blush pink faux fur is on my wishlist for quite some time. I find it so classy and cute at the same time, so don't be surprised if you see me wear one in the near future. It looks so elegant worn over a total white look with some nude pointed heels. Of course, there is always the option of an edgier twist with a white tee, black leather pants, and sneakers and that's what I mostly love about it. Its neutral color is making it so versatile and easy to wear from day to night.

---
 3. The Animal Printed
I'd lie if I said that I've never been jealous when I see girls walking around gracefully in their leopard printed fur coats. However, I was always hesitant to invest in one, since I thought I wouldn't be able to pull it off nicely and would look ridiculous. To my surprise, the last few months I have changed my mind so much that an animal-printed faux fur coat is going to be an addition to my wardrobe very soon. And that's because this season, animal printed coats have become more wearable than ever! Just throw one over your jeans and you'll see your whole image transform!
---
4. The Bright Colored
The bright faux fur coats are probably the trendiest item of the current season. From neon orange and fuschia to mustard yellow or royal blue, the color palette is pretty much endless and I'm certain you can find one that suits your style perfectly. If you dare, bundle up in a bright faux fur jacket to make a statement. You'll turn heads everywhere you go, so it's not for the faint-hearted!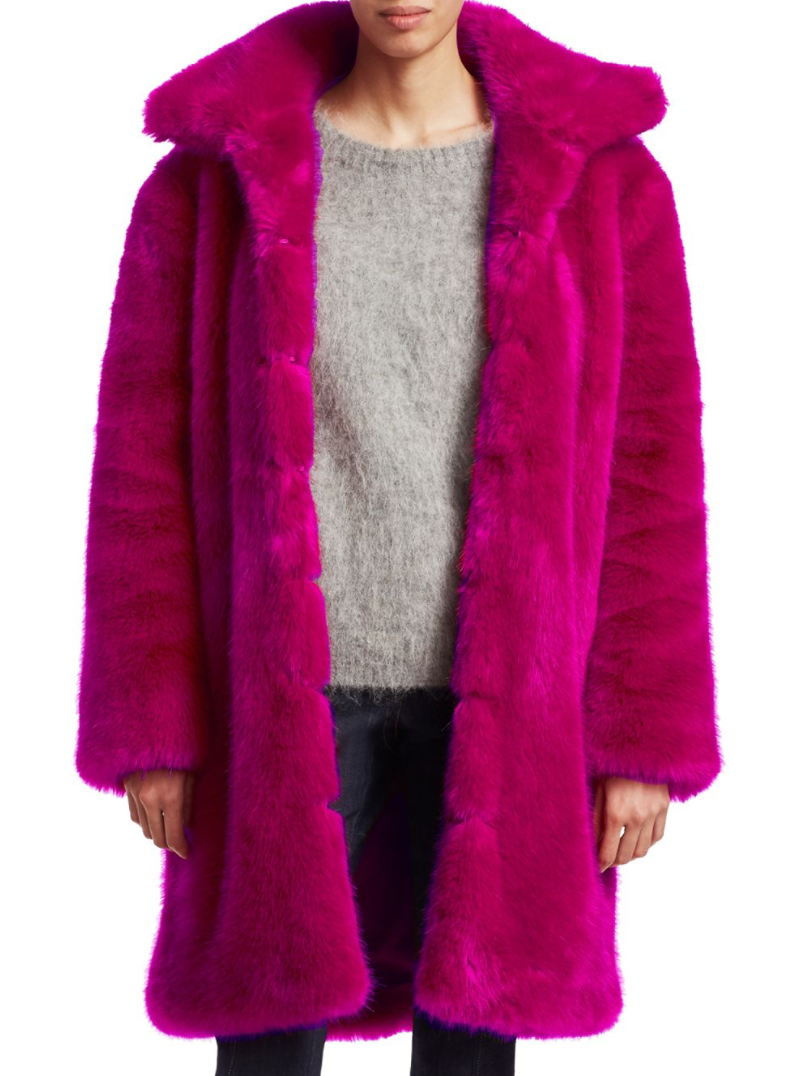 ---
 5. The Multicolored
If you are not at the beginning of your fur collection and already own some of the classics, consider upping your game by adding a multi-colored faux fur to your wardrobe. It's the perfect toned down alternative to the bright colored ones and a huge trend as well. There are so many different styles and color combinations to choose from: Patchwork designs, dip-dye, star printed and even plaided. It's such a cool way to give personality even to the most basic looks. You can always be edgier combining it with a leather skirt and over the knee boots.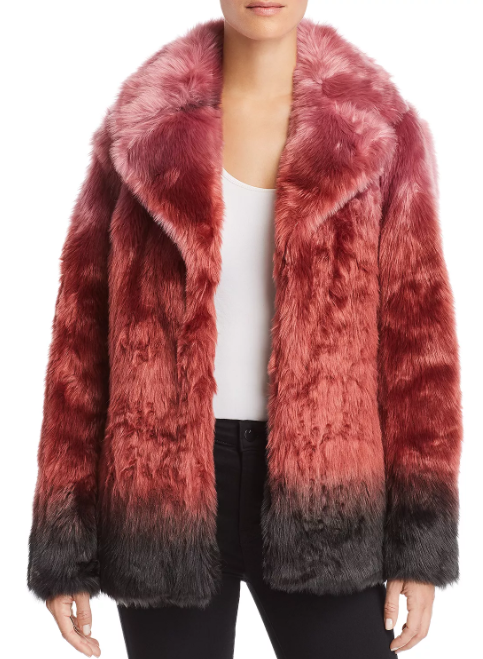 ---
 6. The Vintage-Inspired
Vintage-inspired furs made a dynamic comeback this winter season, so if you were lucky enough to find one into your mother's / aunt's /grandmother's closet, that's great! Now is the perfect time to put it out of the dust bag if you haven't already. If you weren't that lucky to inherit one, don't get discouraged. There are vintage-inspired faux furs everywhere you look. They give that sophisticated, elegant look that none of the above styles can! Pair it wisely and you might not need to wear any other coat this season!
---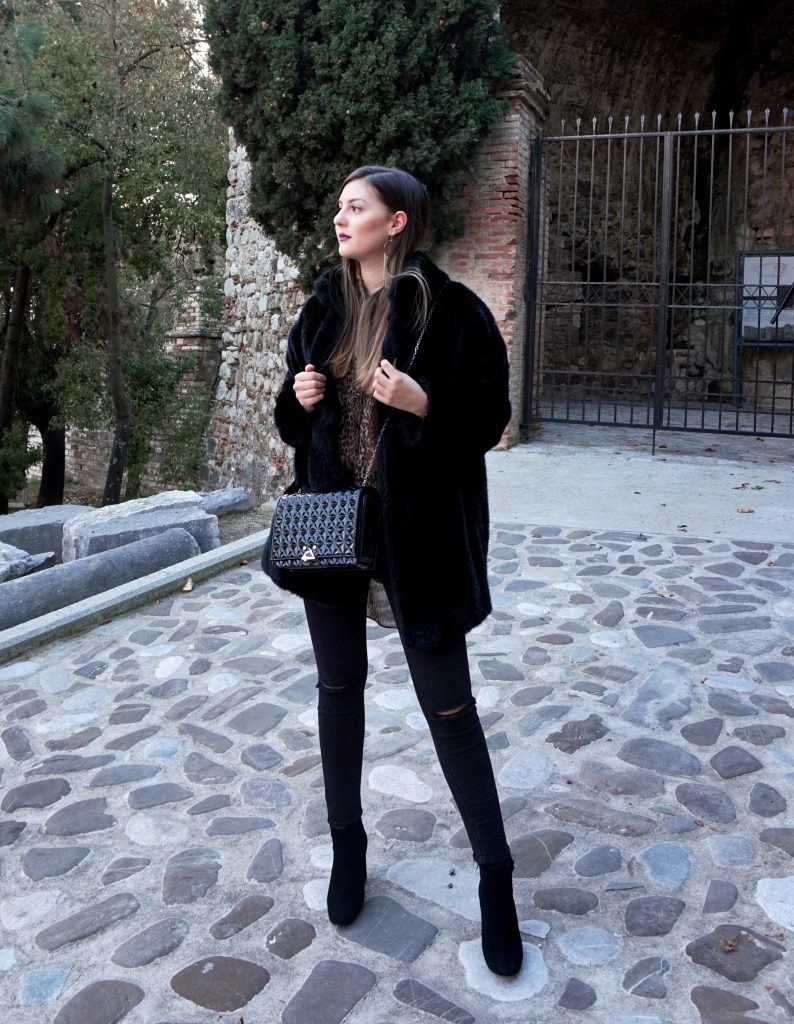 Now that winter sales have started hurry and quickly choose yours, because faux fur coats are in high demand! You don't want to discover THE ONE for you and during the checkout find out that your size is no longer available. Also, don't be afraid to spend the extra money if needed! Faux fur coats are one of those timeless pieces that will always be around during winter one way or another.
I hope this guide about the best luxury faux fur coats made your life easier. No matter which is your style there are definitely plenty of different colors and designs to choose from, so which will it be? Can't wait to hear in the comments section below!
See you soon!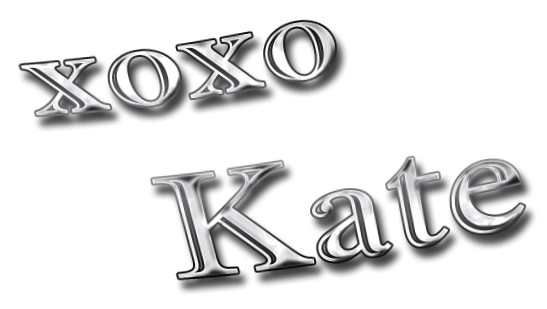 (*Disclaimer: The links of the products are affiliate links which means that when you buy something through them I earn a little commission, which keeps this blog running. That, of course, doesn't increase the price of the product.)