How many times have you finished work and your friends called you for a quick drink? Or you had a last-minute invite to dinner while you were out running errands all day? And how many of these times you were prepared to join them, or rejected their invitation because you felt completely underdressed? I'm pretty sure these situations do not sound completely unfamiliar to you and have happened at one point in your life. At least they used to happen to me all the time! It's true, however, that finding the right combos in order to go from day to night is not simple and can become a little complicated.
As always, I got your back, so keep reading to discover my favorite combinations that require zero to little styling effort in order to work from more than one situation. No last-minute dress changes are needed!
Go From Day To Night With These Outfit Combos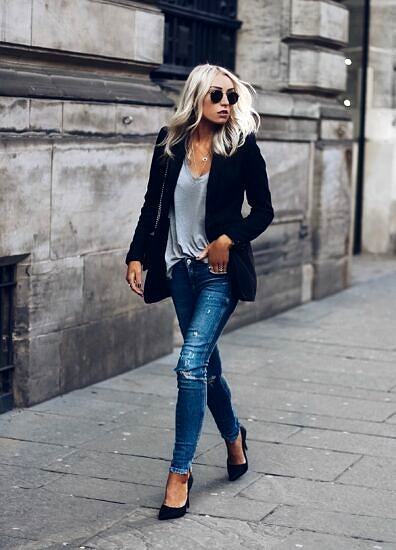 Blazer  + Denim
When it comes to easy, relaxed, yet put together combinations a great blazer and a pair of nice fitting jeans are just perfect for the job. This combo comes with an abundance of options that allow you to smarten it up for the office, make it casual for running errands or make it appropriate for an evening date. A black blazer with the same color pair of jeans is 100% a fail-proof monochromatic combination that screams sophistication. Of course, if you want something more relaxed, you can go for a lighter shaded blazer (beige for example) with a pair of light blue mom jeans. Add a pop of color with your shoes or your bag to make this combo more interesting. I just covered the basics here. The choices are literally endless!
---

Midi Skirt + Cami
A midi skirt with a camisole is a combo that you can definitely pull off from morning until night and all year round! A simple lingerie style cami with a midi pleated skirt is a classic look that looks put together in any place and time. Wear it with heels and a blazer in the office or with sneakers to run some morning errands and then just drop the jacket and join your friends for drinks. Easy and versatile with zero changes and effort!
---

Dress + Sneakers
If there's one combination I can call my favorite, it would be a dress with sneakers. It is usually what I go for when my creativity levels are low. Styling a one-piece like a dress is already simple and easy enough, but the addition of sneakers gives off a cool city girl vibe. Tone down a formal dress with some tennis shoes or combine a bodycon one with some chunky heeled ones. Of course, these are some of your options. You can be as creative as you want and whether you are going for drinks or having a shopping day you'll be sure dressed for the occasion.
---
Leather Bottoms + Knit Sweater
Pair your chunky sweater with leather pants, leggings or a skirt. Leather bottoms look perfect with almost anything and the same applies to knit sweaters. As a result, the combination of the two couldn't be less than ideal. It's an edgy and rock combo that enhances your bold personality. It gets extra points for its comfort level since it can keep you warm while looking good. Headed to drinks with friends or jetting out of the house to run errands? Don't forget to put on a pair of gorgeous boots and have a winter look perfect to go from day to night! Styling Effort Level: 0
---
Denim Jacket + Lacy Dress
Did you expect a lacy romantic dress, that was probably neglected in your closet, could be one of the best garments to help you transition from day to night? Probably not. But paired with a very casual and everyday piece like a denim jacket could make it the perfect combo to go grocery shopping and then to jet off to dinner. Time to make sure that those gorgeous special occasion pieces get the chance to leave your closet more often.
---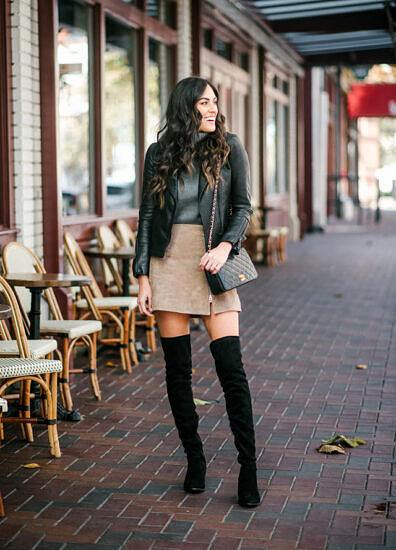 Leather Jacket + Over The Knee Boots
Over the knee boots are not a trend anymore, but a wardrobe staple. It doesn't matter which style you have – black, nude or brown, flat-soled or high heeled, leather, vinyl or suede –  these boots are so chic and versatile that look perfect for both work and night out. They look great with a variety of garments, however, the one that tones them down and elevates them at the same time is an all-time classic leather jacket. This combo can be edgy, classic or chic, depending on the other elements of the look. Opt for a mini skirt and a knit sweater to make it look cute on a chilly autumn day, wear it with a midi skirt to add a classic twist or go for a pair of leather trousers to make it rock and edgy. The choices depend on your personal style and mood. One thing is for sure. It is so easy to style and can undoubtedly work from day to night!
Question of the day: Which are your favorite outfit combinations that you can take you from day to night without any effort? Can't wait to hear in the comments section below!