Most of the days I'm happy and overly-optimistic. And luckily this is how my life currently goes by. However, there are days that I'm feeling sad, physically and mentally tired, anxious of what the future beholds and have no motivation and interest getting out of bed or going to work. These days can feel like a total nightmare. Even the tiniest and easiest things can look like a big deal. Not to mention that when something goes wrong I let it destroy the whole day.
Sounds familiar?
If yes, you are in the right place. In today's post, you will find some ideas and things to do when you are sad and feel like your batteries are drained. Since we are different people, not all of these will work for everyone, but hopefully, some of them will come in handy when you need them!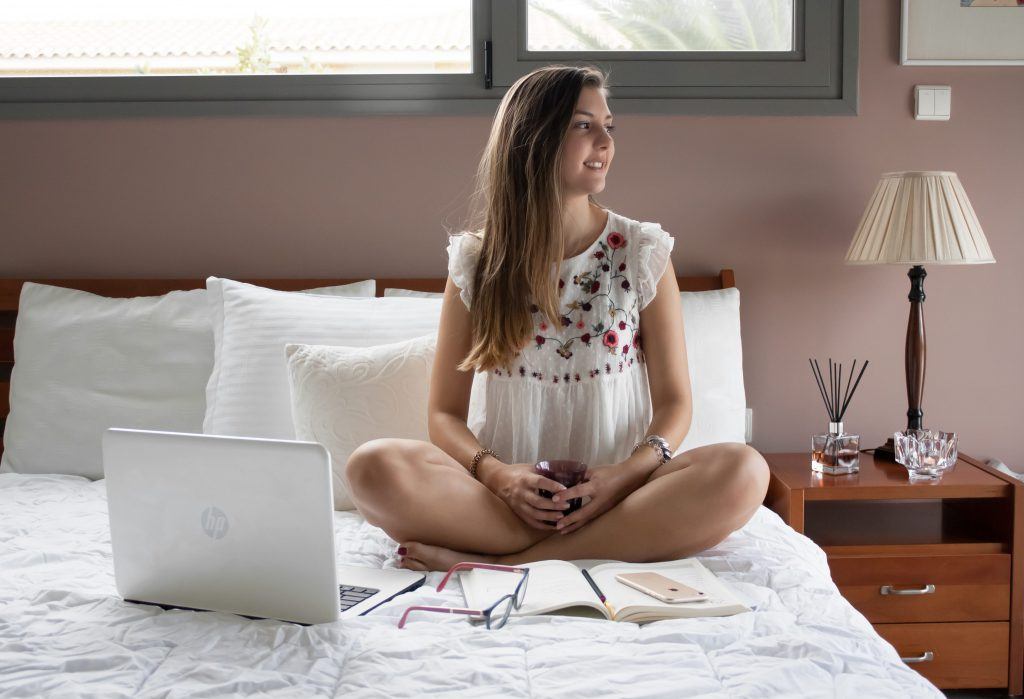 Things To Do When You Are Sad
-Take a warm shower with some nice smelling shower gel. On "these" days getting out of bed can seem an extremely hard thing to do. I get it. It happens to everyone. However, some things need to be done no matter how you feel (does going to work sound familiar?). One thing I find that helps uplift a really bad mood is a hot shower with a really nice smelling soap.
-Wear a little makeup or a lot 😛. Taking care of yourself is something that should be an everyday priority in your life. However, there are days that we are extremely busy, things go out of control and we forget about us. Sad days are a good reminder that your body has its needs too. Wearing some makeup is a fun activity and can boost your confidence too. You will be able to sell a stronger image of you to the outside world even if you are feeling sad. So take care of you and fake it till you make it!
-Play dress up. What is better for a mood uplift than trying on clothes and wearing something comfortable and beautiful at the same time?
-Watch a funny movie. A funny movie will make you laugh. Laughing means you feel happy and research shows that even faking a smile can help you feel better. So Netflix and chill?
-Listen to music and dance to its rhythm. The right kind of music. Just go for some of your favorite "happy" songs and more likely your mood will become better in minutes. It works for me every single time.
-Go to the gym. In a previous post, you will find some reasons not to skip the gym. One of them is because it helps with maintaining a good mood. While exercising endorphins are produced which are our brain's feel-good neurotransmitters. They help you be stress-free and relaxed. So next time try to get on your feet and drag yourself there.
-Cook, paint, DIY, knit or do something creative. That works especially if you are a creative type of person. It will take your mind off the sadness you are feeling and give you the purpose to get out of bed.
-Play with your pet, if you have any. Pets have the amazing ability to fill your heart with love and joy since they offer you their unconditional love. Also, they help you fight the sense of loneliness since they provide you their companionship. A crucial part of feeling down is that you might not have a purpose. Pets can give you a purpose which is your responsibility for their well being. Many clinics and hospitals use pets to help people with depression. So, why are you still thinking of it? Go adopt one and take care of it. :P.
-Talk to a good friend. Just talk with him/her for the sake of talking or tell him/her about your blues. Either way, you will feel so much better listening to the voice of someone you love. Maybe he/she will have a good piece of advice too.
-Plan a fun activity and go out with your friends, or family or anyone whose company you enjoy. Being around familiar faces is a guaranteed way to feel your happy self again.
-Do a sleepover with your besties. You will have such a good girl time that your problems will vanish in seconds!
-Write down the things you are thankful for. I don't know if that sounds a bit cliche, but when you compare the list of what you are happy about with the reasons you are feeling sad, you will probably feel that your problems are not that serious. Soon you'll realize that there was not an important excuse to feel that bad at the first time.
-Drink. I 'm not entirely sure which was your first thought after reading this, but I mean something warm of course. Without alcohol included 😛 . A hot cup of coffee or chocolate are the best comfort drinks (does this term even exist?).
-Plan your week. I personally think that planning is a good way to be productive and doing it in a day you are not feeling very good will help take your mind off too, so it's a win-win.
-Set up some goals. Goal setting can give you purpose and motivation to get out of bed and change that attitude because it won't take you anywhere near your dreams.
-Think about all the reasons that make you sad and see if they make sense. If yes, then it's probably time to prioritize all of your activities, rethink your choices and see what changes you can make for the better.
…but before you do any of the above I suggest you…
…embrace your bad mood and stop feeling guilty! I really don't know why, but in today's world, it's considered not good to feel sad. We avoid it as much as possible and try to hide our real feelings behind fake smiles on Instagram selfies and Facebook photos. We feel guilty for feeling bad and try to hide it from others like it's a disease or something that will humiliate and make us look vulnerable. But why feeling vulnerable is a bad thing?
Sorry for ruining this for you, but there is not a single person on this earth that feels great 24/7. For me, the first thing to do when you get your blues is to accept it and cry all your pain out if you feel so. Don't be afraid to express it to your loved ones. I'm sure they will understand and do their best to help you. So, stop hiding your bad mood when you have it and instead accept it. Plus, after the dark moments, you will appreciate more all the good ones that are yet to come!
So next time you are in your blues, come take a look at this post! I hope it proves to be helpful in tough situations!
Questions of the day: Do you have your own ideas and tips of things to do when you are sad? What is the first thing that makes your mood better?
Let me know in the comments section below!
Kisses