Hello guys! What's up? Today I'm super excited about this post because I'm introducing a new category on this blog! It will be a series of posts in which I'll be putting myself through some fashion challenges. These hopefully will give us the chance to interact more, since your feedback will be very much needed (you don't want me to leave the house dressed like a clown, do you?). Since this is the first time, I didn't want to go for something over the top so, I'll try to style my aunt's vintage midi skirt and create two beautiful (I think :P) vintage midi skirt outfits.
Bonus point: The most creative or daring of you can suggest new challenges that want to see me in and I'll do my best to fulfill them. Just pleeease don't make me wear anything fluo colored. 😛
How I came up with this idea.
Well, seriously sometimes I don't even know what is in my mind because a million stuff is at the same second. It was a completely spontaneous idea that I don't even know if it has happened on another blog before. And to be honest, it wasn't something crazy that gave birth to it. While I was looking into my aunt's wardrobe, I found some pretty expensive pieces that I didn't know how to style (or if I even liked them in the first place). However, I wanted to give them a shot because the fabrics were of amazing quality and I didn't want to leave them hanging (Did you get the joke? No? Ok, I need to stop now). I warn you that with some items you might laugh, others you might hate, but hopefully, I will manage to make them work and don't look ridiculous. Or maybe I'm overreacting and they are not that bad in the first place. In any of those cases, I'll let you judge it yourselves.
So without further ado, let's start with Challenge #1. As you have probably already guessed by the title it is a patterned vintage midi skirt.
Vintage Midi Skirt Outfits
This year is the king of vintage-inspired stuff in fashion, so what more appropriate way to start these series? I chose this vintage midi skirt (which I already told you I found in my aunt's wardrobe) to be the first challenge because I loved its fabric. It's made from silk and my aunt brags that it was very stylish and expensive at the time. Not that I like to judge clothes by their price tags, but when I have something of good quality in my closet I like to make the most out of it and don't let it wait there for a special moment that might never arrive.
Of course, I was kind of skeptical with the pattern and colors and I wasn't sure if its style fits my age, but I really wanted to try. Surprisingly enough when I got to play with it I came up not with just one but two vintage midi skirt outfits and both could be worn in different occasions. Ready?
Outfit #1
As you have probably already noticed I love combining casual clothes with more elegant ones. That's why I went for the leather jacket – silk skirt combination. I find this look to be appropriate for a ton of occasions like the office or an evening walk in the city. I'm still not sure if it is something that could be worn daily (especially in my age and the city I live in), however, I fancy it a lot and want to give it a shot. I would avoid it in very formal or very casual cases since it is an "in-between" look as I like to call these kinds of outfits! What's your opinion?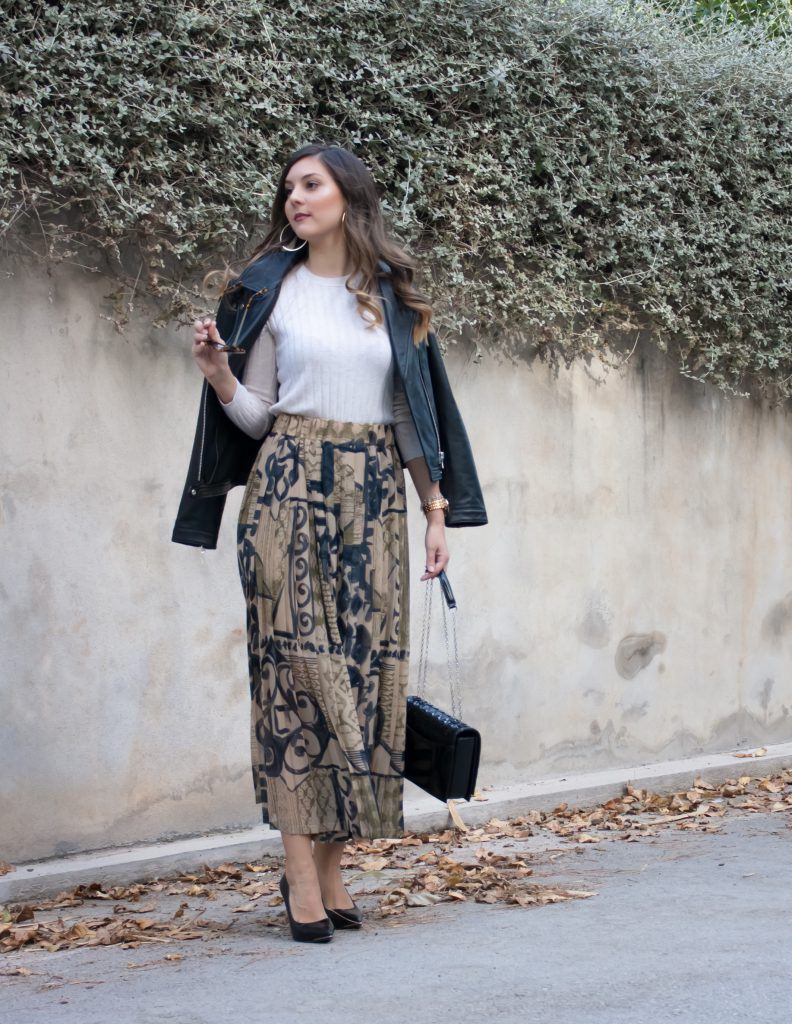 Leather Jacket: Massimo Dutti | Top: Gap | Bag: Emporio Armani | Shoes: Gianni Marra
Outfit #2
Well, the second outfit was not planned at all. Instead, it was a spontaneous addition to this post. After I finished shooting the first, I went back home to start editing the photos. However, a special bond between me and this skirt had occurred in the meantime and I didn't want to take it off yet. I felt it deserved one more look, so that's exactly what I did. This time I went for a 100% formal attire, which I'm now seriously thinking of wearing for an upcoming wedding I need to attend. I loved how this black off the shoulder top looked with this skirt, so I went for it. As you can see, I kept this outfit very minimal since the skirt is a statement itself.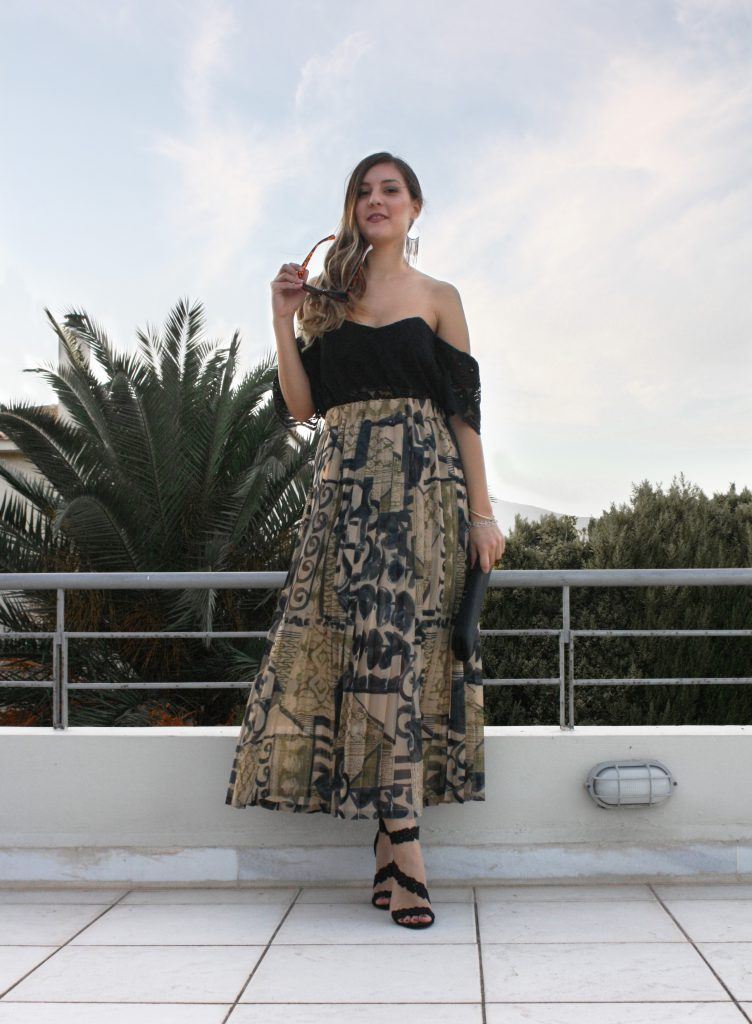 Top: Stradivarius | Sandals: Jessica Simpson | Bag: Folli Follie | Sunglasses: Supa Sundays
I never thought that I could pull off any look with this skirt, but surprisingly it turned out pretty well (in my humble opinion always 😛 ). It's very obvious that I'm starting to fall in love with the flowing fabric of the skirt and I'm pretty sure I will give it decent wear this season. This post is a good opportunity for me to challenge myself when it comes to fashion and I suggest you do the same. You will never know what looks good on you or what you might like unless you try it!
This post also gave me the chance to add a new personal rule to live by when it comes to styling:
"Never judge a garment before you see it off the hanger!"

 
So, what do you think about these vintage midi skirt outfits? Which one is your favorite?
P.S. If you don't think I look ridiculous and you are facing some similar issues feel free to leave a comment below. I'll do my best to help. 😉