Hello my beauties! Lately, I discovered a product which (I have to admit) I became a fan of instantly. This is the Eco Tan's Invisible Tan sunless self tanning lotion. I couldn't keep myself from sharing my thoughts and writing a review about this product since I believe that many of you will love it too.
But let's take things from the beginning…
I'm the girl that is always complaining about my fair skin (you can see what I'm talking about here and here) and how I can not get a decent tan. Also, I can't stand and don't want to stay under the sun for many hours because it can potentially harm me.  A "solution" for me was a self-tanner, but it sounded too good to be true. Plus, I didn't know what side effects it could cause. So, as I started accepting my white skin's fate, the Eco Tan Invisible Tan appeared to me and saved my summer days. I wrote "appeared" because my aunt gave it to me as a present, without knowing I would like to try one. Of course, as soon as I put my hands on it, I read the instructions and applied it hoping it will do what it claims.
Why a self-tanner?
First of all, I want to explain why a self-tanner is a better alternative compared to other tanning methods (especially for fair skinned people that need hours under the sun in order to tan). The reason is the ultraviolet (UV) rays. The main source of the UV rays is the sunlight, but tanning lamps and beds are also sources of them. The UV rays can age the skin cells by damaging their DNA and therefore causing wrinkles. They are also responsible for some skin cancers. On the contrary, most self-tanners contain the active ingredient dihydroxyacetone (DHA), which is a color additive that darkens the skin. There is no evidence that DHA is harmful if applied topically and as directed since most self-tanners contain very low concentrations of it. That's why most dermatologists recommend that these products are much safer than obtaining a tan from the sun or tanning booths.
Now that you know why a self-tanner is better, let's move on with the review:
The Eco Tan Invisible Tan – Sunless Self Tanning Lotion Review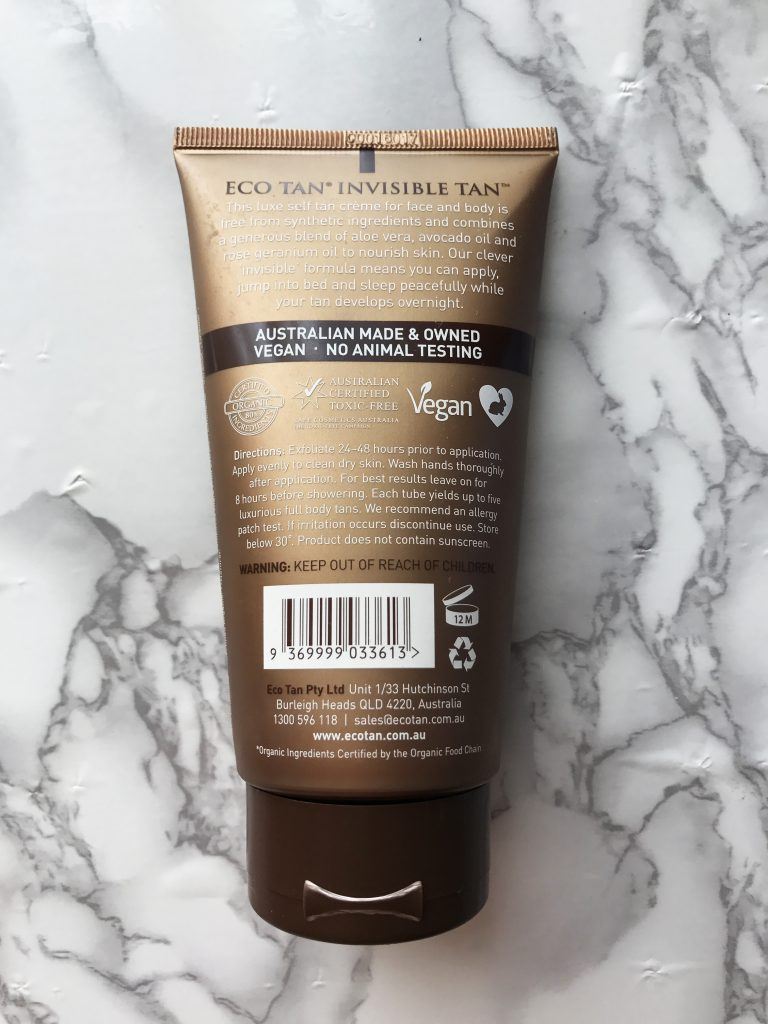 So let's begin with the packaging. As you can see yourselves it is like a typical body lotion package. Not something fancy, not something ugly either. The product looks and feels like a typical body lotion in the inside too. This product is vegan and toxic-free and all of the ingredients it contains are natural and organic, which is something I like a lot.
How to apply
The directions suggest exfoliating 24-48 hours prior to application and apply evenly to clean and dry skin. In my first application, I had done all the required steps and applied it like I would apply a normal body lotion, but after a few hours, the product appeared streaky. However, in the next application, I think I nailed it! A way I found that works best is to apply it in circular motions and make sure that the product is absorbed before I stop. To ensure that the product wouldn't look thick on the knees, elbows, and ankles -where the skin is drier-, I applied a small amount of my body lotion before. But, that's a step you can skip and just be extra careful when it comes to these spots. By that time I dare say I have become a self-tanning master. 😛
One thing I loved about this product is that after you apply it, you can put on your clothes and you are good to go. It doesn't leave any stains. Not even on my white tee. On the packaging, they even suggest that you can apply the product and jump off to bed, but that was not possible for me to do since I find its smell a bit overwhelming.
Results
The results look very natural and not orange at all, which is also a huge pro for me. The before and after are only 24 hours apart, but expect to see a difference a couple of hours after the application. If you want the best results of this particular sunless self tanning lotion you need to avoid having a shower within 8 hours after the application.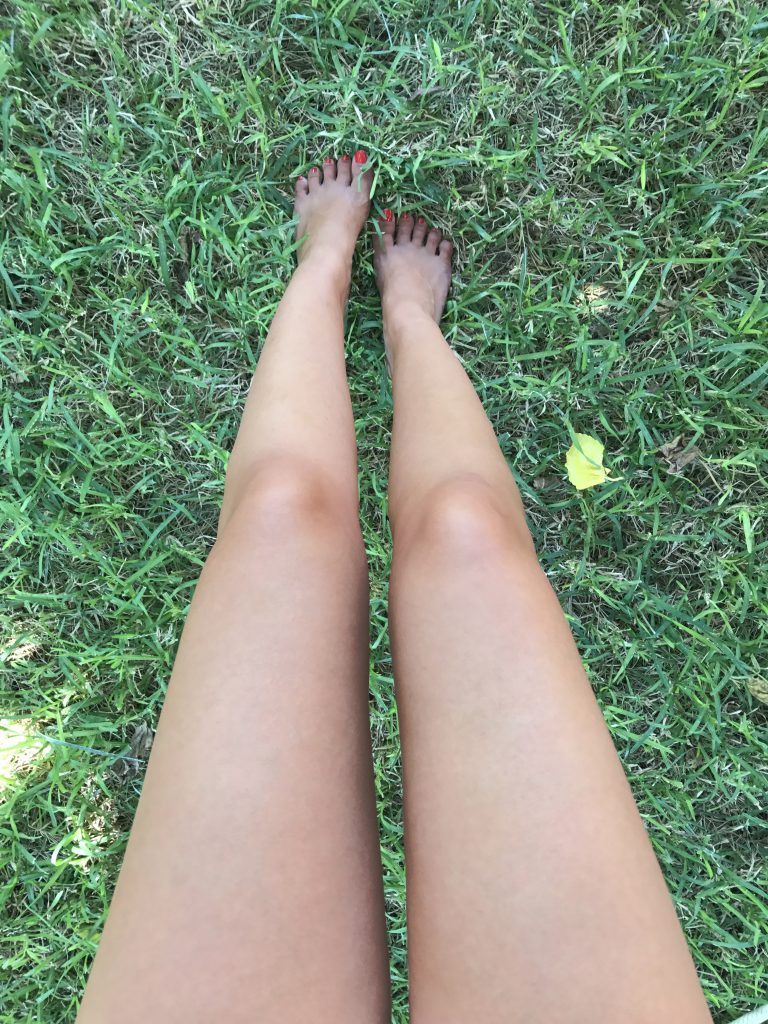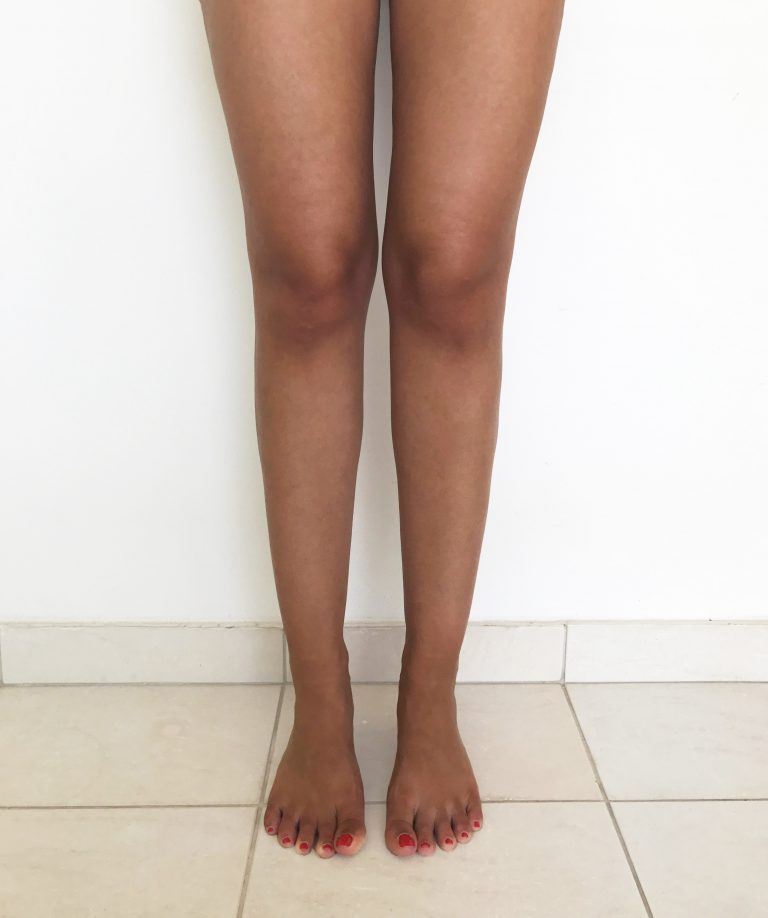 The tan lasts for about a week like all the similar self-tanners and that's because of the fact that DHA affects only the outer layer of the skin (the epidermis) and as the dead cells are worn away, so is your tan.
One last thing I want to mention is the price of this product. It is sold in a 150ml package (which claims that is enough for up to 5 full body tans) with a price tag of 44$. Plus, since it is coming from Australia, shipping fees in order to arrive in Europe are 28$. So, 72$ for a 150ml amount is admittedly a lot of money.
Conclusion
Overall, I would say this is a very nice product and gives you the results it claims. Its application is very easy and, if you follow my advice, you will succeed from the first time. Plus, it contains only natural and organic ingredients, which is something I love and makes me see past the disturbing smell. One big drawback is the price, but if you ask me if I will be buying it again, my answer will be "yes" without a second thought. However, it will be a product I will use on special occasions rather on a daily basis.
You can find the Eco Tan Invisible Tan here on Amazon
A more affordable alternative is the Bondi Sands Liquid Gold self-tanning oil (which I've tried and I adore!) or the Beauty By Earth Self Tanner. Both of them have attained many good reviews and are at a lowest price range!
Of course, you can always tell me if you have any specific product you want me to review!
That's it for today! I hope my review has been helpful and answers any questions you might have. However, if you have more don't hesitate to ask me in the comment section below. More reviews are coming soon!
Kisses and Love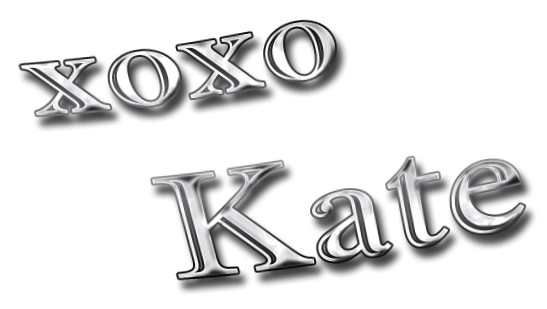 (*Disclaimer: The links of the products are affiliate links which means that when you buy something through them I earn a little commission, which keeps this blog running. That, of course, doesn't increase the price of the product.)