Hello guys!
I've been thinking for a while now to expand the scope of the topics i write about. This time i would like to write about fitness and eating habits, as well as gym clothes (of course 😛 ). I wanted to dedicate the first post of this new category to summer in the gym tips because summer is just around the corner and some of you might find them useful (especially if you are beginners).
One thing i've noticed is that some people skip the gym in the summer. Some can't stand the heat, others are in vacation mode and prefer to do other activities, etc… But there are great benefits that should make you think twice before you choose to skip it. So,  i only find it right to begin with the reasons why NOT to skip the gym during the summer.
You can eat whatever you like. A happy summer also means to be able to succumb to the tasteful temptations. Can you imagine a summer where you suppress your need for a cool beverage or an ice cream? And what about when you have traveled in a new place and there is a ton of new foods to taste and you can't?
Tanned and pumped at the same time. I know it might sound a bit superficial, but if you can have the best of both worlds why not do it?
You will be stress-free. One of the great benefits of exercising is the fact that while exercising endorphins are produced (they are our brain's feel-good neurotransmitters). As a result, you feel more relaxed and your mood becomes better!
Helps with adopting healthy eating habits. After you have worked your ass off in the gym, it's more likely that you will be more careful with what you eat. You don't want all this hard effort to go to waste!
Now that we have covered why you shouldn't quit going to the gym in summer, it is time to share my precious tips that i'm sure you are all very excited to read (lol).
Summer in the Gym Tips
Never forget to have a towel with you. I know it is common sense and probably you have one with you all year round, but it's crucial to have one this time of the year where you will be sweating more.
Have water with you. Preferably a bottle of 1ltr. A lot of sweating can cause dehydration, so keep sipping a little bit of water every time you finish a set (my trainer has suggested this, so it's an advice from a professional).
Drink a lot of water after your gym session.
Find the "quiet" hours. As we all know a few days before summer, gyms tend to be very crowded. However, there are some "quiet" hours as i call them, where they can even be totally empty and you can exercise at your own pace, not having to wait in line for the damn machine to be free :P.
Make sure to wear comfortable and light garments, because you don't want to faint from elevated body temperature.
Avoid makeup! That's a rule that is relevant all year round, but especially in the summer when you are sweating A LOT.
If you feel that you are going to succumb to the exhaustion the sun and heat create and need motivation in order to go, then you could consider having a personal trainer. That way it's more likely that you won't even have the choice of skipping the gym, since the trainer will be there waiting for you. Plus, you have paid a decent amount of money which you don't want to go to waste!
If your gym has a swimming pool, take advantage of it and exercise in there. That way the heat will not be something to use as an excuse for not working out.
Clothing Advice
Now that we covered the general stuff, i can't leave out some advice regarding the workout clothing, which i've gathered over my experience (it's not a lot, but i think it can help, especially the beginners). I know it might be very hot and fewer clothes are better, but don't risk wearing very short and loose pants. I've done it once and believe me, i left the gym in a hurry. That's because i wasn't able to do most of the exercises without showing my underwear to the people around :P. I also used to tie a sweatshirt around my waist, because i didn't feel very comfortable with my butt "exposed". I guarantee you it's the worst idea, because the heat while exercising can be unbearable! What works well for me and makes me feel comfortable is cropped leggings and a lightweight shirt. It doesn't matter if it's loose or tight, (tight ones tend to stay in place during exercising) unless it is made with a breathing garment. Can't make it simpler than that!
Below you can find photos of an outfit i love and find comfortable (and as stylish as possible) for the gym.
I find this to be my favorite outfit. As you can see, i'm wearing a sports bra, capri pants and a very loose white t-shirt. Simple right?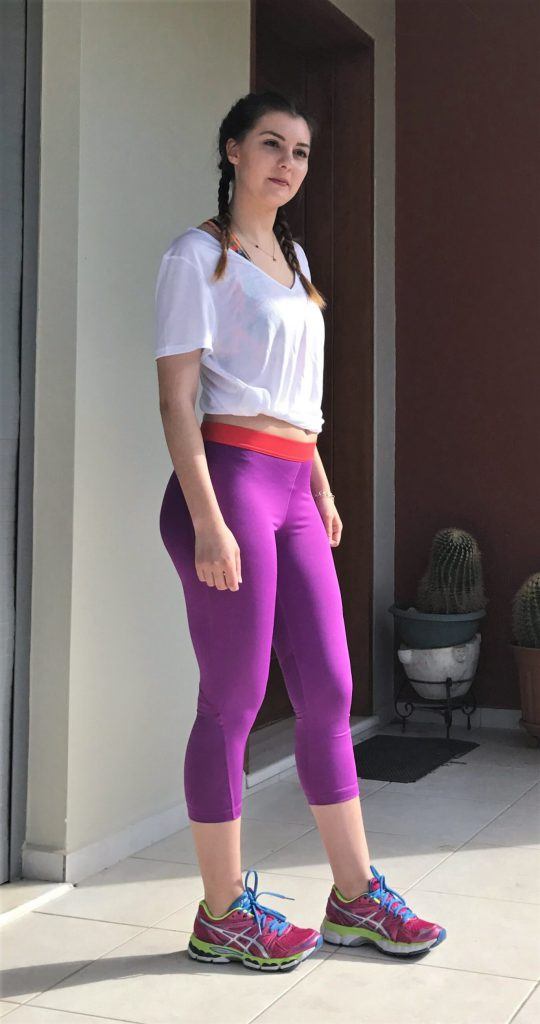 Get the look
Sports Bra: Nike Pro (similar here)
Capri Pants: Nike Pro (here)
T-Shirt: Zara (similar here)
Shoes: Asics Gel Glorify (unfortunately these shoes are no longer available, but they are THE BEST shoes for exercising, so if you find them anywhere don't hesitate to purchase them)
That was it for today! I hope these summer in the gym tips prove to be useful to you. If you have any more suggestions feel free to share them on the comments section below and i'll be sure to include them. On a post that will follow soon, i will show you more gym outfits in case you need some inspiration. 😉 You can follow me on facebook for any article updates!
P.S. Disclaimer: I'm not a pro and all the advice i'm giving you is from my experience and my perspective, so you might not all agree or maybe it doesn't work for everyone.
See you soon <3