Christmas is over, but we still have the New Year's Eve to hold on to before we say goodbye to another holiday season. I personally prefer it to Christmas, because it is more festive and we enter a new year full of promises and new, fresh starts. Of course, we want to do it by being the most presentable and gorgeous as ever, and makeup is one of the steps to that. Since I have a love for sparkly stuff and the holiday season is a great excuse to wear them, I will be creating an easy, yet fancy shiny eyes makeup look. I think it will be perfect for New Year's Eve (or any other occasion you'd like to be extra).
I chose to do an eye makeup with earthy tones, that is easy to copy and looks great on most skin tones. The things I used would also make a perfect present for your loved ones for this holiday season, so I will include links of them in case you'd like to purchase them. Shall we?
Keep scrolling for an easy step by step guide!
Shiny Eyes Makeup Tutorial for New Year's Eve
What you'll need
Huda Beauty Mini Palette Smokey Obsessions
Blending Brush
Fluffy Brush
Flat brush
Fake Lashes (optional)
Step 1
With a blending brush take the lightest color from the smokey obsessions palette and add it to the upper area of your lid. Blend it outwards to create a V shape. This step will also help your eyeshadows to have that airbrushed effect and not look harsh. As soon as you are satisfied with the intensity and the shape you created you can move on to the next step.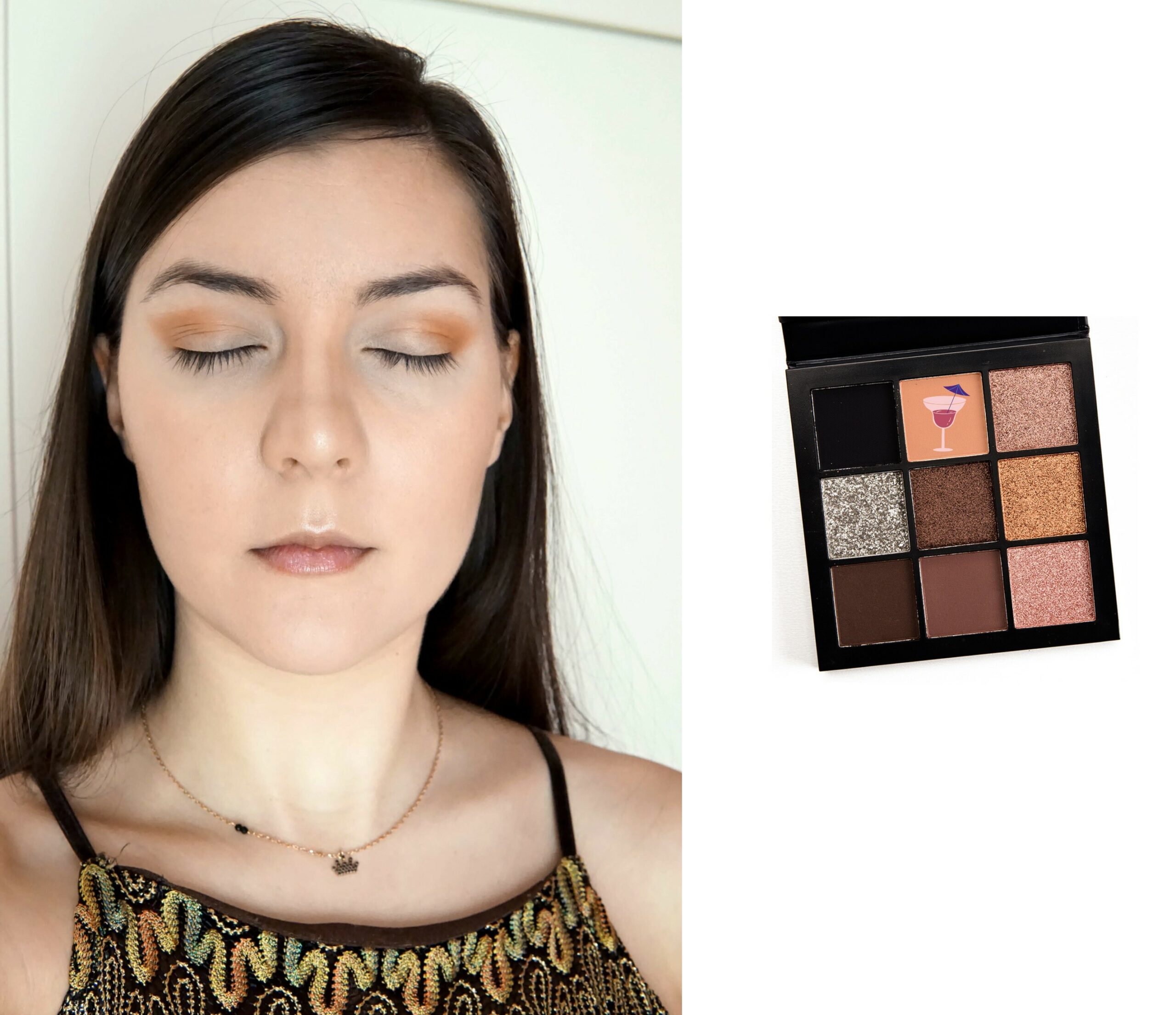 Step 2
Take the same blending brush and apply the lightest brown color to the outer corner of your eyes, a little lower than you put the first color. This way you will add more depth to your eyes and create an interesting shape. With a clean fluffy brush blend the two colors well for an airbrushed and soft look between the shades.
Step 3
Then, with a flat brush take the darkest brown and pack it to the outer corner of your eyes to add intensity to your look. Blend well with a clean fluffy brush to mix it with the rest of the colors seamlessly. For more intensity, you can also add the black color on top of the brown, but this depends on how fierce you are feeling that day.
Step 4
Time to show some care to the lower lashline and tie the whole look together. Take your smaller brush and with the lightest shade on this palette draw a line under your eyes. With a blending brush smudge this line for a softer result. You can then deepen it with darker colors, but since I was satisfied with the result, I left it like this.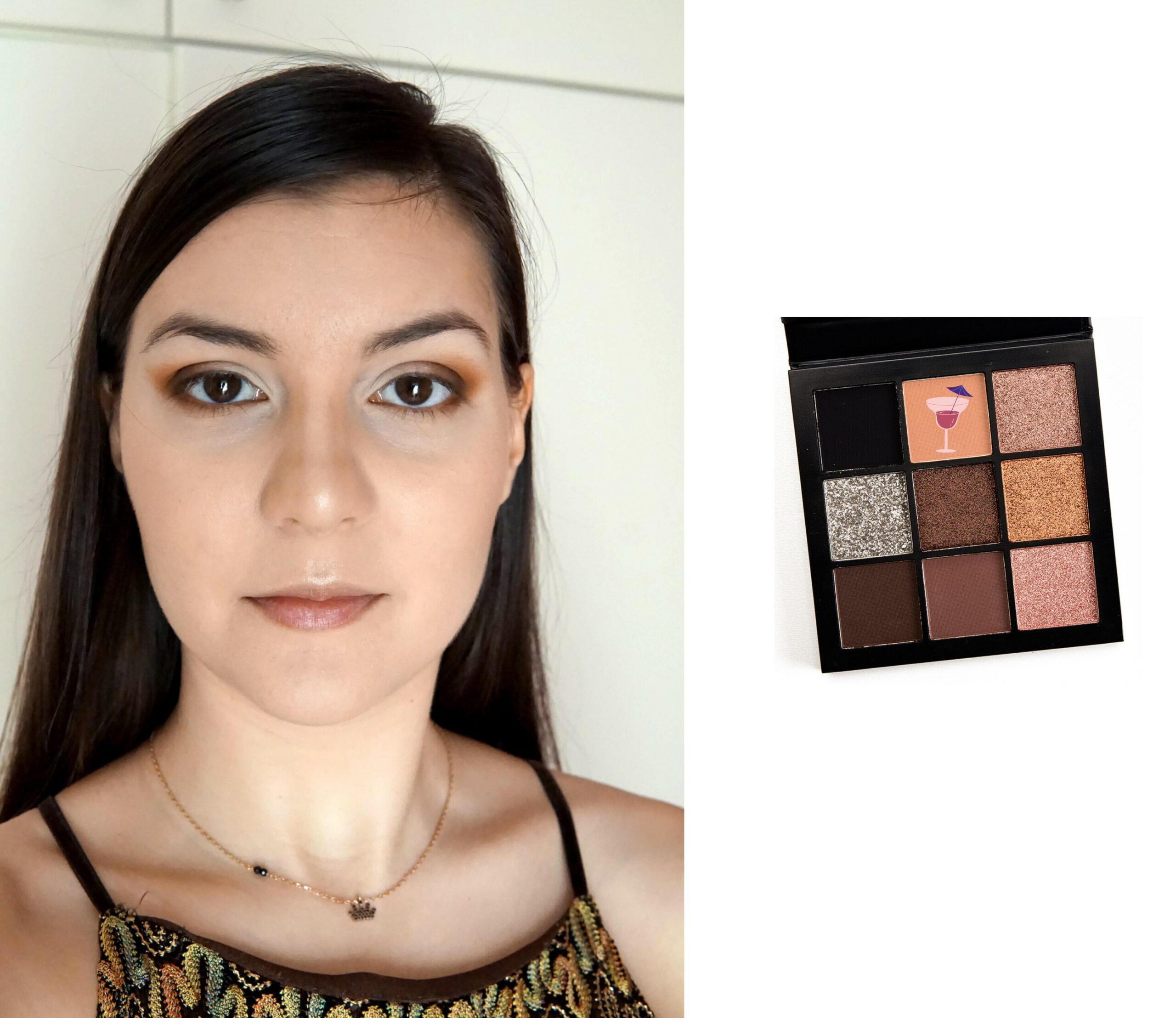 Step 5
Now to the fun part! Take a flat brush and mix the gold and silver glitter shadows from the palette and add them to the inner half of your eyes. For a dramatic and more intense look, you can wet your brush with water or some setting spray to make the shadows look metallic instead of glittery. I went for the first option and still looked great, so I can't recommend it enough.
Step 6
Repeat the above step to the inner half of your lower lashline as well. I suggest to not skip this part because it will make your eyes look bigger. Since this is a vibrant and shiny eyes makeup look you have to go all the way. After all, it is the new year that we are welcoming!
Step 7
Time to add the last touches. Take the silver eyeshadow with a wet brush and add it to the inner corner of your eyes for some more glitz and mostly to make your eyes look bigger. Then add some eyeliner and your favorite mascara. You can glue some falsies as well, but I personally don't find them comfortable, so whenever I can I skip them.

Step 8
Now let's finish with a great lip. Could a festive look be complete without a vibrant red lipstick? Of course not, so this is what I did. I added my favorite Mac lip combo for the holidays and it didn't let me down. You can always go for a muted lip if you feel that there is a lot going on in the eyes, but that wasn't the case for me as you can tell. 😛 After all if we don't be extra now, when?
And this is my shiny eyes makeup look for the New Year's Eve. Of course, you can recreate it anytime you feel like it!
Question of the day: Which is your no1 resolution for the year to come? Let me know in the comments section below!
I hope you'll have a great new year and welcome it with your loved ones by your side. Ready for the countdown?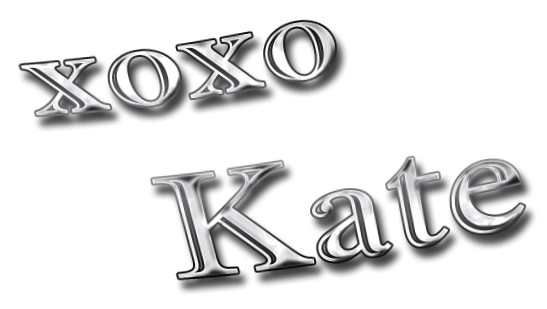 (*Disclaimer: The links of the products are affiliate links which means that when you buy something through them I earn a little commission, which keeps this blog running. That, of course, doesn't affect the price of the product.)