A few days ago I got an invitation to a Halloween party. And since I don't have much stuff here with me in order to create a full costume, I thought I could just play with makeup and wear a plain black outfit. Of course, I am no makeup artist nor have I every single tool and product to create marvelous SFX makeup. That's why I created an easy Halloween make up, which required no special skills and can be done with makeup most of us already own.
To my surprise it turned out better than I expected, that's why I decided to make a tutorial for all of you since Halloween is not that far away!
This is the makeup I'm talking about!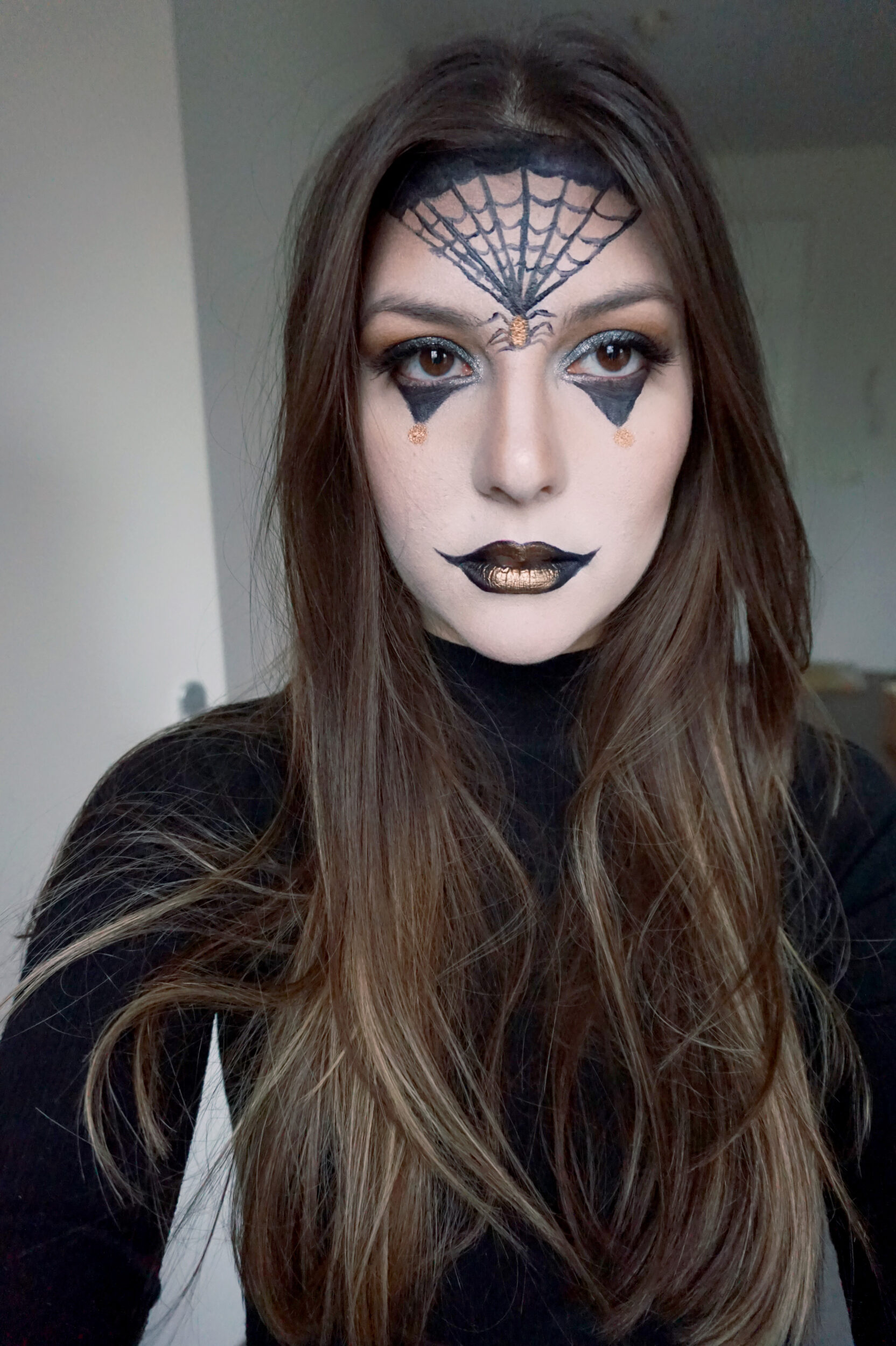 If you like it and want to recreate it, I have a step by step guide with pictures, so keep scrolling!
Easy Halloween Make Up Tutorial
What you'll need
Face Primer
White foundation
Translucent Powder
Bronzer or Brown Eyeshadow
Black Eyeshadow
Black Eyeliner
Mascara
Golden Eyeshadow or Glitter
Silver Eyeshadow
Setting Spray
Fake Lashes (optional)
Fake Blood (optional)
Step 1
Wash your face, add your favorite moisturizer and apply a makeup primer. That will make the whole look last longer and not move around while you party. Then apply a very light-colored foundation to your whole face. Don't forget your ears and your neck. Since I didn't want to go full white with my look, I mixed a little drop of my everyday foundation in a white one. After that, I applied translucent powder on top to set it. (Can we just take a moment and appreciate this extremely unflattering photo of mine? 😛 )
Step 2
Then add your bronzer or brown eyeshadow to where you would normally add some warmth and contoured your face. That for me is my forehead, my cheekbones, my upper eye area, and my jawline. For the purpose of this tutorial, I also contoured my nose, which you will see in the next step.
Step 3
In the places where I applied the bronzer, I then added a bit of black eyeshadow in order to make it stronger and visible in the night. I think that added more shape and balance to my chalky face. 😛 Don't be afraid to experiment with black color. Even if it doesn't look perfect it is fine since the messier the makeup, the better.
Step 4
Next apply a pigmented black eyeshadow in the upper lid of your eye, just below the place when you bronzed and blend the two colors as much as you can.
Step 5
After that do the same in the under-eye area. Add black eyeshadow close to the waterline and blend it with the bronzer for a softer look. Add silver glitter or eyeshadow in the inner corner of the eyes to give dimension to the look and make your eyes look bigger.
Step 6
This is an optional step, but you can blend some of the glitter you put in the inner corner with black eyeshadow and apply it in the center of the lid to give it a little glam and dimension.
Step 7
Then draw lines from the center of your eyebrows to your forehead and create a part of a spider's web. This step is the trickiest and was the hardest for me, mostly because I didn't own a great eyeliner with a thin tip. So if you are planning on recreating this easy Halloween make up look make sure to own something with which you will be able to draw thin lines on your face. In the corner of the web, I created a little spider and put golden eyeshadow to fill in her body. (Should we give her a name?)
Step 8
This look didn't seem complete to me that's why I decided to add two reversed triangles under each eye and a little golden dot to each tip to tie the whole look together.
Step 9
Now it is time for the lips. Take your eyeliner, line your lips and create a shape that you feel looks weird. I went for a full black lip with thin and upwards curved corners. You can be creative and add one upward and one downward curve, or two straight lines or whatever else that comes to your mind.
Step 10
Take the same golden eyeshadow you used for the body of the spider and put it in the center of your black lips. Add fake lashes and the look is now complete!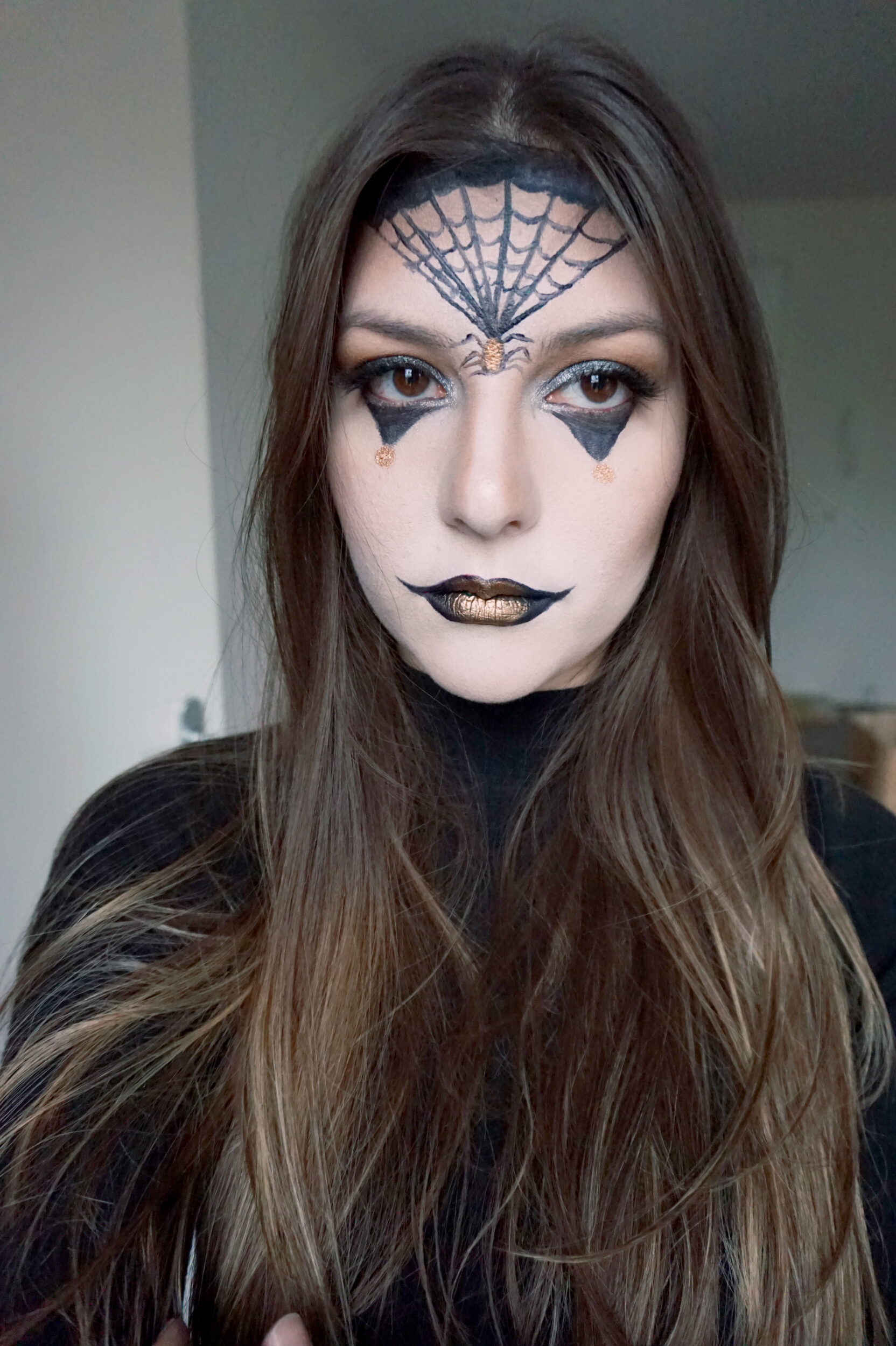 Step 11
This is a completely optional step, but you can add fake blood to make it more dramatic. It was the first time I used something like that and I wanted to play around with it, so this is the look with some fake blood added.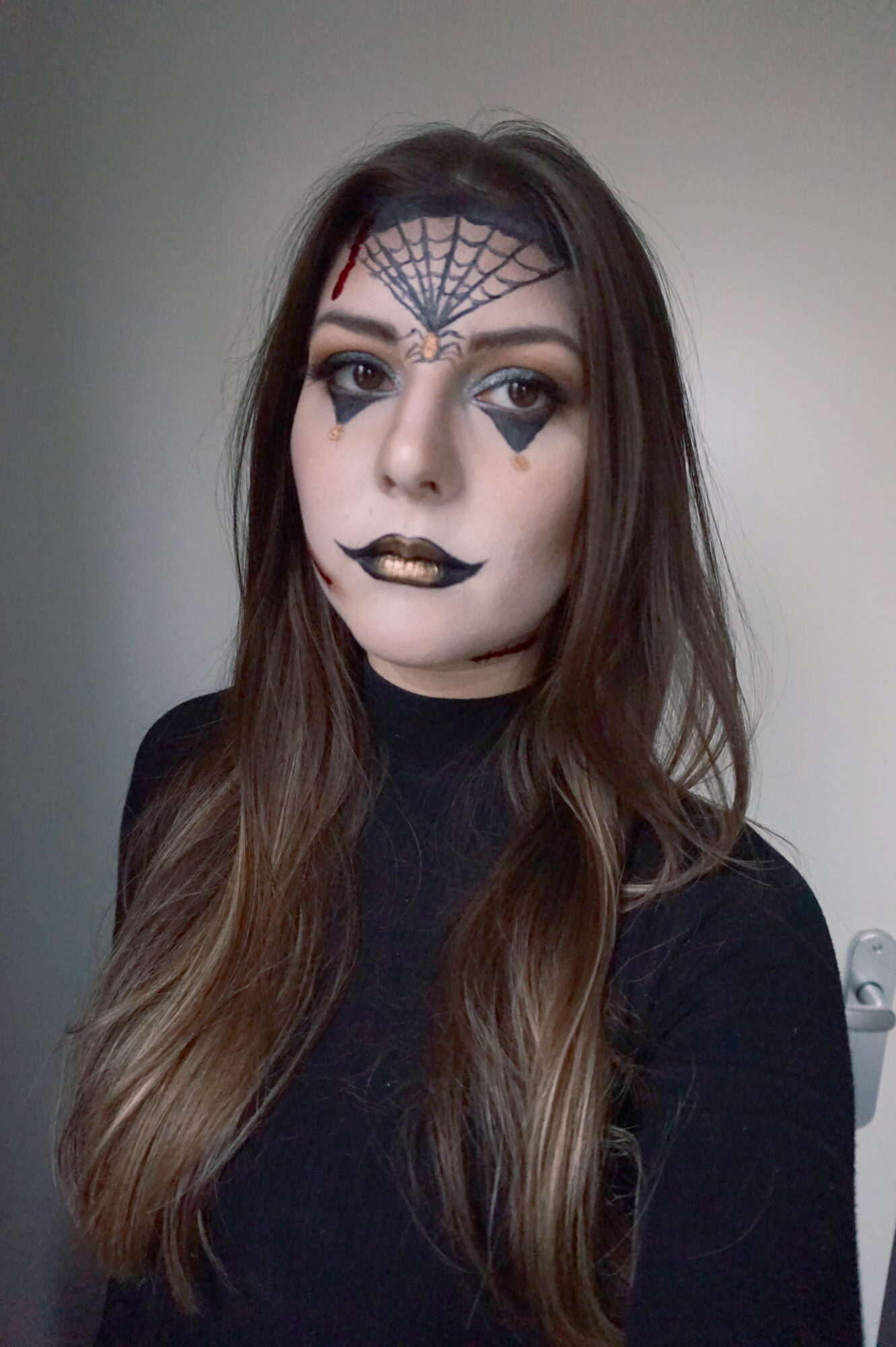 So which version do you prefer the most? I personally think that since I am not very familiar with how to work fake blood, the version without it is better.
Question of the day: Would you wear this easy Halloween make up look to an upcoming event?
Make sure to tell me in the comments section below!