Hello guys! What's up? A few days ago I was informed that I'm finally graduating from college. So, while I was dressing up to go for a celebration dinner (outfit photos below) I started overthinking (as I always do): "Great Kate, but now what?", "How is your life going to be from now on?", "Should you find a job?" , "Should you continue your studies?", "Should you allow yourself to have a gap year?", etc…So, I wanted to share with you something that might be a part of your after college concerns too. "What the "F" should I do in my life?". Yes, you heard well. I hope you are not in this position, but if you are and don't know what to do after college, stay with me.
I'm the kind of person that is really concerned over money and having a comfortable life. I don't mean that having a lot of money is my ultimate life goal, but I basically see it as a mean to a life full of new experiences, traveling and exploring new places. That is my life goal for now at least. You might have the same goals as me, maybe you have different ones. You might not want to settle for a conventional life where you work many hours, go home, eat, sleep and then repeat. You want to work in order to live a little more. After all, we are given the chance of living once. So, now that a chapter of my life is ending and I don't know what to do after college, I became extremely stressed. Stressed about how I should proceed in order to give my dream a chance. Additionally, the fact that I'm living in a country with a lot of financial problems and a huge unemployment rate makes my dream even harder to pursue and my stress about it bigger. So I'm laying down all my choices (Keep reading, cause some of them could be yours too):
Don't know what to do after college – My options and thoughts:
Should I continue my studies?
One choice is to apply for a master's degree. That means more years of studying for exams, more money spent by my parents, more time with a part-time job that pays a little. But after that maybe I will have a slightly better chance of finding a steady 9-5 job. However, since almost everyone in my country after their graduation is continuing for a master's degree it will probably give me only a little advantage among the others and after I finish I will still be in a similar position as now. Plus, one of my concerns is that I'm not sure if I like the field I just studied on anymore, so investing in something I'm not certain I love, doesn't seem smart or a great idea.
Should I leave my country?
One alternative is to leave my country and pursue my dream in another wealthier one, since I'm a huge fan of traveling, exploring new places and meeting new people. However, leaving my birthplace, my family and friends for many years because my country is "pushing" me away and not because I choose it with all my heart, feels a little harsh to my logic. I could probably find a decent paying job out there, but I feel it is something that for now I will do only if I'm out of options.
Should

I

say yes to living for working?
Lately, I came up with an option of a well-paid (for my country's reality) job, but it requires that I dedicate my whole life and my entire time and energy to it. Many people would kill for having a similar one, but I only see it as a burden. That's because it comes with a lot of stress, no time for my self at all, no Sundays off, no holidays, etc. On the other hand, it is something I could do at this point of my life since I don't carry any luggage with me (meaning a family, husband and kids), but at some point, I know that I should stop if I want to pursue my dream. So, should I agree to pause my life and my dream just for collecting and saving money? Is there any point to living for working and not the opposite? I honestly can't answer that and I still fight with that dilemma.
Should

I

spend a year to think?
One last option that day by day I become a bigger fan of is to take this year off keeping my part-time job and give myself time to figure out what it wants. That means less money to live by and probably financial support from my parents, but I think now is a good opportunity to seek my passion finding what I really want and work hard on my way to pursuing it.
From the above options, the latter seems more appealing to me for now, but I seriously don't know what I will have to decide at the end. Real-life sometimes makes choices for us. And probably many of you have or had similar after college struggles and thoughts, but one thing I know is that even if you choose "wrong" it is never too late to follow a new path and chase your dream. Even if your first choice didn't seem to suit you as you thought it would or even if you didn't have a choice at all. Remember that now is the best time to take risks and follow your crazy dreams. Because even if you fail what's the worst thing that can happen? You try it for a year, then you wake up and you are a 23. Remember not to take life so seriously. The adult world is not that bad after all…..!
---
….. You thought that was today's post? Nope, how could it be complete without something fun? Remember the dinner I was about to attend to celebrate my graduation? I don't know what to do after college, but that doesn't mean I don't know how to dress to impress (lol :P). I chose to wear a dress I bought three years ago from Zara (still stylish in my opinion though!) with some black high heel sandals from Pedro Garcia and my favorite crossover Emporio Armani bag. I'm a real fun of this outfit and the accessories of it because they are classic and have proved me right on several occasions so far.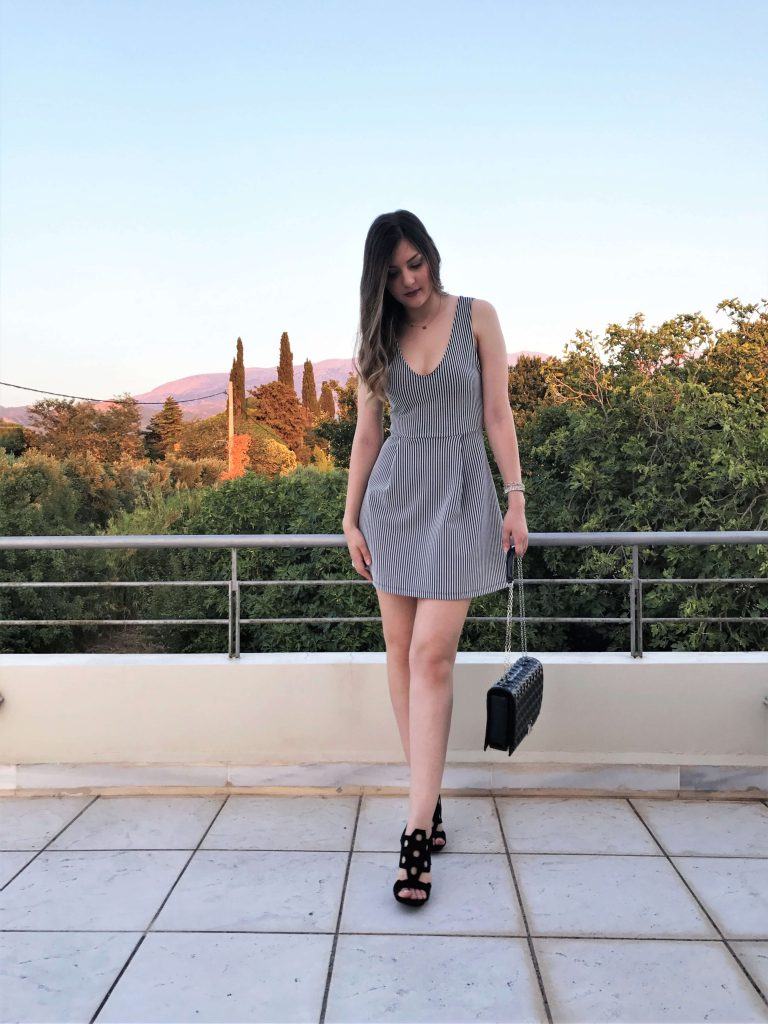 The look
Dress: Zara
Bag: Emporio Armani
Shoes: Pedro Garcia
Question of the day: What is/was your number one struggle after graduating from college? Let me know in the comment section below.
Kisses and Love