Hello guys! In today's post, I'm introducing a new category on this blog, that I'm going to name, (wait for it), "Beauty" (such an original and never before used name 😛 ). In this category, I will be writing reviews about products and share my makeup and skincare tips. Also, I will demonstrate tutorials on makeup looks (like the one you are about to see). I'm not a makeup professional, but I love to spend time trying new products as well as new techniques, so, I dare say that I've gained some experience over the years. I really hope you will follow and enjoy this category as much as I do. Ready for the first tutorial? It is a bronze eye makeup with red lips!
Bronze Eye Makeup Look
This first makeup tutorial I'm about to show you is one of my favorite and go-to looks for my "nights out". I'm a huge fan of natural, warm tones and bronzy ones are my favorites (especially in the summer). I think they complement any skin color. This makeup look is very easy, looks glamorous and it seems like you have put a lot of effort into it. Shall we begin?
The very first step before I start doing any makeup is to wash my face and apply a moisturizing cream. Then, I add the L'Oreal Paris Infallible Pro-Matte Foundation Makeup in Classic Ivory (101) tone (this foundation is long-lasting and matte, so I don't apply any primer). After that, I apply some pressed powder from Rimmel London (Stay Matte Pressed Powder in Silky Beige tone). That is how I do the base for this bronze eye makeup tutorial. So, now to the fun part!
Step 1
Before I start applying the eyeshadows, I like to put some powder on my eyelids. This way I feel that the blending prοcess is much easier and quicker. I used the Rimmel London Stay Matte Pressed Powder in Silky Beige tone.
Step 2
As a transitional shade, I use a peachy color eyeshadow from Clinique All About Shadow Duo in Strawberry Fudge and apply it with a flat brush. I start applying the shadow from where in other cases I would create a cut crease. You don't want it to be perfect, just blend it well until it looks like it's airbrushed.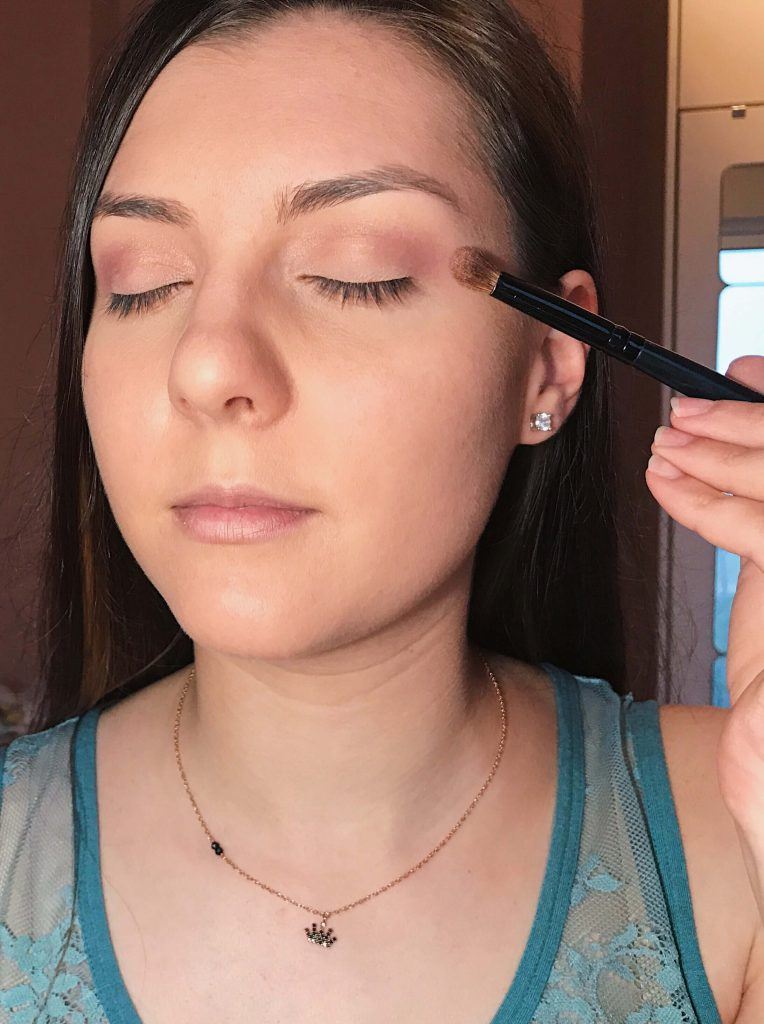 Step 3
Then, I take a flat brush and the chocolaty tone from the same palette and apply it from the center to the outer corner of my eyelid. After that, I take a clean blending brush and blend, blend, blend.
Step 4
After a good blending, I take a dark matte chocolate shade (No4) from the Estee Lauder Sultry Nudes palette and with a flat brush, I apply it only to the outer eyelid. Again, with a clean fluffy brush, I blend well.
Step 5
After that, with a flat brush, I apply on my inner corner a peachy/champagne color from the Chanel Les 4 Ombres palette in Tisse Paris (No238). Then I slightly blend (you don't want to lose the opacity of the eyeshadow on the inner corner).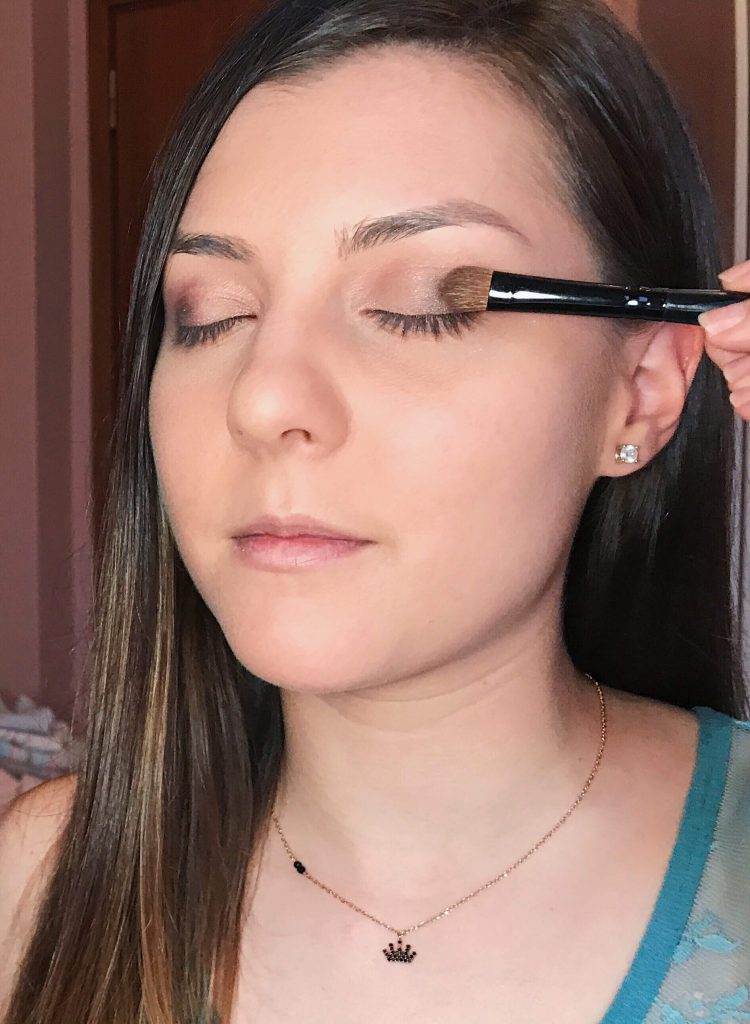 Step 6
Then, I just add a liquid black eyeliner from Maybelline (you can find it here) and two coats of one of my favorite mascaras: The Maybelline Colossal Volum' Express.

Step 7
Lastly, I add a red lipstick from Kate Moss' Collection that is a collaboration with Rimmel London in the shade 01 and voila…

…that is the complete look! (I look a bit scared in this photo and I seriously don't know the reason 😛 )
Aaaanyway! That was today's post! I hope you enjoyed it and that the steps are clear enough in case you want to recreate this bronze eye makeup look. Also, if you liked this new category and have recommendations about it, feel free to tell me in the comment section below.
P.S.I have to say that my camera and the lighting don't do this makeup justice, so I promise you I'll become more prepared for such tutorials in the future :P.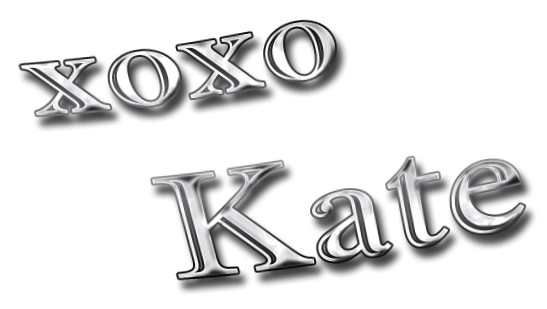 (*Disclaimer: The links of the products are affiliate links which means that when you buy something through them I earn a little commission, which keeps this blog running. That, of course, doesn't increase the price of the product.)